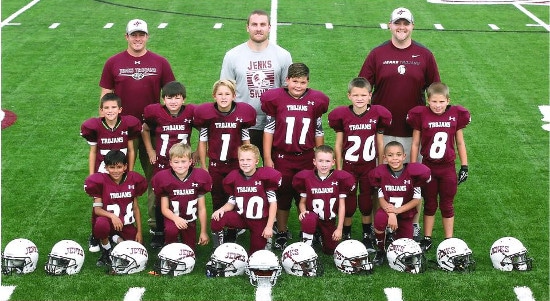 Editor's Note: This is a guest post by Mike McInelly.
As the youngest of 4 athletic brothers and a 3-sport all-state sister, I grew up being towed around to hundreds of my siblings' games and tournaments. From a very young age, I remember traveling to places like Pflugerville, TX to watch my older brothers play under those hallowed "Friday night lights." I vividly remember those games where I looked on in awe, dreaming about the day when it would be my turn to take the field.
As my family moved across 4 US states and did a stint in Alberta, Canada as well, I ended up playing on many different teams throughout my youth and was exposed to a wide variety of coaches, as well as coaching styles and philosophies. After playing soccer, basketball, and football, I was fortunate to get the opportunity to play Division I football at Brigham Young University. It was at BYU that I would be exposed to knowledgeable professional coaches, from whom I learned a ton about how to play the game at an entirely new level.
Looking back, I absorbed some of the most valuable lessons of my life on the athletic field. I learned the importance of hard work and what it takes to be a champion. I learned about failure, and how to respond with resilience, grit, and an attitude that fuels a determination to succeed. I experienced firsthand the principles of teamwork and the necessity of cohesion. I gained self-confidence. And I also realized the critical importance of good leaders in life, both on and off the field. I was exposed to some incredible coaches, and some that were not so great, too. I spent countless hours with these men, and they had a tremendous amount of influence upon me during an impressionable phase of my youth. These experiences laid the foundations for the rest of my life, not only as an athlete, but as a career professional, husband, and eventually a father.
As the beneficiary of the mentoring of these great men and coaches, I felt indebted to their sacrifices and wanted to help other youth experience the vital growth opportunities afforded through athletics.
Becoming a Youth Sports Coach
An opportunity to make good on this desire arose this past fall when I signed up my oldest son Jack to play his first year of tackle football. We had recently moved to Tulsa, Oklahoma, where football might as well be the official state religion. This was apparent to me on day one of the season, where my 7-year-old was put through a skills combine, followed by a full-fledged draft.
I volunteered to be the coach of Jack's team, and once our squad was formed, I quickly realized that most of its members had never played tackle football before. While other teams were busy running the I-formation, we were forced to spend precious practice time reviewing the rules of the game. In our first few games of the season we were unsurprisingly crushed by teams full of redshirt 2nd graders (it's common to hold kids back in OK purely for athletic reasons — thank Malcolm Gladwell for that!).
However, our rivals were also full of hot-headed coaches that behaved as though we were playing for the Lombardi Trophy. Don't get me wrong, I am as competitive as they come. I just believe in a different philosophy to help kids work together to win, and have a ton of fun doing it. I knew that if we took a different kind of approach, and were able to improve at a faster rate than our opponents, we might have a chance headed into the playoffs. Now, how to get a team full of seven and eight-year-olds to make those improvements was unchartered territory for me. But I drew on my memories of what I felt had been the most effective coaching methods I had experienced growing up, and I set to work.
Sure enough, we soon started on a steep upward trajectory, with noticeable improvements each week. We went from the team of misfits to start the year, to winning 6 out of our last 7 regular season games and producing 5 defensive shutouts. We entered the playoffs as the number 2 seed, and went undefeated, winning the championship game 18-13. We were definitely the most improved team in the league!
How did we get there? Here are 6 techniques we implemented for working with the kids (and their parents!) that helped keep the experience positive for the team and the coaches alike:
1. Use Positive Reinforcement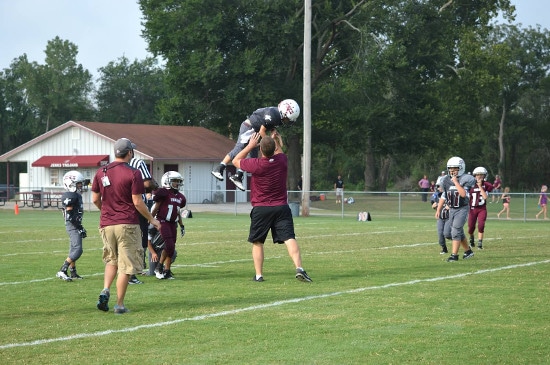 Positive reinforcement is key when working with kids. I have seen too many young athletes cower and wilt under the negativity they receive from exasperated coaches. Believe me, there are few things as frustrating as trying to teach 7-year-olds how to wrap up. But kids don't respond well to negative criticism; it only makes them less confident and more hesitant — the complete opposite of what any coach wants.
When you instead make positivity the primary driver of instruction, you reinforce the good, which makes the kid more receptive and open-minded to constructive feedback. This approach comes from research I've done in behaviorism and operant conditioning; positive reinforcement as a method of instruction has proven to be much more effective in helping students of all kinds adopt the right behaviors and skills.
2. Keep Things Simple
In youth sports, you oftentimes have these "Uncle Rico" coaches who come prepared with overly sophisticated strategies they drew up while watching Monday Night Football. But that's completely the wrong way to go with little kids who are just starting out with a sport. The key to youth athletics is the fundamentals.
Every sport has their KPIs (Key Performance Indicators) — the core skills that lead to success. For example, we concentrated on 3 basic KPIs for our team's defense. I called them the "rules" to keep things on an eight-year-old's level. They were:
Find the ball (a difficult task at this level!).
Attack the ball.
Don't stop until you hear the whistle.
Every player was expected to master those 3 concepts on every play. The rules were reinforced constantly throughout every practice, and even between almost every play in the middle of the game!
3. Customize Instruction to the Individual Child's Level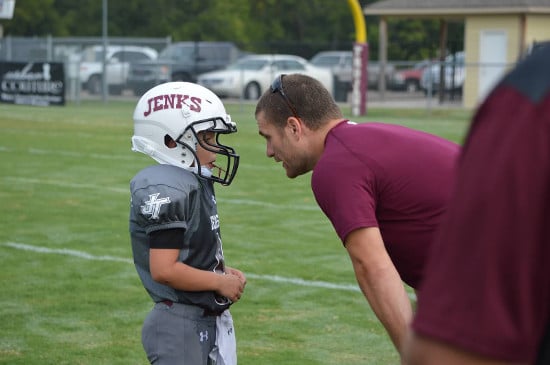 Once a player demonstrated a solid understanding of that foundation, we could move onto more technical skills that would help them master their specific position. Mental and physical maturity is so varied at these ages, that kids need custom instruction to keep them engaged.
Our instruction model was similar to the Khan Academy approach, where each player is given 1:1 instruction in a way that would allow them to progress at their individual rate, while still maintaining the common foundations as a team. This was accomplished by identifying which skills were appropriate for each player, and then getting as many dads involved as possible. By doing this, we could be high-touch with the players and run high-repetition drills to reinforce a technique that drives towards KPIs.
4. If Your Child Is On the Team, Be Mindful of Your Relationship

One of my biggest challenges as a coach was managing my relationship with my son — being both his dad and his coach. I found myself constantly holding him to a completely different standard than his teammates.
As a father of 4 kids, I've learned the hard way that each has their own internal wiring, and I have to tailor my parenting/coaching techniques differently to each of them. In this case, I realized that Jack would sometimes be overly sensitive to my feedback, and figured out that he would typically respond better to others than he would me. So I quickly adjusted to lean more on the other coaches to provide feedback to him.
You have to identify what works for you. That might be working one-on-one with your son or daughter, or it might be assigning another coach to be their primary tutor, so you can step back emotionally and treat all players equally. I don't think there is a right answer for all scenarios here; it simply depends on your child's personality and the dynamic of your relationship. Just don't turn into that parent/coach who has their kid in tears because they came down so hard on them for a mistake. You need to be able to zoom out on the situation and understand what's best for your kid, and be objective enough to identify the right approach that will help them progress, gain confidence, and ultimately have fun.
5. Communicate Expectations to Parents
When you're coaching youth sports, you're not just managing the kids, but their mothers and fathers as well. So from day one, you need to clearly communicate with the parents your intentions for the season and your expectations for the culture of the team. However, don't be an unapproachable dictator — set the tone early by sharing your email, phone number, and making yourself available after games and practices with an open ear, mind, and heart. Leave the ego at home and be willing to listen and take feedback yourself.
I also believe that if parents feel strongly about how their kid's sports experience should be, then they should sign up to coach! Too often we see disgruntled parents critiquing a coach from the comfort of their reclining camping chair. Youth coaches often pay out-of-pocket for team equipment, and spend countless hours coordinating uniforms, practice and game schedules, and facilities. Coaching youth sports is a thankless job, and one most parents aren't willing to sacrifice and do. Thus, coaches must be coachable and open-minded, and parents must be supportive of the sacrifices the coach is making.
6. Teach Kids Resilience
According to the extensive research cited in the book How Children Succeed, resilience, or "grit," is the primary predictor of a child's ability to become a successful and satisfied adult. As a coach, you have the unique opportunity to help frame how your kids will think about failure, ideally for the rest of their lives.
The struggles your little athletes will face can be as simple as making it through a single evolution of a drill at practice, to executing a play during an actual game. You must help them have the right attitude and learn to react with a desire to work harder to overcome the challenge before them. Remind them that the pain of pushing oneself physically is the only way to get stronger. And tell them that the pain of losing a game should drive them to work harder and get better, not to feel sorry for themselves (as is a common reaction in kids). Help them see how a poor reaction means no improvement.
A great opportunity to have these "discussions" is during the physical conditioning phase of our practice. We constantly talk about the value of hard work, and that you can only get stronger and better through effort and demonstrating grit. We remind them that games are won not on the field, but in moments like these, when you're giving all you've got during training, and no one else is around. Connecting those dots for your players will help them be more willing participants. And those early lessons are the foundation of what will get them through finals week in college, or through a high-pressure assignment at work.
Strengthen Your Community by Becoming a Coach and Mentor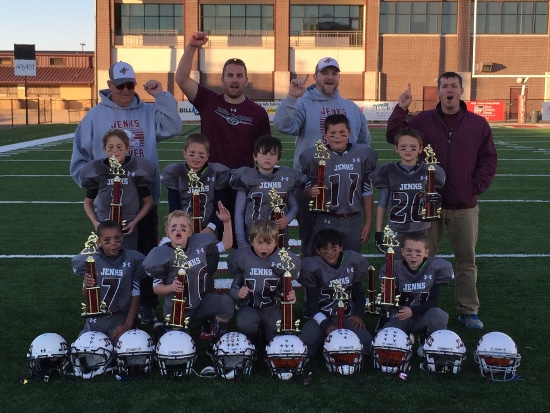 After winning the championship game, it was a very gratifying and emotional experience to see those 7 and 8-year-old boys grinning ear-to-ear, holding their big trophies, knowing how hard they had worked and how much they had improved. They were champions and they could feel it was special. They will never forget their championship season, and hopefully the lessons they learned will stick with them forever.
The coaches young men have in their life can have a significant impact on their development and their future. As men we have an obligation to teach the rising generation about the principles of hard work, self-confidence, leadership, resilience, and teamwork. Our communities need us to step up and shape those experiences early for youth, so they are better prepared for their adult lives. Find a way to get involved, whether you have kids yourself or not. Contact your local athletic organizations; they are typically always looking for more volunteers in every sport!
Have you ever served as a youth sports coach? What tips do you have for working with kids? Share your advice with us in the comments!
Tags:
Sports