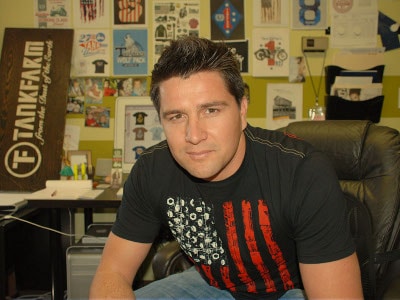 Once again we return to our So You Want My Job series, in which we interview men who are employed in desirable jobs and ask them about the reality of their work and for advice on how men can live their dream.
I'm really happy to present today's interview, because it's with a great friend of the Art of Manliness: Mike Anderson of Tankfarm Clothing. Awhile back, Mike reached out as a fan of the site and offered to design some Art of Manliness t-shirts for us. The result was a collection of tees that were cooler than anything we could have come up with ourselves or hoped for. Tankfarm has been a great supporter of AoM and is staffed by uber-nice guys who have an amazing blue collar work ethic. Today Mike gives us a look behind a business I know interests a lot of guys-designing and printing t-shirts. Thanks for the interview and all your help, Mike!
1. Tell us a little about yourself (Where are you from? How old are you? Describe your job and how long you've been at it, ect).
My name is Mike Anderson, I am 32 years old, and I am from Cypress, California. I've been a graphic designer and t-shirt designer for 12 years, and I have a BFA in Graphic Design from Cal State Fullerton.
Since 2003, I've been the co-founder and art director of Tankfarm Clothing alongside my brother John. We specialize in men's graphic t-shirts as well as button down shirts, knit shirts, and jackets. I spend the majority of my job creating unique men's t-shirt graphics. Tankfarm can be found at department stores such as Nordstrom and Macy's as well as Urban Outfitters and many specialty stores.
2. Why did you want to become a t-shirt designer? When did you know it was what you wanted to do?
I've grown up my whole life around my family's printing and screen printing businesses. I've also been drawing ever since I can remember. I knew I wanted to be a t-shirt designer and work with my family since my second year of college. My grandfather started Cypress Printing back in 1970 and my Dad went to work for him after the army about that same time. The "print shop," as my family calls it, had many customers asking about custom silkscreened t-shirts, and so my Dad started Cypress Silkscreen in 1980. Throughout high school my two brothers and I worked for my dad in all the areas of printing t-shirts (set-ups, screen making, mixing inks, printing, boxing and shipping). After high school I started working for the print shop as their in-house type setter (old school term for graphic designer). I designed t-shirts, business cards, flyers, wedding invites, and more for local Orange County businesses.
In 2001 I was playing drums in a local rock band with my brothers and we started Tankfarm Records to represent us and a few of our favorite local bands. I designed a few different Tankfarm Record t-shirts and they sold better than the cd's! In 2003 we had our first all store buy from Urban Outfitters, and we knew this was now our full-time gig.
3. What does it take to be a good designer? Do you recommend going to school to learn art and graphic design?
I would say the key to being a good designer is having a bit of natural artistic talent and a lot of practice. The two main software programs one needs to master are Adobe Photoshop and Illustrator. I've seen designers try getting away with only using Photoshop and that is a big mistake – Illustrator is much faster and is vector based (non pixel images). Every design company will require these two programs, and it's also a plus to know Adobe Indesign for page layout (t-shirt catalogs and order forms).
School is important but the designer's portfolio is the ultimate seller. To really nail down a good portfolio I would recommend offering free design services to everyone you know for the practice (and it feels good to give back). Portfolios aren't that impressive if they're only filled with school projects. Local restaurants, sports teams, and start-up business are great things to go after.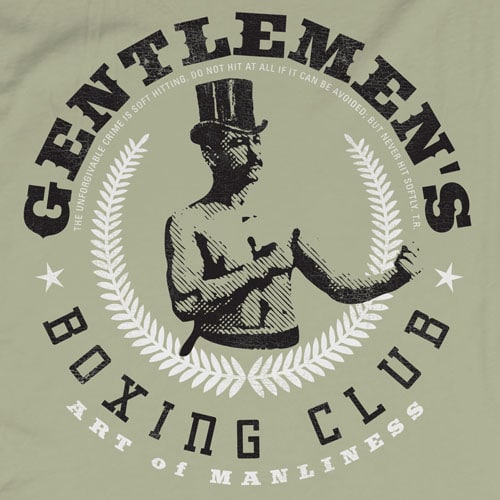 4. What does a man need to set up his own printing and designing business? What are the start-up costs involved?
Starting a screen printing business is not cheap. It would cost between 25 – 50k to get all the computers and machinery necessary to start. It's much more cost effective to find a local reliable screen printer that will print your designs for you. That way you have low overhead and you can design in your house or local coffee shop.
5. A lot of guys are interested in designing t-shirts. They feel like they've got some good ideas, maybe they're even printing a few up in their basement. But how do you go from making a few tees for your friends to getting your tees out there to a wider audience?
The best way to get your t-shirt designs to a larger audience is to start small and work your way up. Online stores and local boutiques are usually willing to take a risk with a start-up brand. Eventually the larger store buyers will take notice and will either want samples shipped to them or appointments made to see them at the large clothing tradeshows (project Vegas, magic show, ASR).
6. The t-shirt business is really competitive. How do you differentiate yourself from others and move away from the pack?
The best way to differentiate from the pack would be to stick to your own style and don't jump on trends. We have a motto, "If we wouldn't wear it, we won't make it." We mix current modern themes with timeless nostalgic Americana. Icons like McQueen and Dylan will never go out of style.
7. What is the best part of your job?
The best part of my job is when a t-shirt sells out. That way you know everything worked – I designed a good t-shirt, the retail buyer bought a good t-shirt, and the customer loved it. And the cycle continues…
8. What is the worst part of your job?
The worst part of my job is finding out a shirt didn't sell well. We'll always try to please our customers and swap out new tees for the ones that aren't working.
9. What's the work/family/life balance like?
I'm very fortunate to work alongside my two brothers and father. My grandpa stops by about once a week (a photo of him in 1950 is on our t-shirt hangtag) and my Uncle Larry is the main paper printer. I only live 3 miles away so it's very important I'm with my wonderful wife and two young boys for breakfast and dinner. I can always work from home when needed and prefer not to be at the office late at night.
10. What is the biggest misconception people have about your job?
The biggest misconception would be that anything fashion related is just fluff and games. In actuality it is a lot of hard work, determination and hustle.
11. Any other advice, tips, or anecdotes you'd like to share?
I really feel that I'm living the American dream and would encourage all AoM readers to take a risk in life. If you don't, someone else will.
Many thanks to Brett McKay for giving me the opportunity to share.
Tags:
So You Want My Job