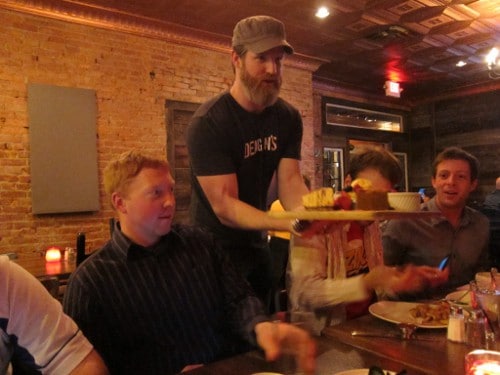 Once again we return to our So You Want My Job series, in which we interview men who are employed in desirable jobs and ask them about the reality of their work and for advice on how men can live their dream.
Last month we got a look inside the life of a restaurant critic. This month we hear from the guy the critic critiques: the restaurant owner. Dan Deagan is the owner of not only a rockin' beard but also a tasty gastropub in Ohio. Today he gives us the lowdown on his stressful but satisfying job.
1. Tell us a little about yourself (Where are you from? How old are you? Describe your job and how long you've been at it, etc.).
My name is Dan Deagan. I'm 38 years old. I grew up in Poland, Ohio (suburb of Youngstown). I currently reside in Rocky River, Ohio (suburb of Cleveland). I am the owner of Deagan's Kitchen & Bar, a gastropub located in Lakewood, Ohio. I've been in the bar/restaurant business for 22 years, working at basically every position in the industry, including line cook, bartender, server, manager, and now owner.
2. Why did you want to become a restaurant owner? When did you know it was what you wanted to do?
I had no intentions of staying in the business. I always planned on getting a "real job," and bartending/serving was just to pay for school and bills. It was a fun job and I realized that I was actually pretty good at it. I got into management and decided that I was tired of making other people money. I wanted to do it for myself. I opened my first bar in 2002 (Dive Bar in downtown Cleveland). It's still open and doing well, but I started becoming more interested in food. I wanted a place that my wife and I like hanging out in: independently-owned, casual atmosphere, great craft beer list, and fine dining quality food. We opened Deagan's Kitchen & Bar in September 2010 and have been very lucky to get great reviews and success.
3. A restaurant owner has to wear many hats. If a man wishes to become one, how should he prepare? What kind of skills, experiences, and education does a man need to learn all the aspects of the restaurant business?
My suggestion is to work in the business for a long time and try to learn every job. It will give you a different perspective, knowing what challenges face each of your employees. This is an industry where experience trumps education (and that's an understatement). At various times in one night, I'll be seating customers, pouring drinks, running food, busing tables, washing dishes, etc. It makes a difference to my staff and customers that I'm willing and able to jump in and help do any job.
4. Something like 60% of restaurants close within five years of opening. What, in your opinion, separates a successful restaurant from a failure?
The owners. Most restaurants I've known that have closed either had absentee owners, or owners that weren't familiar with the business but thought it would be "cool" to be a restaurant owner. I can tell you that it is decidedly not cool. It's long hours, lots of stress, and not nearly the money that most people think it is. But I love it. An owner has to have a passion for food and love interacting with all types of people.
5. Franchise restaurants have only a slightly higher success rate than independently-owned restaurants. Having chosen that latter option, what do you feel are the advantages and disadvantages of owning your own place?
I think the advantages far outweigh the disadvantages. To me, the only thing the chains have that independents don't have is buying power (buying so much product that the food purveyors give steeper discounts), and the backing of a larger corporation for the lean times. The advantages are that I'm in control of every aspect of the restaurant. I choose the beer, food, etc. and that makes a huge difference. I can change the menus whenever I like; I can decide my own marketing. Franchisees have to get permission from the corporation just to carry a locally-brewed beer. I want the decisions made by myself, rather than by a guy in an office 500 miles away.
6. What is the process of opening a restaurant like? Briefly take us through some of the stages from hatching the idea to opening the doors.
It's a lot of work. Obviously, the first thing you have to do is finalize the concept. My wife and I love to eat great food and drink great beer, but we don't like getting dressed up or eating at white tablecloth restaurants. We wanted a place with fine dining quality food where we could wear jeans and t-shirts. The town in which we are located has a ton of bars and a few fine dining restaurants, but no places that combine the two.
Next, we had to find a location. I had my eye on a spot for over a year, but the landlord was dragging his feet. Ironically, it's because a large national chain had expressed interest, and they were waiting for them to make their decision. Finally, the chain decided not to expand to this market and the landlord came back to me. We negotiated the terms of the lease for about a month.
Once I had the lease in hand, I went to various banks for financing. I was turned down by the first three (including the bank that I had been using personally and for another business for almost 15 years), but then finally was accepted for financing by the fourth bank. Banks are very hesitant to loan money to start-up restaurants, but my experience and success in the business was what got me the loan.
Once financing was set, it was architects, engineers, contractors, etc. My wife did most of the interior design with the help of a friend, so that helped save money. The entire build out took about 5 months. My partner and I did most of the demo and assisted the contractor in the build out. We hired a chef about 3 months before opening and then slowly started hiring staff. We had to push back the opening a few times because the building department wanted some things changed and adjusted. Finally, we passed all of our inspections and opened our doors as we were still stocking the bar. The last few days were a whirlwind and probably the most stressful and exhausting in the entire process.
7. What is the best part of your job?
I enjoy people, great beer, and great food. I'm surrounded by all three every day.
8. What is the worst part of your job?
The hours. When we first opened, I was working over 100 hours a week. Even now, 19 months after opening, I'm still putting in about 60 hours a week. Being on your feet all day can be rough on your body. That being said, there are a lot of people out there that work a hell of a lot harder than me and don't have the benefits that I mentioned above. I've been very fortunate.
9. 1/3 of businesses that close their doors do so while they're still profitable; owners often want out because the pressure and the toll on their family life is too great. In fact, a study has shown that a restaurant owner's ability to give his business adequate attention while balancing the needs of his family is a more important factor in success than even location. So what's the work/family/life balance like for you?
I have a very patient and understanding wife, so that takes a lot of the pressure off of me. She understands that I'm putting in the hours because that's what is necessary. It also helps that she left her nursing job last year to work with me, and our daughter is a hostess when she's home from school. In the end, I know that the business might be better off if I was still working 100 hours a week, but it's not worth sacrificing time with my family.
10. What is the biggest misconception people have about your job?
That it's a huge moneymaker. The actual profit from a restaurant is less than 10%. The overhead is enormous, from payroll, to utilities, to credit card processing fees, to repair and maintenance.
11. Any other advice, tips, commentary or anecdotes you'd like to share?
If you want to own a restaurant, make sure you have experience. The restaurants I see around me that close are the ones owned by someone who has never been in the business. They don't understand what goes into owning a place. If you decide to be an investor in a restaurant, make sure you know who is going to be running the restaurant on a day-to-day basis, and make sure the managing partner is someone that you know well. It's a great business, but it's also very difficult. You have to have a passion for it.
Tags:
So You Want My Job