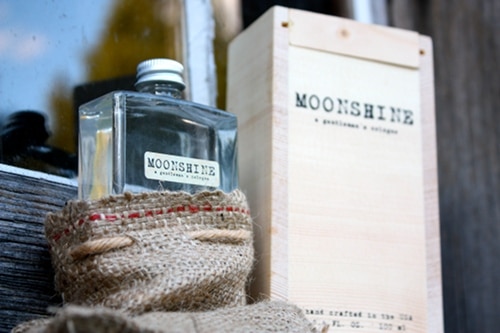 Exactly one year ago, Brett kindly allowed us to share our story of launching MOONSHINE, a gentleman's cologne. The piece, From Idea to Reality: A One-Year Case Study on Launching a Successful Business, received quite a bit of positive feedback, as we discovered many gentlemen were looking for inspiration to start their own businesses. Many also responded that they would like to know where we ended up a year later. Would we have lost all of our money, ruined our friendships over business, or possibly become millionaires? Ask and you shall receive.
By sharing our story (trials, tribulations, and successes), we hope that you will also be inspired to finally make that idea of yours a reality, and beyond.
Enjoy!
Matt, Colin, & Charlie
EastWest Bottlers
Saturday, September 10, 2011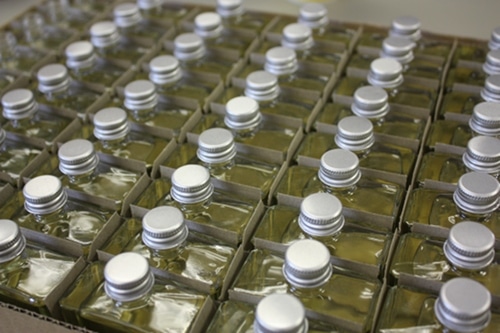 If we can just break even by Christmas, I'll be really happy.
Charlie muttered these words of hope about five hours into our first bottling session. It was about the time my hangover from the night before, and the overwhelming intoxication of cologne fumes, began to bring a sense of reality – and gravity – to our situation. After all, we had just invested thousands of dollars into our cologne, and we were venturing into an industry in which none of us had any experience.
Yet, to be sitting in Charlie's parent's basement, surrounded by hundreds of bottles of cologne, was already something of an accomplishment. In other words, we didn't let our great idea go to waste – we actually mustered up the time, energy, and capital to create a product. With that said, at the time our article debuted, we barely had any sales, were only in a few stores, and had an intimidating basement full of inventory. So what's happened since then? Much like the first twelve months of planning, we've seen our share of ups, downs, setbacks, and successes. But most of all, there was a lot of hard work and tough business lessons learned along the way.
November – December: The Payoff
Why highlight the first two months, instead of the first quarter, or some other number that makes sense to a Wall Street analyst? The answer is simple — too much transpired in those first two months. Right off the bat, MOONSHINE, a gentleman's cologne, launched to a resounding chorus of crickets from our friends. Honestly, the popular response from our friends launch was half-hearted well-wishes, jokes on the product name, and excuses to not buy a bottle. Now let's be clear, we're not disparaging some loyal friends and family members that bought in initially – thank you guys – but we are simply highlighting a reality. If your business model is predicated on the goodwill of your friends, you're in serious trouble.
So, why was November and December such a payoff? We went, for lack of a better word, viral.
Early on, we made the decision to market our product differently, and within our means. A major problem most small businesses face in the start-up phase is trying to play in the same arena as the big boys. For example: we are now in the fragrance business, and Ralph Lauren sells fragrances. Ralph Lauren can hire twenty full-time publicists, spend millions on advertising, and employ a myriad of assistants, runners, photographers, and sales people to launch a new campaign. We cannot.
Instead, we had to find a way to be different than everyone else.
Our initial marketing efforts didn't focus on running ads in GQ or Esquire. Instead, we took a grassroots approach. We targeted those blogs and websites that were not only in our niche, but also growing just enough to have a dedicated following while still scrambling to source content. Our first marketing win was landing an online feature on a smaller blog with a fervent fan base. Next thing we knew, we were published and the ball was rolling.
It was a whirlwind through Thanksgiving and December. Each day, we were tracking record sales, only to break that record the following day. At one point, our payment processor called to check-in due to the dramatic spike in activity, and by the first week of December we were completely sold out.
Damn – we'd lost our chance to capitalize on Christmas sales (Brett knows this feeling, as copies of his first book sold out weeks before Christmas). In a pinch, we switched to selling pre-orders through our site and sales remained strong. We were shocked. People were eagerly purchasing our product, knowing full and well they wouldn't receive a shipment until well after the holiday.
By happenstance, it's as though we learned an important business lesson from the Apple playbook. I'm certain they can supply enough iPhones or iPads to meet consumer demand on launch day, but their marketing genius lies in the lines and media coverage surrounding the difficulty in being one of few to get a hold of their product first.
Genuinely, I'll be the first to admit we had our fair share of good fortune surrounding the product launch. Yet, the foundation for our brand was built around quality. Such quality was the result of twelve months of research, development, brainstorming, and attention to detail. A creative name and unique packaging helped us stand apart from every other cologne, thereby putting the product on store shelves. But it was our story that helped to sell that product off the shelves, along with some coverage from major sites starting with The Art of Manliness and leading to CNN, HLN, and other national media.
January: The Hangover
No, I did not wake up hung-over on New Year's Day. Instead, I was asleep before midnight, exhausted after bottling for 12 hours during our second packaging session. We started the New Year by pouring our earnings right back into the business – doubling up on our inventory and paying back our initial investment. Things were going to stay on the up and up, right? Wrong.
After fulfilling pre-orders and restocking our stores, sales came to a screeching halt. In hindsight, we launched our product during the busiest sales period for retailers and consumers. Lacking any prior retail experience, the three of us were pretty green when it came to dealing with the reality of the slow winter retail sales that followed.
So, we decided to regroup. In our last piece, many of you commented about the pitfalls of working with friends. As foreshadowed, we've had our differences. The workload is not always evenly distributed and we sometimes have different beliefs about the direction of the business, yet we're always up-front about our differences and address issues before they become problems. We ask for help when we need it, and we suck it up when things fall on our own shoulders. It's a business, and like we've said from day one, running a business means work.
During this time, we were pitched by another entrepreneur about formulating soap for our brand. Finally – someone else was pitching us, and her sentiment and business case was genuine. After months of development, we launched MOONSHINE soap. The success of MOONSHINE soap is just another business lesson realized. We'd never considered the idea of extending our brand into the soap arena; however, we were open to any and all ideas. The more we listened and evaluated the opportunity, the more it made sense, so we moved forward. In other words, take time to take unsolicited pitches and offers, as it can foster new business and growth for you and others. (P.S. I started writing food articles for Brett based on an unsolicited pitch through the AoM website.)
One last thing—taxes. Let's just say that we didn't plan accordingly during the chaos of 2011 – lesson learned the hard way. Find a trustworthy accountant and ask for their advice throughout the year so that you pay your fair share of taxes and nothing more.
Feeling rested, regrouped, focused, and with a new product ready to debut, we were back in the saddle again. It also didn't hurt that Attack of the Show, hosted by the moderately attractive Sara Jean Underwood, featured MOONSHINE on the show at the end of the month. That means she pretty much wants to date one of us, right?
February – July: The Second Wind and Coming Up Short
This year's second quarter began with a third bottling session under our belt. Issues continued, but we were better at rolling with the punches. Customs held up part of our order for over 90 days, we had to legally assert our trademark rights, contracts were made, and contracts were broken. But through it all we kept slowly and steadily notching up another store here and another store there to carry our product. Before we knew it, we had 50 retail partners, and then 75, and then nearly 100. Most reassuring, and most important, was that our retail partners were selling out of our products. By May, every store had re-ordered, most placing multiple re-orders. With sales back on track, we started looking for bigger fish.
Through friends of friends, we finagled our product in front of a high-end department store buyer—but got no response. Next, we got an endearingly sweet form rejection letter from a major fragrance chain that read like a Mad Libs, plugging our company name and product into the blanks. Our luck, however, was about to change.
In closing last year's article, I threw out the unlikely possibility of getting a shot at Sephora or Nordstrom's. To our surprise, an even bigger fish swam along – Macy's. Just like that, I was on a plane to NYC, sitting in their plush offices on 34th Street. I was there to strike a deal and make both of us money, but when the head buyer walked in and asked me to tell them about our little project, I realized I was meeting with him as a pleasantry. As the meeting wore on, it simply highlighted the inability of the big-box stores to regionalize, improvise, and break the institutionalized method that they are so accustomed to. They liked our niche brand – they just didn't know what to do with us. In the end, it wasn't the right fit, so I drowned a few beers at 48 Lounge feeling neither content nor discouraged. Sometimes what seems to be a life-changing deal isn't always the best business move.
After all, there was more work to be done.
August – Present Day: Primed to Launch
Despite the pass from Macy's, our line was continuing to grow in its own right, and we were ready to expand into women's fragrance. We knew that Speakeasy, a lady's perfume would be the perfect name to complement MOONSHINE, a gentleman's cologne – now we just needed to find out what it was going to smell like. Back to the drawing board.
Our current parfumeurs in France went to work on crafting a feminine twist to MOONSHINE. Yet this time around, we thought it prudent to explore other manufacturers. After all, of all our expenses, the actual juice is by far and away the largest cost. What good entrepreneur wouldn't explore options? So we did.
We came across a few credible domestic suppliers who offered a product at nearly half the cost. Half the cost? Wow — had we been duped by the French all along?
Why was there such a variance in cost? Was there truly that drastic of a difference in quality? I picked up the phone to reach our French supplier, fully expecting to have a very hostile conversation. Yet, our exchange was the exact opposite of tense. In short, our supplier told us – and in your best French accent – repeat after me, "If you want cheap wine, buy cheap wine. If you want a cheap car, buy a cheap car. If you want a cheap fragrance, go buy a cheap fragrance. We don't sell those here."
Lesson learned – confidence, experience, and quality is worth the money. We placed our first order for Speakeasy, a lady's perfume, from our partners in France, and it now has launched nationwide. Needless to say, we are really proud of it.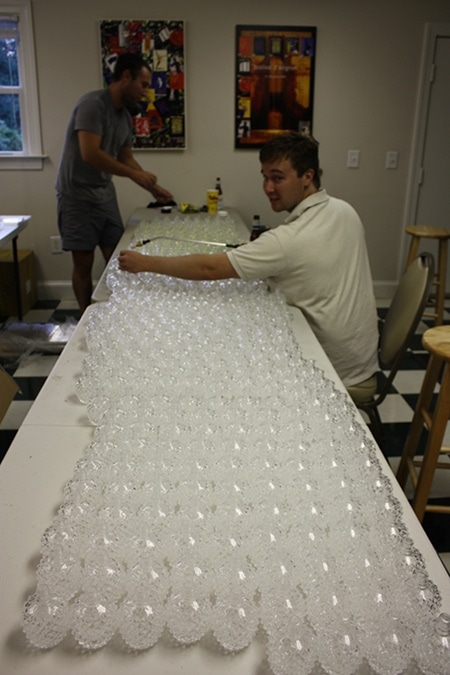 Having re-invested all of our profits back into our brand and future lines – we've decided to put our reputation and experience to the test once again. That reputation was further solidified when Esquire named MOONSHINE as one of the best colognes for men – along with a slew of other press coverage, including a full page feature from Southern Living magazine in their September issue:

Starting this holiday season, we are proud to announce a partnership with Belk, a Charlotte-based, family-owned department store with over 300 locations in the South. Belk's modern, southern-style branding is a reflection of ourselves, and we are elated to bring our products to more customers that we previously couldn't reach. We truly feel we've found a partner in Belk, rather than just another big-box retailer trying to figure out what all of the buzz is about. We're confident that with their strong retail presence and cosmetic experience, they'll be able to help us continue to expand and grow while staying true to our down home roots.
In business, you always hear the term tipping point – the moment when a brand goes from obscure, to the top of the charts. I would argue that entrepreneurs experience multiple tipping points throughout the life of their brand or career. The key is to keep tipping towards success, without tipping over completely.
Your tipping point could start today. Turn an idea into a reality. Re-energize a sluggish business. Rebuild a relationship gone sour.
We took that first step, and then some – and in the words of Jerry Garcia – What a long, strange trip it's been.