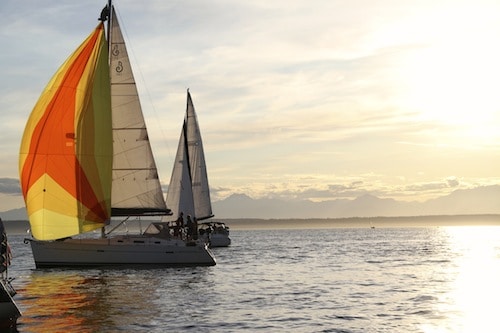 A wise man once told me that life is always better on a boat.
I can't say that I disagree. Whether paddling a canoe while fishing the Duck River or cruising on a pontoon with friends on Lake Oconee – some of my most joyful moments come from being on the water. Beyond being a source of joy and adventure, the water also yields some great eats too!
These days, it seems that more and more folks are becoming interested in knowing where their food comes from. I say there's no better way to learn about it than by going out and getting face-to-face with the ingredients! After all, nothing is more primal and manlier than hunting down and preparing your own meals.
A place where I've discovered some of my favorite ingredients is the San Juan Islands. And no, I'm not talking about Puerto Rico.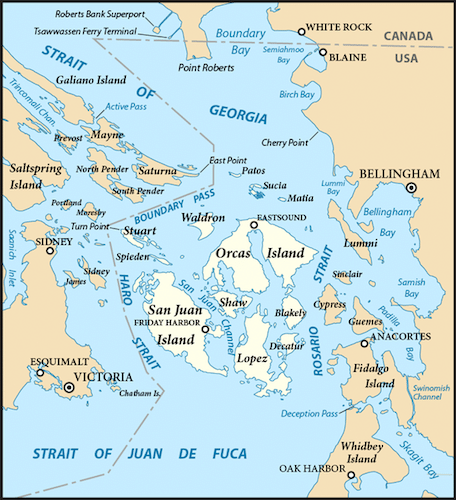 The San Juan's are an island chain located just off the coast of Washington state, known to boast an array of world-class ingredients including salmon, Dungeness crab, and a variety of other sea and land creatures.
That being said, I'm already getting hungry. Let's get to work on some of my favorite recipes inspired from this region. Important sidenote – conservation is a responsible part of being a sportsman and a gentleman, so purchase a fishing license and mark your catch accordingly – keeping only those which meet the wildlife guidelines in each state or county.
How to Fillet a Salmon
Nothing beats a day on the boat fishing with friends, tossing back a few cold Army pops (a local term for cold beers), and reeling in King Salmon. But the work doesn't stop there! Jay Field with Dash One Charters shows us how to perfectly fillet these culinary treasures and get them ready for the table.
Secure the fish against a hard surface.
Using a sharp fillet knife, remove the dorsal and anal fin. Use caution when handling a fillet knife as they are extremely sharp. Always be sure to cut away from your body.
Insert the knife into the anus and make a shallow cut through the abdomen, between the pelvic fins, until you reach the jaw. Open the fish and remove the entrails.
Lift the pectoral fin, and cut through the joint until you hit the backbone of the fish; turn the knife so that it's parallel to the backbone, with the edge directed towards the tail. Holding the head for stability, carefully cut through the fish until you reach the tail, allowing the backbone to serve as the guide for the knife. Repeat for the other side of the fish.
Remove the belly by carefully sliding the knife between the opaque belly meat and rib bones. This step is all about allowing the sharp knife to do the work, as it will slide between the belly meat and rib bones without removing the quality flesh below.
One final note: Most chefs will remove the pin bones prior to service using a pair of pliers – especially for bigger fish. You can find the pin bones by simply running your fingers down the center of the fillet. It's important to note that on freshly caught fish, removing the pin bones is virtually impossible without destroying the meat – so I typically skip the step and inform my guests. If you buy your fish whole or frozen at the market, be sure your fishmonger removes these before you get home. Otherwise, some needle-nose pliers will allow you to quickly pull them out prior to cooking.
Simply Roasted Salmon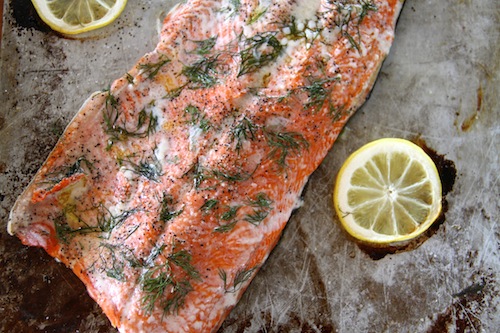 Simple is always better in my opinion. Serving a whole "side" of salmon is a great dish for entertaining, as I like to present the whole fillet to allow diners to pass the dish and serve themselves. My recommendation is to serve the salmon cooked to medium, or about 3-4 minutes per pound, using the method below. If you prefer your fish to be cooked through, 5-6 minutes per pound will suffice. (Prep 5 min, Cook 8-16 min, Serves 4-6)
1 "side" or whole salmon fillet, skin-on, about 3 lbs
Extra virgin olive oil
Kosher salt
Fresh cracked pepper
Fresh dill fronds, if desired
Fresh lemon wedges, if desired
Preheat oven to 400 degrees F. Place the salmon, skin-side down, on a roasting sheet. Drizzle with oil and season lightly with salt and pepper. Add fresh dill and lemon if desired. Place into oven and roast uncovered for 12 minutes (see note above about cooking times). Remove from oven and serve either warm or at room temperature.
Crab Boil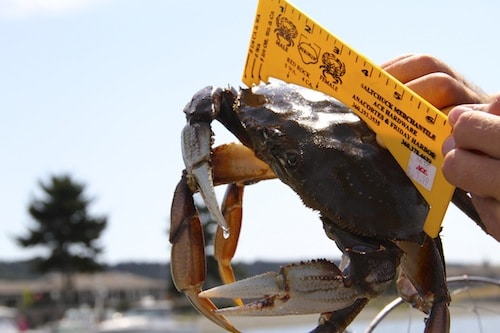 A great island tradition is setting out crab pots at dusk to (hopefully) haul in a big catch the following day. Crab pots are baited with dead fish or chicken thighs and dropped by boat into the flats or shallow areas, with buoys marking each trap's location. Only male crabs of a certain size (refer to fishing license and area) can be kept for the boil. If you aren't catching your own crabs, there are several purveyors on the islands that can supply you with live crab. This dish is a social event in and of itself, often cooked on the docks or piers after a long day on the water — so be ready to share! I like to cook up a few extra crabs and keep their meat (keep refrigerated) for leftovers for the breakfast and lunch recipes that follow. (Prep 10 min, Cook 15 min, Serves 5)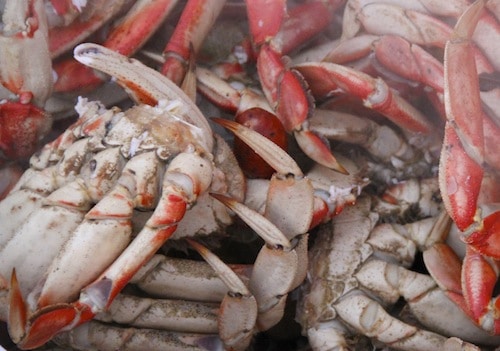 10 whole, live Dungeness crab, about 2-3 lbs. each
Fill a large 60-quart pot two-thirds full of fresh seawater. If you don't have seawater, fill the pot with fresh water and season with salt until it tastes "as salty as the sea." Also, just like the PEI Low Country Boil, you can use a 12-quart pot and strainer. Just boil the crabs in stages if you don't have a big ol' 60-quarter.
Bring water to a slow boil over medium-high heat. Once the water comes to a boil, add crabs. Cover the pot and boil for 12-15 minutes; crabs should be bright red/pink in color. Drain the basket and pour out on a large table covered with newspapers. To eat: remove the top (carapace) by simply pulling between the top and the body, discard. Using your hands, break the crab body in half and remove the guts and lungs. Use seafood crackers to get to the leg, claw, and body meat.
Crab Omelet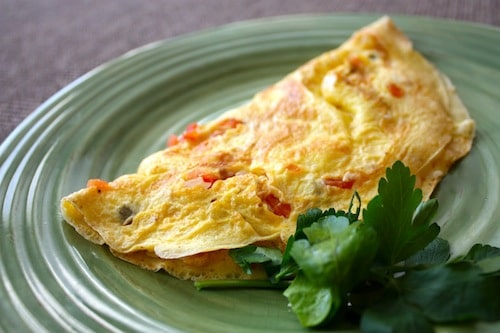 Trust me, you'll be glad you held back some of that crab meat from last night's boil. Fresh, tender crab meat goes incredibly well in a trusty omelet to get your day off on the right foot. Not catching your own crabs on a boat in the San Juan Islands? You can re-create this meal at home by picking up a tin of lump crab meat in the seafood section at your local grocer. (Prep 10 min, Cook 10 min, Serves 1)
1 teaspoon extra virgin olive oil
¼ vine ripe tomato, finely diced
1 teaspoon onion, finely diced
3 eggs, beaten
2 Tablespoons cooked lump crab meat
1 tablespoon mozzarella cheese, grated
Heat an 8-inch non-stick skillet over medium heat; add oil. Add tomato and onion and sauté for 1-2 minutes, until just tender. Pour eggs into pan, allowing them to set on the bottom. Using a wooden spoon or spatula, gently lift the cooked portions of eggs from the bottom of the pan, while using a tilted motion to allow the uncooked eggs to reach the heat. Continue in this manner until no more runny portion remains. Use a spatula to flip the omelet (or flip in pan). Add crab meat and cheese to one side of the omelet, fold, and serve.
Dungeness Crab Pasta Salad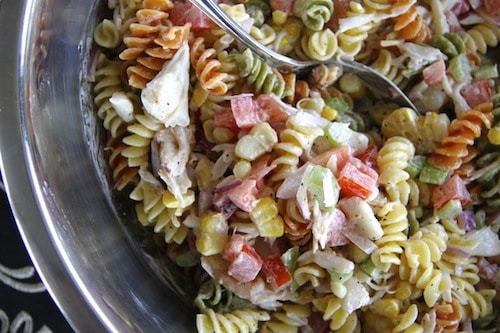 A chilled pasta salad with seafood is one of my favorite quick lunch meals. By using pasta as the backbone of this dish, the meaty chunks of crab meat will stretch even further – making this somewhat decadent lunch quite affordable for those who have to buy their seafood at the grocery store. This dish keeps well in the fridge for a few days when stored in a tightly covered container. Feel free to also substitute cooked shrimp for the crab if desired. (Prep 10 min, Cook 18 min, Serves 4-6)
1 12-oz box tri-color rotini pasta
1 vine ripe tomato, finely diced
½ medium red onion, finely diced
4 stalks celery, finely diced
1 lb. cooked lump crab meat
1 can of corn, drained
3 Tablespoons mayonnaise
½ lemon, juiced
Kosher salt, to taste
Fresh cracked pepper, to taste
Heat a large pot of salted water to a boil over high heat. Add pasta and cook to just under al dente, about 10 minutes. Drain pasta in a colander and set onto a metal baking sheet in the fridge to cool. When pasta is chilled, toss with remaining ingredients, seasoning to your preference with salt and pepper. Serve chilled.
If You Go to the San Juan Islands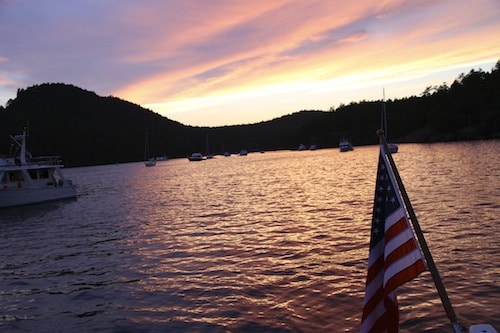 Overview: The San Juan Islands are an archipelago located between the US mainland of the state of Washington and Vancouver Island, BC, Canada. Main islands in the chain include Orcas, San Juan, Lopez, and Shaw. It's on Pacific Standard Time.
When to go: Late Summer and fall ushers in days filled with sunshine and moderate temps – ranging from the mid-70s and dropping only into the 50s. The islands sit in the rain shadow of the Olympic Mountains, making them less prone to typical Seattle-esque rainfall. This season boasts an array of activities, including a weekly Farmers Market, Food, Arts, and Family Festival, and Oktoberfest.
Getting there: There are daily non-stop domestic and international flights into Seattle (SEA-TAC). Visitors can drive to Anacortes (90 minutes) and catch the Washington State Ferry ($) to popular destinations on the island. For a once-in-a-lifetime adventure, hop on a Kenmore Air Seaplane ($$$) and get to the islands in less than 45 minutes from Seattle.
Where to stay: Friday Harbor House (Friday Harbor), Outlook Inn (Orcas Island), Lopez Islander (Lopez Island). Better yet? Stay on your boat (see below).
Where to eat: The Bluff ($$ — Friday Harbor): Try Chef Aaron Rock's seared salmon with bacon butterscotch sauce. Bay Café ($$$$ — Lopez Island): Get the crab cakes w/roasted Brussels sprouts. The Doctors Office Café ($ — Friday Harbor ): Strong Coffee and cheap breakfast options. Madrona ($$ — Roche Harbor): Local lamb sausage kiln-fired pizza.
Top Attractions:
Get on the water – there's no better way to discover the San Juan Islands than by boat. Traveling the islands via boat allows you to make stops at the many different harbors, while taking in the sights and sounds with a front-row seat to adventure. Fortunately, you don't have to be an experienced captain or even own a vessel to get this experience. Turn-key outfitters can take care of your every need – and at reasonable prices comparable to any hotel stay. Cook your own meals using my recipes for an authentically local escape.
San Juan Island Distillery – just a short walk from Friday Harbor, the San Juan Island Distillery offers free tasting on their cider and gin varietals. The team uses local apples to distill their spirits – producing some of the best gin you'll ever experience. Purchase their Spy Hop Harvest Select Navy Strength and they'll shoot off a cannon in your honor.
Sea Kayaking – after all that great eating and drinking, it's probably a good idea to burn off some calories. Why not take in some great views and wildlife too? Bald eagles, harbor seals, and star fish are just some of the unique animals you can experience on this tour.
Fishing – taking a salmon fishing excursion is something that should be on every man's bucket list. Reeling in a 30-pound King Salmon is often the norm in these waters – not to mention the many Pink, Chinook, and Sockeyes that also frequent the region.
Whale Watching – catching an orca breach the ocean surface is an unbelievable experience. Daily trips are available through October.