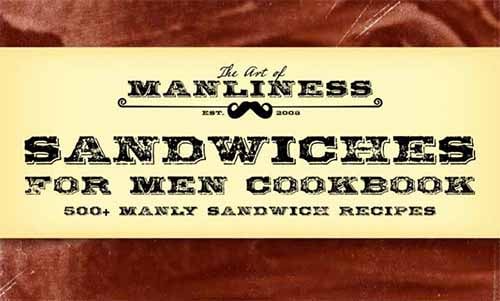 Back in March we asked AoM readers to submit their favorite manly sandwich recipes for our Art of Manliness Month of Sandwiches Project that took place in April.
Nearly 500 of you submitted recipes for the project. During April, Jeremy (our tireless editor, writer, and community manager) and I picked 20 of those submissions to highlight on the blog.
We promised that we would make a digital cookbook with all 500 of the submitted recipes placed in a single PDF so you could easily peruse the recipes. Today we deliver on that promise.
The AoM Sandwich E-Cookbook
The Art of Manliness Sandwich Cookbook is a 97-page, nicely-formatted PDF with nearly 500 manly sandwich recipes and dozens of full color photos.
The book is organized into the following sections:
Breakfast
Sandwiches Starring the Bagel
German Delights
No Meat Sandwiches
Double-Deckers
Cold Deli Meat Base
Panini/Toasted Sandwiches
Simple Delights (3 Ingredients or Less)
Sandwiches Starring the Croissant
Grilled Cheese Varieties
Culinary Masterpieces
Steak/Beef Sandwiches
Miscellaneous
How to Get the Sandwich E-Cookbook
To get access to the AoM Sandwich Cookbook download link, choose from one of two options:
1) Like us on Facebook. The first way you can gain access to the digital sandwich cookbook is to simply like us on Facebook. Follow this link, and you'll be taken to a place on our Facebook Page that has the download link for the cookbook. If you're not a fan of us on Facebook, before you can gain access to the link, you'll see a pop-up window asking you to like our Facebook Page.
If you're already a fan of us on Facebook, you'll already have access to the link. Click it and you'll be taken to the PDF. If you want to save it to your computer, just right-click and "save as."
2) Subscribe to our email newsletter.  If you don't use Facebook, never fear, you can still get your hands on a copy of the cookbook. To do so, simply subscribe to our email newsletter. You'll have the option to get emails daily or once in a weekly digest.
After you confirm your subscription, you'll receive an email with the subject "Your Free Art of Manliness Sandwich Cookbook." Note: Don't worry if it doesn't come right away. It should arrive within an hour of subscribing. If it doesn't, please check your spam or trash folder before emailing us. There's a chance it could be there.
If you're already subscribed to our email newsletter, you'll be receiving an email from us in the next few days with the link to download the cookbook.
Hope you enjoy the free cookbook and find yourself a new favorite sandwich!
Last updated: October 7, 2013