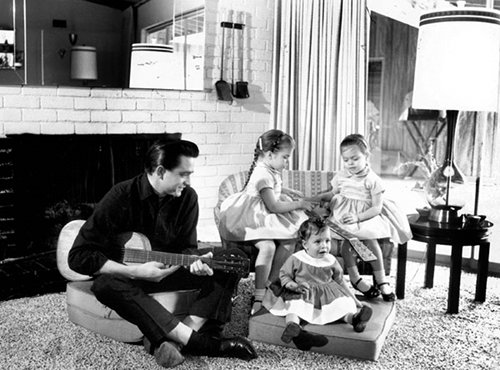 The relationship between fathers and their children is one of the most important and influential of all human connections. Children want to be like their fathers, or their complete opposites. They can feel protected, smothered, or abandoned by their dads. Dads can wonder if they're doing fatherhood right, struggle to express their love to their children, or regret the things they didn't say or do.
Any way you slice it, the father/child relationship can stir up a lot of emotions, so it's no wonder these emotions have sometimes been channeled by musicians into songwriting gold. Fatherhood doesn't get as many songs penned about it as romantic love to be sure, but there have definitely been some dad-themed gems put out over the decades. In honor of Father's Day this Sunday, here are ten of my favorites. I know there are many more — so be sure to share your picks with us in the comments!
"Father and Son" by the Artist Formerly Known as Cat Stevens
This 1970 folk rock classic by Cat Stevens captures an exchange between a young, idealistic man looking to break away and live a life of passion, and an old, but wise father telling his son to "Just relax, take it easy."
While many assume that the bearded, pre-Muslim conversion, hippie Cat Stevens identified only with the freedom-seeking son, in an interview in Rolling Stone, Stevens said: "Some people think that I was taking the son's side. But how could I have sung the father's side if I couldn't have understood it, too? I was listening to that song recently and I heard one line and realized that that was my father's father's father's father's father's father's father's father speaking."
"Love Without End, Amen" by George Strait
Country music is filled with songs about dads, but George Strait's "Love Without End, Amen" is surely the best of the bunch. Ever since becoming a father, I've definitely been learning about "the secret about a father's love" of which good old George Strait croons.
"Papa Was a Rolling Stone" by The Temptations
"Papa Was a Rolling Stone" is a strange musical combination: truly doleful lyrics set to a funky groove. This 1970 dance hit by the Temptations tells the tale of a man discovering that his dad was a lazy, womanizing, good-for-nothing. The song teaches us that if your dad was a bad example on how to be a man, learn from him by doing the opposite…and then get up off your thing and dance until you feel better about it.
"Daughter" by Loudon Wainwright III

I can thank Judd Apatow's
Knocked Up
for introducing me to this gem of a song. Whenever I hear it, it makes me want to have a daughter. But even if you have a pack of boys (or a wild and crazy Gus), you can still relate to the pride and love that Loudon Wainwright feels for his little girl. When Wainwright sings, "Everything she knows I taught her," the truth of how much influence you have on your kiddos really hits you. Wainwright also has another song about fatherhood called "
Being a Dad
" that's pretty good too.
"Cat's in the Cradle" by Harry Chapin
The heartwrenching-est song about fathers and sons ever written. The song is based on a poem written by Harry Chapin's wife. The couple often worked on each other's writings, and when Harry first read the poem, he tried setting it to music, but the result didn't grab him. It was not until his son was born that Chapin felt inspired to give turning the poem into a song another try, and "Cat's in the Cradle" was the result.
The song tells the story of a man too busy with his career to actually enjoy the people that matter the most. He works to provide for his family, but doesn't make an effort to build a relationship with his boy. By the time the father realizes what he's let slip away, and wants to spend time with his son, life has come full circle — his son is too busy for him now. "My boy was just like me."
Every time I hear this song, I start reflecting on the time I spend with my own boy and how quick he's going to grow up. Men, if you want a relationship with your son (or daughter) when you're old and gray, put the smartphone down, leave work at home, and go out and throw the ball around with him when he asks.
"Color Him Father" by the Winstons
Stepfathers often fill the role of the evil villain in books, movies, and music. The Winstons' 1969 hit "Color Him Father" is a refreshing exception. The sentimental soul song is about a young boy's love for his super stepdad who married his widowed mother and took on the father role for seven children that weren't biologically his. The man in "Color Him Father" exemplifies the Art of Dad-liness: he works hard for his family, takes an active role in parenting, and loves his children's mother.
"A Boy Named Sue" by Johnny Cash
Sometimes an epic bar brawl is just thing a father and son need to mend their relationship. In "A Boy Named Sue," Johnny Cash recounts the tale of a deadbeat dad who gives his son a girl's name (Sue) before hightailing it out of town. The boy grows up ridiculed and taunted for his feminine name and vows to find and kill his father for branding him with this indignity. When the boy, now a man, finds his dad in a Tennessee bar, a knife and gun fight en
sue
s (see what I did there?), but by the end, the dad explains why he named his boy Sue, and Sue comes away "with a different point of view."
I wonder how many dads have named their sons Sue after hearing this song? Any male Sue's out there?
"My Father's Eyes" by Eric Clapton
Understanding the backstory of this song makes it all the more poignant. Guitarist Eric Clapton grew up not knowing who his father was. In 1991, Clapton's four-year-old son fell to his death from the window of Clapton's Manhattan apartment. "My Father's Eyes" was Clapton's way of exploring the grief of not knowing his father and the tragic loss of his own son. He shares in his autobiography that the song describes "the parallel between looking into the eyes of my son, and seeing the eyes of the father that I never met, through the chain of our blood."
Clapton also wrote "Tears in Heaven" in honor of his dead son. He no longer plays both "My Father's Eyes" and "Tears in Heaven" during concerts because they're too emotionally draining.
"Just the Two of Us" by Will Smith
In his debut solo album, Will Smith laid down the best song ever recorded that accurately describes putting in a baby's car seat for the first time. In all seriousness, "Just the Two of Us" is a great song about being a dad. Smith perfectly captures what a man feels when he sees his baby for the first time or when his kid starts cutting up. Thanks to the Fresh Prince, I find myself singing in my head "Tru dat tru dat, uh ah why you do that, I try to be a tough dad, but you be making me laugh," whenever Gus gets into mischief.
"The Living Years" by Mike + the Mechanics
There's a reason "The Living Years," feels so real and poignant. Not only had the man who penned the lyrics lived the song — BA Robertson's father, with whom he had a strained relationship, had died three months before his son was born — but Mike Rutherford had also recently lost his father and had a child, and Paul Carrack, who sang lead vocals on the song, had lost his father when he was 11 years old. Put those men's experiences together, and now you know why the song hits you right in the heart.
"The Living Years" is a gentle reminder to pick up the phone, or better yet, write a letter, to tell dad how much he's meant to you…while you still can.