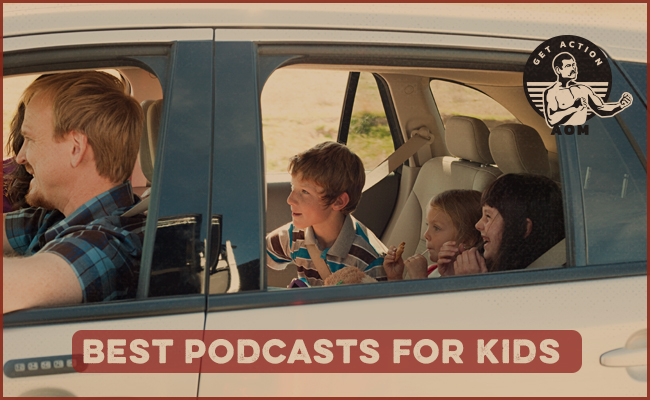 You're cruising along with your family on a summer road trip and everyone is getting a little cranky. The air is stale, the drinks are stale too, and what's needed is some sort of activity that everyone can agree on. Sure, each kid/parent could have their own device to waste away the hours, but it's more fun to be able to engage with something together. That way the diversion can move from segregated consumption to common conversation.
Landing on this shared entertainment is a tall task. Music is fine, but doesn't pass the time very well, and it's hard to get everyone to concur on a genre or station (Kidz Bop makes Mom and Dad want to gouge their eyes out). Playing various car-based games (20 questions, find all 50 license plates, ABC game, etc.) can be fun, but what to do when you've already cycled through them?
Why not try a kid-oriented podcast? Along with the proliferation of podcasts for adults in recent years, the Kids and Family category has grown by leaps and bounds as well and can keep everyone entertained for extended periods of time (or simply on your daily commute to school).
The key, and the hard part, is selecting something that the kids will find engaging, and Mom and Dad will find tolerable, and ideally even enjoyable.
With that curation criteria in mind, I listened to a ton of podcasts with my almost-six-year-old son, and together we decided on some top picks: The shows featured below are kid- and adult-tested, kid- and adult-approved. Most shows here are geared towards somewhat younger audiences — starting at about age five (which seems to be when kids can begin to follow an audio story) and going through the preteen years. Once your children turn into teenagers, all bets are off and you might start delving into non-kid programming.
Almost all of these podcast hosts and creators have been in the audio production game for a long time. When you're making something for kids, there needs to be that balanced constellation of traits: educational, entertaining, appropriate, and engaging (for just the right amount of time), typically with at least a little humor peppered in. It's not easy to get it just right.
While the following hit that sweet spot nicely, there are still many dozens of great options out there for kids' podcasts; this list is but a jumping off point if you're unsure of where to start. As with anything your children consume, it's best to listen to an episode or two yourself to see if the tone and content match your family's values, interests, and sensibilities.
There are a lot of storytelling podcasts out there. My favorite is What If World. What If World is a separate planet where anything can happen. Taking ridiculous questions from kids themselves — the more outlandish the better — Mr. Eric (aka creator Eric O'Keeffe) spins answers into a rollicking, often funny story that's entertaining for kids and adults alike.
What if parents went to school and kids went to work? What if puppies had laser eyes and could fly? What if unicorns and cars morphed together? What if every closet had a skeleton in it?
Are these questions absurd? Of course. Are they perfect fodder for storytelling? Yes!
What's great about Mr. Eric, and what sets What If World apart from other storytelling shows, are the great sound effects and voices he creates for his characters. (JFKat, for instance, is a hilarious recurring cat character.) Though not part of the episodes themselves, Mr. Eric provides a take-home lesson on each episode's webpage, which makes a handy jumping off point for further conversations with your kiddos.
This show will also help your own storytelling chops as a parent — have your kids ask the silliest "what if" question they can conjure up and weave your own tale!
If you listen to any of NPR's numerous podcasts, you've likely heard this one advertised. Wow in the World is hosted by Guy Raz (who also hosts How I Built This) and Mindy Thomas. Given that it's an NPR show, the production value is among the best you'll find in a kids' show. The sound effects, funny dialogue, and science/technology explanations are top-notch.
Weekly episodes explore some sort of idea or discovery in the STEM realm — sea shells, the whitest paint ever, how the brain registers pain. You get the idea. Each episode also provides a "WOW-sheet," which is a printable activity that brings kids from the audio world to the real world.
Included in the feed for this show is a weekly episode of Two Whats?! and a Wow!, which is a short quiz show that was created in response to the school closures of the last year. It's interactive and very fun. There are also special weeks/episodes focused on a "tinker" project, which gives kids a short prompt for creating something at home and submitting their pictures/experiences to the hosts.
In short, Wow in the World is a kids' show with a lot of variety and is far more interactive than most. Sometimes the potty humor is a little much (there are a lot of jokes about farts), but every episode is entertaining for kids and adults alike.
Be sure to take advantage of the categorized database of shows, which breaks them down by appropriate age level and topic. There are hundreds of episodes in the archives, so this is a rather useful tool.
Smash Boom Best might just be the most fun show on this list. Geared towards kids and their families, it's a simple debate show which argues the merits between two things: Bats vs owls. Castles vs caves. Invisibility vs flying. Mermaids vs bigfoot. Avengers vs Star Wars.
Each episode features main host Molly Bloom, alongside a rotating cast of guests who serve as the two debaters, as well as the judge who decides a winner between them. Chefs, comedians, authors — they bring in a wide variety of fun, energetic people who get very passionate about the topic at hand.
There are a few rounds of different styles of debate. The Declaration of Greatness sums up the history and awesomeness of the subject (followed by 30-second rebuttals). Then there's a Micro Round, which is some sort of short, creative challenge that the debaters have prepared in advance — a persuasive sonnet, an exciting movie trailer, a letter to the editor, etc. After that is the Sneak Attack, in which they have to do basically the same thing, but without something pre-prepared. It ends with the Final Six, which requires debaters to sum up their argument in just six words.
Beyond just the silly arguments, they get into real tips about debating, rebuttals, persuasiveness, and even logical fallacies!
There are a few dozen episodes, averaging about 35 minutes long (there are extra episodes for paid supporters). So they're a little longer than your standard kids' show, but since the intent is for this to spur conversation/debate among children and their parents (and anyone else tagging along!), it's not too hard keeping everyone on track, especially when broken into a couple listening sessions.
For history-loving kiddos out there, The Past and the Curious is a great show which presents dramatic first-person accounts of history's unusual and unknown tales, featuring famous and not-so-famous names alike.
Each episode is about 30 minutes long and features two stories around a theme: Women in flight, bears, "Great Moments in Communication!", etc. The heavily researched, engaging stories are well-produced, often a little comedic/sarcastic, and provide great context as to why these narratives matter. That might sound a little heady, but my kiddo loves it and can often recite back to me an episode recap even a week or two after listening. Yes, the kid has a good memory, but it also shows how memorable the stories can be.
Recent episode subjects include astronomer George Ellery Hale and the world's largest telescope, Levi Strauss and his blue jeans, Willa Brown (the first black woman to earn a pilot's license), the great limburger cheese war of 1935, and more. Even as an adult, you probably aren't familiar with most of the stories and you're guaranteed to learn something from each episode.
New episodes come out monthly and there are 50+ in the archives to sate your appetite between installments.
If you're looking for a fictional story with recurring characters, Finn Caspian is a great sci-fi adventure show.
Finn is an 8-year-old boy aboard an interplanetary space station. He and his friends are part of an "Explorers Troop," sort of a space version of the Scouts. They explore planets, encounter aliens, and solve mysteries together.
There's no violence and just a little bit of suspense in this show that describes itself as "Scooby-Doo meets Buffy the Vampire Slayer in space." The host does all the voices, which gives it a little bit of a homemade feel, but John Messinger does a great job describing what you're "seeing" as you listen. The sound effects are quite good, too. It ends up really feeling like you're in space.
It's a serialized story, which means that jumping in with the newest episode or randomly in the archives isn't advised. Instead, start right at the beginning and go from there. There are well over 100 episodes by now, so you and the kids will stay entertained for a good long while.