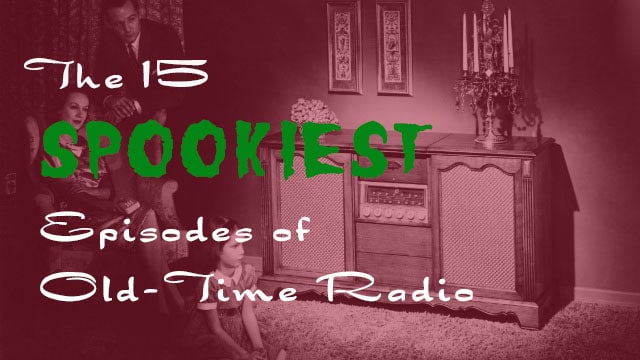 With our archives now 3,500+ articles deep, we've decided to republish a classic piece each Friday to help our newer readers discover some of the best, evergreen gems from the past. This article was originally published in October 2014.
Before folks sat around the TV watching American Horror Story or classic movies like The Shining and Friday the 13th, they gathered around the radio to listen to their favorite weekly programs. Many of them were comedies or dramas, just like today's television programs, but there were also shows dedicated to the creepy crawly — auditory storytelling that made goosebumps rise and sent shivers down the spine. It's often said that what you can't see is scarier than what you can, and radio programs can sweep you up and create a whole spooky world in your imagination.
With Halloween coming this weekend, there's no better time to visit some of the scariest shows and episodes that old-time radio has to offer. They're all available for free online, making for quality, affordable entertainment. If you're interested in more, I strongly suggest checking out both RadioHorrorHosts.com and www.escape-suspense.com; both were immensely helpful in my research for this piece. I've broken it down by radio show, then given a few suggestions of episodes to listen to from each show. To up your experience, convert an old-time radio into a mp3 speaker and huddle around it with your family or friends with the lights dimmed.
The Mercury Theater on the Air
This series was started by Orson Welles in 1938. The show presented literary works that were performed by Welles' Mercury Theater company. The program was elected into the Radio Hall of Fame in 1988. While not focused on fear, two particular episodes gave some genuinely good scares: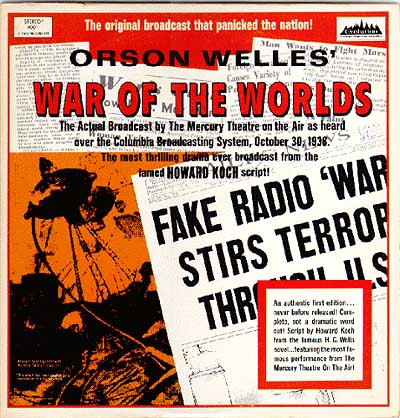 "War of the Worlds" — Originally aired as a 60-minute Halloween special, this episode gained fame for scaring many listeners into believing it was real. It starts with some nice music, but then, like a real breaking news bulletin, is interrupted with a frantic reporter. He states that scientists have witnessed strange explosions on Mars. The scientists believe it's simply volcanic activity, but reality proves much more frightening. Set just like a live news program, the brilliance of this episode of radio cannot be understated. You'll thank yourself for listening, preferably in the dark on Halloween night. After you've done that, read the 1898 book by H. G. Wells.
"Dracula" — This was the very first episode of The Mercury Theater on the Air. Although it aired in July, its horror is fit for Halloween. Orson Welles plays the roles of both Dr. Seward and Count Dracula. Hear the tale of Jonathan Harker being imprisoned in Dracula's decrepit castle. Then follow the cast as they travel to England and try to solve the mystery of this unusual count from Transylvania.
Quiet, Please
With a haunting introduction, this show is known as one of the scariest/weirdest, but also most inventive, of old-time radio. While it didn't get much notice when it originally aired, it's become known as one of the finest radio dramas to ever have been produced. It only ran from 1947 to 1949, with around 100 episodes broadcast. For a long time only 12 episodes were available for listening, but then in the 80s, the majority of the rest of them were found and made available to the public. You can listen to all the episodes at the Quiet, Please website.
"The Thing On the Fourble Board" — This episode that aired in August of 1948 is widely regarded as the finest piece of radio horror to ever hit the airwaves. It starts fairly slowly, with a man, Porky, describing working on an oil derrick. His friend comes to join him for some pork chops, and they discover … something … that's come up from a mile below the earth. I listened to this during the very middle of the day, and I still got goosebumps. It features perhaps the most chilling "voice" you'll ever hear.
"Tanglefoot" — A tale that deals with the classic horror niche of giant insects. A plumber finds a way of growing a common fly to giant proportions. It's cute at first, as a pet, but as you can imagine, things get out of hand quickly. Some of the sound effects are so realistic, I had to actually do a double take that they weren't coming from my house. The eerie music also provides some extra goosebumps and shivers. Don't worry though, you can blame it on the cool night air.
Suspense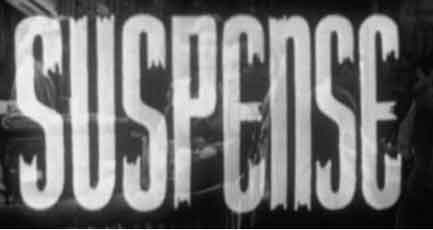 Suspense was one of the most successful radio dramas to ever hit the airwaves, running for 20 years (1942-1962) and over 900 episodes. With so many episodes in the thriller category, it was hard to choose just a few highlights. With Suspense, at least in my opinion, most of the shows make it or break it in the final minute or so. The stories highlighted below made it more than any of the others.
"Ghost Hunt" — This particular broadcast set the stage for the genre of "found footage" horror that saw a revival in cinematic form in more recent decades. Airing in 1949, "Ghost Hunt" features the "found" recording of radio personality Smiley Smith's night in a haunted house. Mr. Smith is recording the audio of his evening spent in the home with a paranormal investigator, and at one point even tells his audience to listen with the lights off. (I did no such thing.) You can guess what Mr. Smith encounters based on the title, but it has a twist ending that I guarantee you won't see coming.
"Sorry, Wrong Number" — This episode of Suspense was its most popular and successful, eventually being not just re-aired, but re-performed seven times after its original premiere in 1943. It's a fairly simple tale of a woman trying to call her husband's office at night to check in and find out when he's coming home. The telephone switchboard wires get crossed somehow and she ends up listening in on a conversation she definitely should not be hearing. There are some unintended consequences, and this story has another ending that will leave you a little bit shocked.
"House in Cypress Canyon" — A young couple is new to the LA area, and needs a house to rent. They stop by a realtor's office, find a place they like, and move in. All seems well, until they find a locked closet that has no key. They write it off, but in the middle of the night they hear noises, seemingly emanating from this closet. After closer inspection . . . and that's where I'll stop and let you listen to this episode.
Lights Out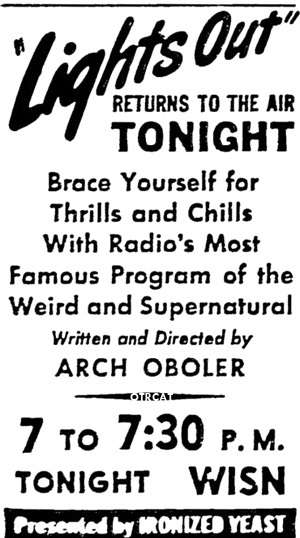 Lights Out was one of the very first radio shows dedicated to horror/suspense drama pieces. It ran for 13 years, from 1934 to 1947, and eventually transitioned into a television show. This series was actually so gory and grotesque at first that it had to be toned down once it expanded to a national audience (none of the highlighted shows below are gory — just incredibly suspenseful). Fun fact: this show was created by NBC writer Wyllis Cooper, who also created Quiet, Please once this show ran its course.
"Death Robbery" — Actor Boris Karloff is best known for his work in horror films like Frankenstein and The Mummy, but he had the chops to perform on radio as well. In this episode of Lights Out, he plays a scientist whose specialty is bringing creatures back from the dead. He "robs death" from animals, hence the title. When his wife unexpectedly passes, he tries his scientific method on her, and as you can imagine, the results are less than pleasant.
"Murder Castle" — An especially chilling episode, "Murder Castle" is unique because it's based on the true story of H. H. Holmes — the mass murderer who haunted Chicago during the time of the 1893 world's fair. The story was made famous in more recent times by Erik Larson's book, The Devil in the White City. This particular dramatization features a young woman, Ella Malone, who's been picked up by police, and is muttering the word "revenge" over and over and over again. We then cut to a gentleman, Henry Stewart, who is interviewing a series of prospective housemaids and nurses who are promised a job, but ultimately have gone missing . . . Ms. Malone has an idea of what might be going on, and tries to dig deeper into the mystery all on her own. The menace in Stewart's voice is masterfully done over the airwaves, and hard to convey in mere words on the internet. Give it a listen for yourself, if you dare.
"Knock at the Door" — There's something especially haunting about a dainty-sounding woman becoming psychotic and pushing her mother-in-law down a well. This tale is narrated by Ella, our murderer, as she describes her descent into madness — how she married a nice fellow named Jay, how Jay brought his mother home unannounced to live with them, and how Ella soon felt pushed out of the way by their guest. Our narrator, after hearing some convincing voices in her head, pushes her poor mother-in-law down a well and seemingly doesn't have to deal with her anymore. But oh how wrong she is when the fair couple hears a knock at the door while eating dinner one night . . .
Escape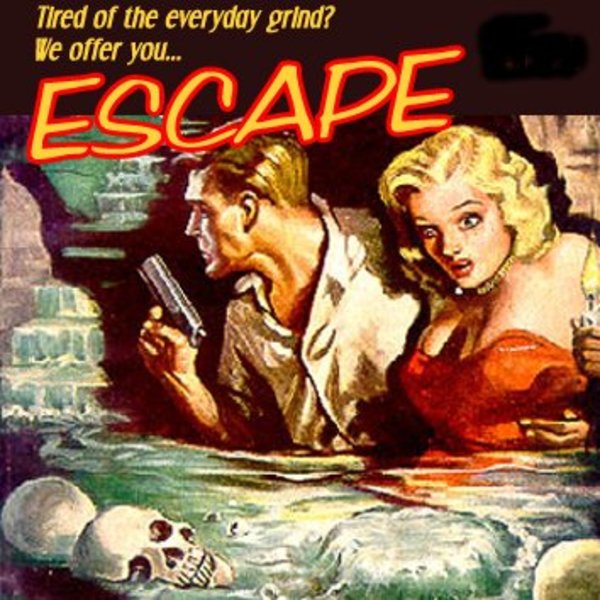 Escape is one of the later radio dramas in this list, running from 1947-1954, ultimately airing about 230 episodes. While not focusing on horror (it was more of an adventure series), there are episodes that definitely offer some quality scares. Escape is also unique in that most of the episodes are adaptations from short stories or even novels by the likes of H.G. Wells, Rudyard Kipling, Evelyn Waugh, Ray Bradbury, and even Jack London. The three below are perhaps the most chilling that the show offered in its seven-year run.
"Three Skeleton Key" — This rat-infested tale is set in a lighthouse on a lonely island off the coast of South America. Originally a short story, this adaptation first appeared on Escape in 1949, and it was re-performed three times on that show, and another two times on Suspense. Narrated by famous radio man Vincent Price, it tells the tale of three men who are manning the lighthouse. They see a seemingly deserted ship coming towards their rocks, and when the ship breaks on their island, they come to discover that the crew has in fact been taken over and replaced by hundreds . . . no, thousands . . . of rats. The squealing sound effects will have you squirming in your chair as you listen.
"Pollock and the Porroh Man" — Originally a short story by the famed H.G. Wells, the tale opens with a man named Pollock being visited by a friend in London. The pair had traveled to Africa some months back, during which Pollock was a normal, if arrogant, fellow. Now, however, it was obvious to the friend that Pollock was disturbed — clearly the events in Africa had gotten to him. You see, Pollock had a curse placed upon him for stealing an idol; he tried to rid himself of the curse, but didn't quite follow the necessary protocol, and was haunted all the way back to London. The friend tries to convince Pollock that it's all in his head — but is it? There's only one way to find out.
"Abominable Snowman" — This story takes place in the Himalayas, on a fictional mountain where a group of men are hunting the fabled Yeti. What makes this tale especially enjoyable is that it's one of the most believable; I'm not a Yeti believer, but there are plenty of folks who are, and it's not as much of a stretch as many of these other tales. Going into the wilderness in search of an ancient creature is something that happens even today in real life, so the sounds of the Yeti coming through the speakers are perhaps more frightful than the far more improbably-gigantic fly scenario of "Tanglefoot." It also combines the adventure genre with a tinge of horror, making it extra satisfying for those of us who enjoy some natural risk from the environment to go along with the supernatural.
The Mysterious Traveler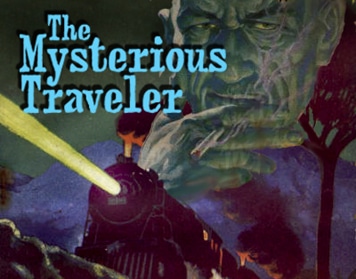 Functioning as a multimedia publisher, The Mysterious Traveler broadcasted a radio show, printed a magazine, and created a comic book — all of them telling tales that ran the gamut from mystery to sci-fi to pure drama. The radio show ran for over 370 episodes, from 1943-1952. Unfortunately, only 75 or so of those episodes still exist today for the public to enjoy. A couple of the most chilling are highlighted below:
"The Good Die Young" — This episode could perhaps be the most unnerving of this list (and in fact was voted as such in a popular old-time radio forum). A father brings home a new wife, much to the surprise and chagrin of his teenage daughter. The new stepmother is loving, caring, even doting — but, she's taken some of the father's attention that used to be for his daughter alone. So, the daughter contrives all sorts of ways to get rid of the new wife, only to be met with understanding and compassion. One day, though, the daughter raises the stakes of her game and makes a terrible error in judgment. What makes this episode so unsettling is that the villain is but a child . . . does she turn her conniving ways around? You'll have to listen.
"Behind the Locked Door" — This episode of The Mysterious Traveler was the show's most popular, and was repeated several times. Two archaeologists and a guide, exploring caves near Lake Mead in the Southwestern US, come upon an old wagon train that had been buried under a rock slide a hundred years prior. When the guide is attacked, the other two men must figure out what happened, and also find a way to escape the cave of horrors. Could it be that the members of the long-gone wagon train are haunting the place they perished in?