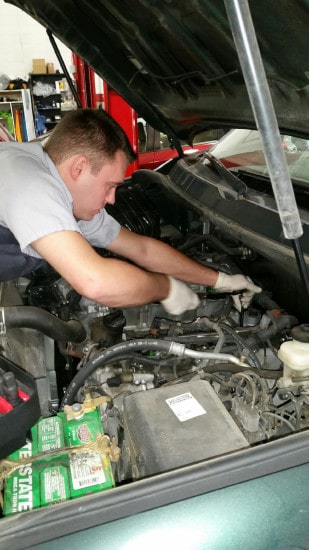 Last year, we ran a series of articles extolling the virtues and eliminating the myths of the skilled trades. While we were able to cover a lot of ground, there wasn't room to provide a detailed picture of all the various trades out there for men to pursue. So, as an accompaniment to our So You Want My Job series, we're running regular installments of So You Want My Trade: interviews that offer an inside view of the pluses and minuses of various blue collar career choices.
Cars used to be something that men would tinker with; a couple decades ago you could pop the hood, find the problem, and fix it yourself. Today, that's much harder to do. Cars have computers, and special casings all over that make it harder for the average guy to work on them. Being an automotive mechanic is no longer about simply knowing your car parts and replacing what's broken (although that's still part of it), it's also about being able to diagnose what's wrong in the first place. You have to know your way around a computer, have good people skills, and not be afraid of getting dirty; it involves a little bit of everything. We talked with Jesse Adams about this quickly-shifting career.
1. Tell us a little about yourself, and how you came to be an auto mechanic.
My name is Jesse Adams. I am an automotive technician at Mike Smith Toyota Scion, a Toyota dealership in Paducah, Kentucky. Twenty-five years ago, I was born in a small town about an hour east of Nashville, Tennessee. That's when the trouble started. At first, I just broke things, like toys, picture frames, chairs…all accidentally, of course. My family moved to Mayfield, Kentucky when I was four years old. That's also around the time I graduated from breaking things to taking them apart purposefully. It got me in no less trouble with my parents, but I like to see how things work. From simple things like toys on into more complex things like clocks, I'd take apart anything I could get my hands on. As I grew older, I gained more skill in the art of disassembly, and it wasn't long before I didn't have anything left to dismantle. Worse yet, I didn't have any toys to play with. That's when I realized I should probably put some things back together. I still haven't gotten that clock to work.
As I grew older, I gained slight experience in many trades by working with my father. He is an electrician, but he also performed all of our family's home repairs and construction projects. From replacing copper pipes, to building a deck, and doing anything electrical, my father handled almost everything. But when the car had a misfire, it went to a mechanic. That stood out to me. Not to mention, every cool guy on television was or had been a mechanic (e.g. The Fonz). In consequence, my future in the automotive industry began to take shape.
2. What was your path to becoming a mechanic? What kind of training and certifications did you need?
I didn't have a chance to take any automotive classes through high school, but I figured anything I could learn would help me throughout life in some way. I studied many subjects in a broad array of classes. I graduated with a 4.0 GPA and as a valedictorian. Upon graduation from high school, I chose to attend Nashville Auto Diesel College, where I also maintained a 4.0 GPA.
Some people choose to start into the automotive repair industry by jumping in with no schooling and only on-the-job training. Those that do are at a disadvantage these days. Computers, networks, and electronics in today's automobiles require more than just a mechanic. Technicians are able to diagnose and repair these non-mechanical complex systems, as well as perform the work of a mechanic. A lack of education in these areas can be very detrimental. That is why I chose to seek out training.
At Nashville Auto Diesel College, I studied not only the mechanical systems like brakes, engines, transmissions, etc., but also the electronics that run them. While doing so, I worked at a tire store, mostly putting up tires and sweeping the shop. It was enough to get my foot in the door. After getting through school, I started changing oil and rotating and changing tires. That's the entry level job everyone starts with. You get covered in oil and dirt everyday, it's mundane, and it's just not fun. Slowly, but surely, though, you gain skill and trust from your employer and move on to brakes and maintenance work. Then you start performing mechanic work — diagnosing and repairing noises and vibrations, replacing gaskets and water pumps, and even tearing down engines and transmissions. Along that same time you start to diagnose check engine lights and electrical problems, using computers, scanners, voltmeters, and similar tools to find what sensors or wires have failed.
As they progress, technicians seek out certifications to show their employers and customers that they know what they are doing. Many national chains as well as car makers offer training and certifications that are required for their employees. The National Institute for Automotive Service Excellence also has certifications that are industry standard. They have tests to certify a technician in several areas of expertise. I have all of mine except for the transmission certifications, because I hate transmission work. I'll suck it up and get those later this year, though.
3. Tell us a little bit about an average work day.
An average work day for me usually starts a few minutes late. I am not a morning person and I'm working on that. After I have a cup or three of coffee, though, I receive a repair order from a service advisor or dispatcher. On that repair order will be a list of customer concerns to address. Most of the time, it's an oil change or tire rotation or a brake noise or something similarly simple and common. Sometimes, though, it's a little more interesting, such as when the customer hits the brakes, the horn goes off. Either way, customer concerns and requests are handled accordingly and, normally, an inspection of the vehicle is made.
A lot of people think this inspection is just a way for the repair shop to sell more services and take more of their money. That's not the case. When inspecting the vehicle a technician can see what parts are worn or can cause damage to other parts. Catching part failures before they happen often saves the owner money in the long run by preventing unnecessary damage over time.
After the inspection, if concerns are found they are reported to the customer, as well as any diagnosis that was required for other concerns. If a customer decides to repair the vehicle, that's when you get to take it apart, replace or fix something, then put it back together. Once a repair order is finished, the vehicle is returned to the customer and I receive another repair order and start the whole process over again.
Sometimes it's easy, sometimes it takes sixty hours of work. The biggest job I've ever handled is replacing frames on some pickup trucks. This includes removing the bed, cab, engine, transmission, differentials, steering and suspension parts, and much more. It's basically taking the truck apart and rebuilding it. Then again, I might just have to replace a bulb or install wiper blades. Most of the work at a Toyota dealership revolves around maintenance and simple repairs like oxygen sensors or emissions lines chewed up by a mouse.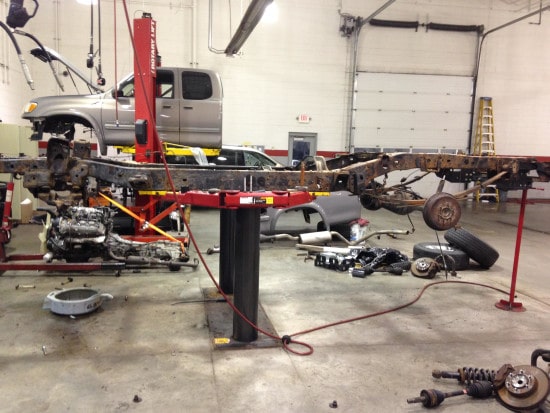 4. How do you find work as a mechanic? What's the job market like? Are you in a union?
Finding work as a mechanic is generally pretty easy. Most places will always take a resume, and really good technicians can be hard to find in some places. Generally, the more trained and certified a technician is, the better their chances of being hired. I have no experience with union shops, though there are some. Some states also require a state certification for professional technicians. Kentucky doesn't have this, so I don't really have any experience with that, either.
5. What's the earning potential for an automotive technician?
The earning potential for a technician is all over the place. Who you are working for, what city or town you're in, and how hard you work are all determining factors. Dealerships sometimes don't offer the best wages, but the working conditions can be better — most of the special tools required for that brand of car are provided, and there is an opportunity to become a bit more specialized. Independent shops may offer a bit better pay, but the hours may be longer, the equipment may not be as new, and working on all brands of automobiles can be a little more difficult. Starting out as an oil changer, most people can expect to make minimum wage, maybe a bit more. As you move up and gain more skill, you can get a better hourly wage. But by that time, the flat-rate system will play a role and the largest determination of annual earnings will be work ethic. Some high quality technicians in the industry can make a six-figure income, but I'd say average would be closer to $40k-$50k.
6. What is the work/life balance like in your career?
Work/life balance is always a little tilted toward the work side in my opinion. I could work an hour a week and still complain. I have plenty of time, though, to go camping, fishing, or watch Netflix with my wife. I guess that means I shouldn't complain too much. I work eight to five on the weekdays and every third Saturday I work a slightly shorter day, but I get a day off during the week. Scheduling days off or even taking a sick day is usually pretty easy. Other places I have worked haven't been as great. I have had jobs that were fifty to sixty hours and six days a week. Many things in the automotive service industry aren't really standardized, so a lot of things just vary by job.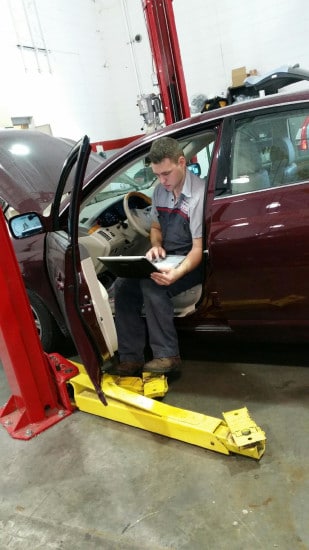 7. What's the best part of your career?
The satisfaction comes from disassembly, reassembly, diagnosing problems, and helping people. Working with your hands to remove parts, using all manner of tools to perform all kinds of tasks — both are satisfying in their own right. In conjunction with solving problems using your head, these physical tasks become even more fulfilling. When you top it off by returning what you've diagnosed and repaired to the person who owns it and is ecstatic that their baby has been fixed, it makes you feel kind of like Superman.
That satisfaction is the main reason I chose this field. When I face a major decision, I like to look at them from my death bed. If I were an old man lying in a hospital fixing to die, I could look back at my life as an auto technician and everything related to it and be proud of what I had done fixing cars for people. Some people wouldn't be able to say that.
Most people didn't understand the decision I made to go to a trade school when I could have gotten a free ride to several universities. Then again, many people don't understand why so many university graduates are unemployed and struggling to pay student loan debt. I reasoned that anywhere you live, under any economic circumstance, people always need to get their vehicle fixed. Aside from that, automotive technology is an ever-expanding field and is the perfect outlet for my addiction to disassembly. I certainly could have made more money as a businessman, but that is no substitute for the satisfaction I get from my career.
8. What's the worst part?
Over time, the work you do as a technician takes a toll on your body. That's the part that I really hate about this career. My hands hurt, my back hurts, and my knees hurt sometimes, and I know it won't get any better.
9. What's the biggest misconception people have about your job?
A lot of people think mechanics and technicians aren't very smart. In truth, mechanics and technicians have critical thinking skills and problem solving skills that are better than most people's. When a vehicle comes in with a noise or warning light, it's like a puzzle that we need to solve. At best, we have some clues before we begin to investigate to find the cause of the problem. We not only have to have these skills, but the knowledge of how the systems of each vehicle work so that we can figure out not only what happened, but why. Technicians are smart, knowledgeable, mechanically-inclined people who, through repairing and maintaining vehicles, gain the satisfaction of helping people and keeping the world turning.
Tags:
So You Want My Job