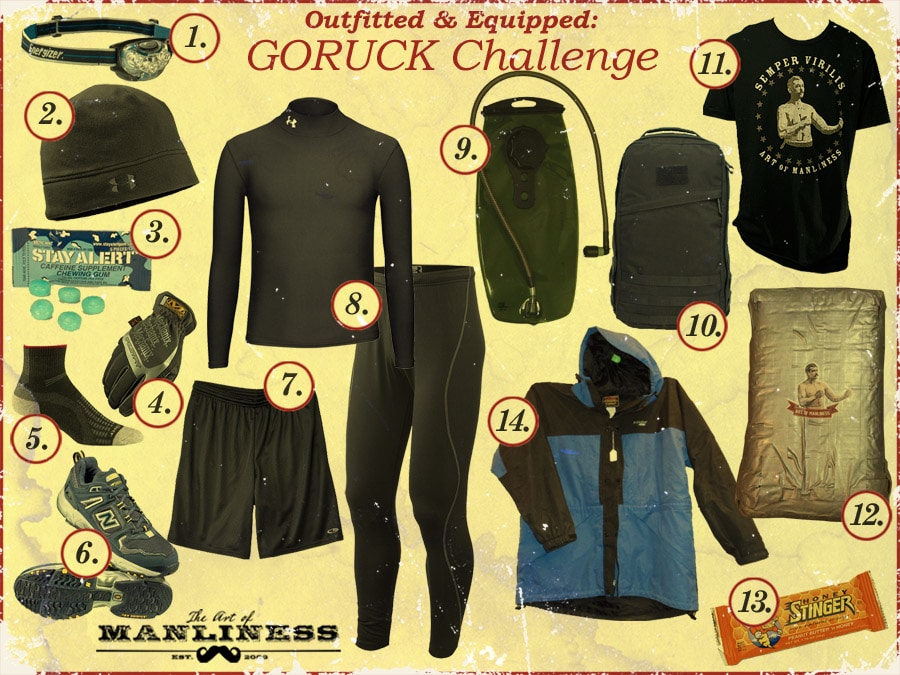 A few weeks ago I took part in a GORUCK Challenge in Oklahoma City. The GORUCK Challenge is a 9-13 hour "guided tour" of your city led by a Special Forces veteran. It's a grueling experience. You march around your city in the middle of the night while carrying a 30- to 40-pound rucksack. Push-ups, bear crawls, and hoisting giant logs are thrown in for good measure. A write-up of my experience will be going up later today. In the meantime, because I've gotten a lot of questions from people who are planning to do a GORUCK Challenge about what you should wear and bring for the event, I present "Outfitted & Equipped: GORUCK Challenge Edition." This is everything that I wore and used to get me through my night of "Good Livin'."
1. Energizer LED Headlamp. The Challenge takes place in the middle of the night, so you'll need a headlamp to see where you're going.
2. Under Armour Tactical Arctic Beanie
3. Stay Alert Caffeine Gum. Designed by Wrigley for the U.S. military. Each piece of gum contains 100 mg of caffeine, and through oral absorption it gets into your system faster than pills or liquids. It starts working right away and kept me going through the long night. Chewing also seemed to help keep me warm.
4. Mechanix Wear FastFit Gloves. I recommend bringing two pairs. The coldest part of my body that night was my hands. It would have helped to have a dry pair to put on after I got wet.
5. Fox River Escape Socks. I didn't decide on these socks after a lot of research. They were on clearance at Huckberry, and seemed to fit the bill, so I had them send me a pair. I had a second pair in a plastic bag, but never used it. I was too tired and it was too cold to even attempt changing socks.
6. New Balance 1007s. Didn't think too much about my shoe choice either — just used my old pair of New Balance 1007s that I've had for seven years. Kate and I affectionately call them "Big Blues." These shoes are pretty heavy, but they're sturdy and have served me well. They started out as my gym shoes, but were converted to my "general purpose dirty work" shoe. I've gone canoeing, hiked most of the major mountain peaks in Vermont, ran two Warrior Dashes, and backpacked in these bad boys. You don't need anything fancy as far as shoes go. Just don't use minimalist shoes, like Vibrams — you need something with a bit more protection in case a log falls on your foot.
7. Champion Mesh Gym Shorts
8. Under Armour ColdGear: top and bottom. You're going to be submerged in water sometime during your Challenge — and afterwards you'll still have most of the night ahead of you. These Under Armour layers dried relatively quickly and kept me warm throughout the night.
9. Eberlestock Hydration System, 3 Liters. You'll need plenty of water during the Challenge, so get a bladder of some sort. Whatever you do, DON'T use a Camelbak. My brother's busted during our beginning calisthenics and I shared water with him the rest of the night. I read that other folks doing the Challenge had the same problem with Camelbak. The Eberlestock Hydration system came well-recommended by military veterans. Super durable and reliable. Plus it holds three liters of water.
10. GORUCK GR1 Rucksack. Inspired by rucks used by Special Operations soldiers and made in the USA, GORUCK bags are built tough enough to withstand the heaviest of beatings, but are also pretty good looking for your day to day needs. You don't need to buy a GORUCK bag to take part in the GORUCK Challenge, but I bought a GR1 because of the good things I read about them. This bad boy served me well and was comfortable to wear. With the Challenge over, my GR1 serves as my family's secondary bug-out-bag. There is a Challenge coming here to Tulsa in February, so I may have to convert it back to a GORUCK Challenge bag soon…
11. Art of Manliness Semper Virilis T-shirt. Of course I had to represent AoM!
12. 6 bricks wrapped in bubble wrap and duct tape. If you weigh more than 150 pounds, you have to carry six bricks in your ruck; four if you weigh less than 150. Wrapping it up like that makes it more comfortable to carry. I know, it looks like a kilo of coke.
13. Honey Stinger Energy Bar. You burn a lot of calories during the evening, so you'll need something to fuel your body and mind. I like Honey Stinger Energy Bars because they taste good and are all nat-ur-al.
14. Stearns Parka. GORUCK recommends bringing a parka if the temperature will be below 50 degrees. I just used my old Stearns parka that I've had for years.