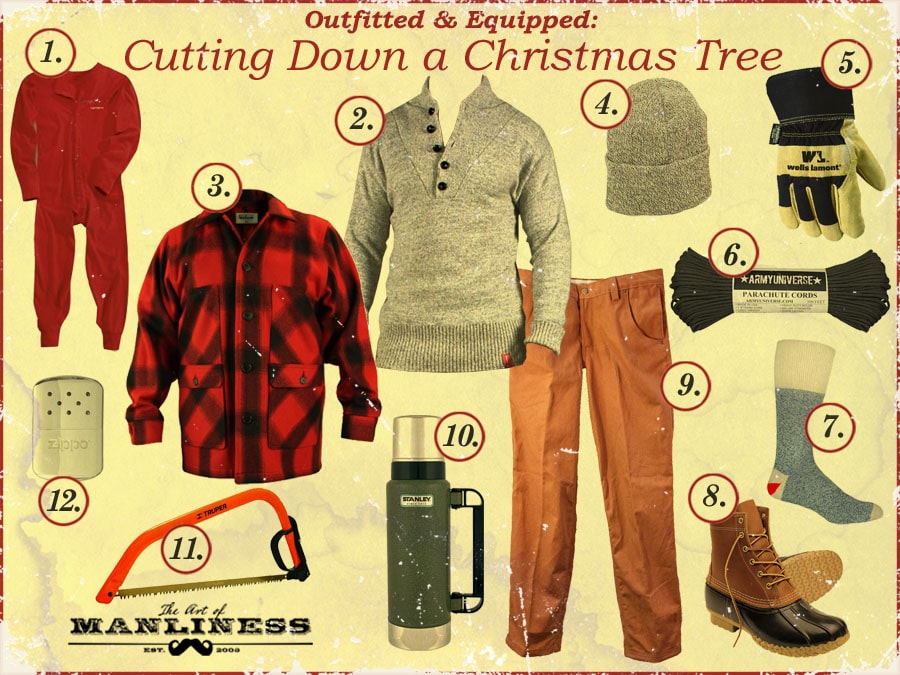 This post is brought to you by Steam Horse Dry Goods. Check out their line of durable,long-lasting workwearinspired by vintage patterns. All Steam Horse Dry Goods clothing is sewn in the USA.
What's this?
It's time to get your Christmas tree, and of course only a real one will do! Instead of procuring your tree from a sterile lot, start a new tradition with your family by cutting down your own tree this year. Visiting a local Christmas tree farm is a wonderful choice, or make the experience more of an adventure by finding one out in the woods. Harvesting a Christmas tree is allowed in many National Forests, as long as you obtain a permit. If you plan on heading deep into the woods in search of the perfect tree, here are some suggestions on how to outfit and equip yourself for a warm, dry, and merry excursion.
1. The Base. Carhartt Union Suit. Dressing for cold weather is all about layering. Wearing multiple layers will keep you warmer than one big, thick layer, and it also gives you the option of removing layers if you get too hot. For the base layer, something made from warm, wicking materials like wool and synthetics is ideal. But if you don't think you're going to be sweating a ton, the comfort and coziness of this 100% cotton Carhartt Union Suit can't be beat. Plus, you know you've always wanted to wear something with a flap in the back to do your business.
2. The Sweater. Steam Horse Dry Goods Co. Sawmill Paul Wool Sweater. On top of your base layer, you want to wear an insulating layer that will trap heat, like this handsome and functional wool sweater. Made of 100% ragg wool and sewn in America, it's got five buttons so you can easily adjust your level of ventilation.
3. The Coat. Stormy Kromer Mackinaw Coat. Your final layer is your outer protection layer. You're going to need a warm jacket and this hand-stitched, made-in-the-USA Mackinaw coat from Stormy Kromer is perfect. Made from virgin wool, with 6 pockets for all your accoutrements, it's a true classic. I own this jacket and get tons of compliments on it wherever I go.
4. The Hat. Watch cap. Double-layer ragg wool, made in America, and cheap.
5. The Gloves. Insulated work gloves. Bring a pair of gloves that will allow you to handle the tree comfortably, while also keeping your hands from freezing.
6. The Rope. Nylon paracord. To affix your trophy to the car.
7. The Socks. Monkey socks. Made in the USA with soft cotton & acrylic blend to absorb moisture. An American classic.
8. The Shoes. L.L.Bean Boots. You might have to tromp through snow and mud to find your tree, so wear some boots that will keep your feet warm and dry. These L.L.Bean boots are still made in Maine.
9. The Pants. Steam Horse Dry Goods Co. Railroad Gauge Gusset Work Pant. These super rugged, made-in-America pants are perfect for cutting down a Christmas tree. A functional gusset in the crotch gives you extra mobility as you crouch down, and their water-repellant duck canvas material will keep you dry when kneeling in the snow.
10. The Thermos. Stanley vacuum bottle. Bring along some tasty sustenance in the form of hot cider or cocoa.
11. The Tool. Bow saw. To cut down your tree, you'll of course need a trusty bow saw.
12. The Heat. Zippo Hand Warmer. Slip one of these babies into your pocket to warm up your hands while you're on the hunt for your tree. Runs on lighter fluid and lasts for 12 hours (in case your search becomes Captain Ahab-esque).