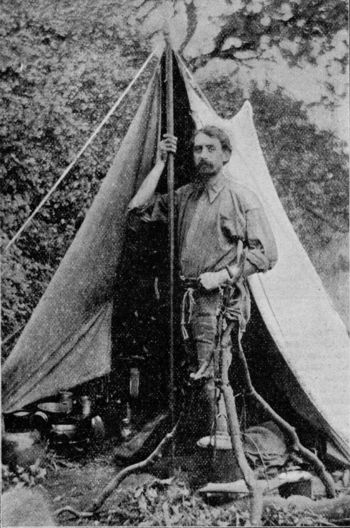 >
Editor's note: This is a guest post from Jorrit Jorritsma, the co-founder of Millican, maker of bags and outdoor products inspired by the life of Millican Dalton.
Eccentricity often gets bad press. We can probably all think of eccentrics who are socially inadequate and who exhibit unpleasant character traits.
But, of course, there is also a tradition of great, open-hearted eccentrics who have blazed a trail throughout history. These creative individuals have prized freedom and adventure above social conformity and have been bold enough to live by what they believe. At their best, such men provide a gauge from which any man today might take inspiration.
One such man was Millican Dalton, the self-styled "Professor of Adventure" who lived in the mountainous Lake District of northwest England for his adult life.
Born to a Quaker family in 1867, Millican's family moved south when he was seven, following his father's death. He enjoyed a typical boyhood of adventure and escapades before facing the sober reality of adult employment. As a young man, he started work in London as an insurance clerk.
However, all that changed for Millican at the age of thirty-six.
A keen cyclist, camper and climber, he felt constrained by humdrum work life and, in a radical act for his times, opted to strike out on a simpler life of self-sufficiency. Long before downsizing and radical life transitions became the norm, Millican shocked family and friends by following his own radical act of calling.
First, he built a forest hut in Buckinghamshire where he lived during the winter months, alternating it with camping in the Lake District during the summer. Next he adopted the title of "Professor of Adventure" and began offering adventure trips in the Lake District to interested campers and lovers of the outdoors.
Addressed as "the Skipper," he would lead parties in "mountain rapid shooting, rafting, hair's-breadth escapes" and climbing. He also ventured further afield, leading guided mountaineering trips in the Swiss Alps.
Intent on enjoying ever closer companionship with nature, he moved into a disused split-level quarried cave in Borrowdale in the 1920's. Living a frugal life amidst the Lakes, he made his own clothes, manufactured pioneering light-weight camping gear, and continued to lead interested groups on adventurous escapes.
Millican was known locally for his eccentric outfits, Tyrolean hat and love of dark coffee and Woodbines cigarettes. However, unlike some eccentrics, he was no recluse. A socially engaged man, he delighted in campfire conversations and was always ready to pitch in an opinion on the great ideas of the day.
A lifelong bachelor, he also enjoyed deep friendships with women, and offered camping excursions for young women long before they became socially acceptable. The perfect gentleman, he taught rock-climbing to his female charges, even allowing them to lead when their climbing skills permitted.
Visitors often spoke of the sense of peace and relaxation that they felt after spending time with Millican. Until the very end of his life, he remained wedded to the outdoors, only moving into a hut during cold winters. He died at age seventy nine in a hospital ward in 1947, suffering from heart failure and bronchitis.
Today Millican's cave remains a site of pilgrimage. For all lovers of manly adventure, chivalry, and wisdom, it offers proof that behaving like a gentleman and following one's personal star can create a signature life that can richly benefit others.
I write this as a guest contributor. When my wife, Nicky, and I gave up life in the city a few years ago and moved to Keswick in the Lake District, we were inspired to learn about local legend Millican Dalton.
Starting up a company producing classic travel and adventuring bags, we chose to base our values on Millican Dalton's example. His love of outdoors, pioneering self-sufficiency, adventurous spirit and philosophical nature offered us an encouraging model for our own business.
And for contemporary men, I believe that Millican Dalton's life offers key pointers about how to forge a life of passion, purpose and productivity.
1. Abandon the non-essentials and live simply.
At the age of thirty six, Millican gave up a stifling city job to embrace a life of adventure. As he told a correspondent of The Sunday Chronicle in 1933, "Forty years ago I was working as a clerk in a city office. Day after day I went to the office at the same time. But this was not the life for me. I gave up my job in the commercial world and set out to seek romance and freedom."
Abandoning a house for a cave, he opted for a frugal existence more in touch with the essentials of life. He baked his own bread, manufactured his own clothes with a sewing machine and followed a healthy natural diet.
But he was no drop-out opting for the easy life. He considered his life a philosophical investigation into what constituted a good life. On one occasion, he said, "After treating life as a chemical experiment, I find that the simplest life is the happiest."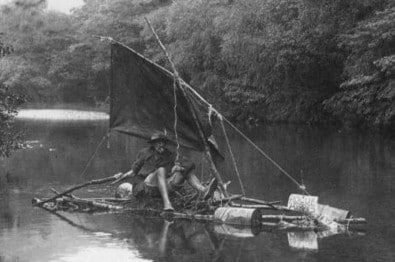 2. Remember what you enjoyed as a boy.
Millican was a man who believed that we discover our deepest purpose in life by following our passions. As a boy living in Essex outside London, he had acquired a length of Alpine rope from which he constructed a rope ladder. This ladder he hung from his bedroom window, using it to descend to the family garden. Subsequently, he encouraged his brothers and local children to use the ladder to access his bedroom.
And he also taught local friends how to climb onto the boughs of an ancient elm tree, scandalizing and terrifying their mothers with his risky nature.
All these passions and pursuits continued in Millican's adult life in the Lake District. Climbing rocks and mountains was one thing for an adult. But he also remained passionate about tree-climbing, ascending oak or beech trees, either alone or with friends. Having shed his city clerk's suit, he reinvented himself as a great outdoorsman.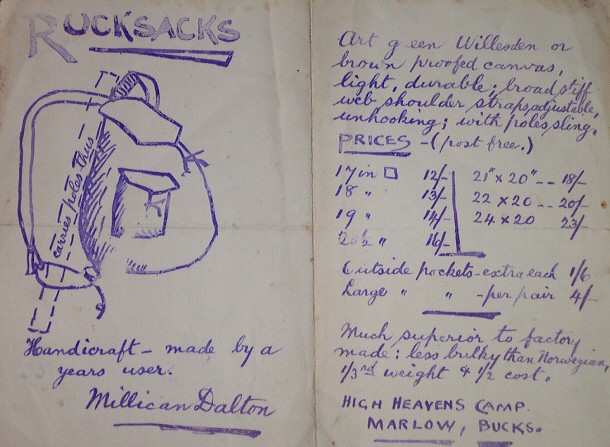 3. Always treat life as an adventure.
Millican never forgot that a man's true spirit is forged in the crucible of adventure. Every pursuit with one of his groups would be turned into a romantic escapade. Listen to his story of constructing rafts to paddle the Lakes around his cave home in Borrowdale:
"I discovered some felled trees lying in a wood on the shore; some of them were 35 feet long, and took five men to shift into the water. We lashed seven of these trunks securely together with an Alpine rope, and found the raft would carry a crew of five. We used branches as paddles, and went a long way out from the shore. I also rigged up a Scottish plaid as a sail."
And if paddling a lake on a homemade raft sounds tame, be aware that Millican also enjoyed mountain rapid shooting on the river Derwent long before white-water rafting ever became current. Indeed, advertising copy for a mountaineering excursion that he offered in October 1913 makes it clear that risk-taking was fundamental to his group excursions:
"The Programme will be seasoned to taste with further real adventures and experiences such as the following:
"A Dinner of the Savage Club on a Desert Island.
Exploration of a Cave.
Lost in the Mountain Midst.
A Thunderstorm in the Mountains (weather permitting).
Dangling over the Precipice.
Astride the Razor Ridge.
Ascent of the Needle.
Varied Hairbreadth Escapes."
Millican was a safe guide for his parties, but he was also a man who found his edge living at a personal frontier with the challenging natural environment.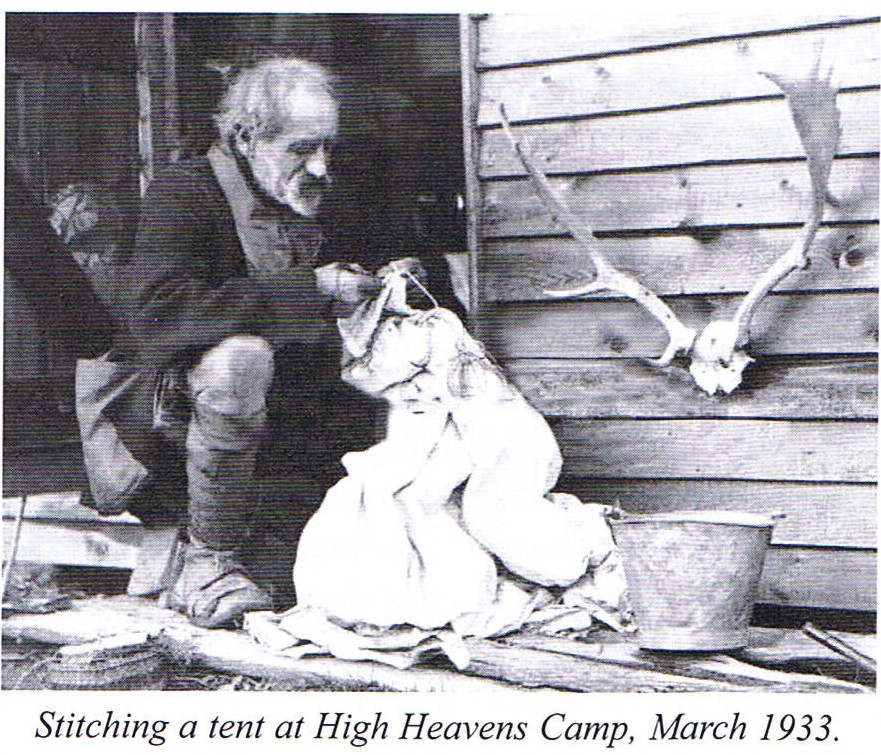 4. Be aware that one man's rubbish is another man's treasure.
Having forsaken the cushioned comfort of London life, Millican developed an even more nonchalant approach to personal possessions in the Lake District.
While he busily constructed tents and rucksacks which he sold, he also collected discarded items from the local landscape and put them to good use. He was always on the lookout for discarded fabrics – canvas, sail cloth or oil skins – which he could fashion into clothes or camping equipment.
Reports of the interior of his cave conjure up a picture of an Aladdin's cave of contraptions and home-made accessories. Discarded food tins and pots retrieved from the trash became, with wire handles, cooking vessels. Retrieved wire bent into tongs aided cooking. And reclaimed barrels and empty bottles were used to transport and store water.
Such canny use of existing items might seem natural to an American frontiersman of the day. However, remember that this was in genteel 1930's England. For Millican to have abandoned his middle-class life and embraced such self-sufficiency, he must have believed passionately in what he was doing and withstood considerable social opposition.
5. Discover one's deepest nature in the natural environment.
Millican found his own way of living cheek to cheek with nature. For him, it was a given that a man should be able to survive in the natural environment and know its properties. He was an expert, for example, in how fires made from larch, juniper, yew and holly burned best and longest.
He struck up an intimate relationship with beloved natural landmarks. One of his favourite climbs was the precipitous Napes Needle. On his fiftieth ascent, he even carried a small pile of sticks to the summit and brewed up a celebratory cup of coffee.
Embracing relative solitude in his cave, he became ever more attuned to nature. In an interview with a newspaper in 1941 at seventy three, he commented, "Well, I don't sleep much, and while I am awake I lie and listen and think. There's a lot to think about just now, isn't there? All the sounds of the nights, the roar of the mountain stream, the barking of our dogs and foxes, the cries of birds, how can I be lonely with such company?"
6. Respect all people regardless of their social status.
The late Victorian society into which Millican was born was one of intense social stratification and division. But Millican himself always showed courtesy to all peoples, regardless of their background. Life in the outdoors seemed to encourage him to treat all people as equal. In particular, he stepped outside the conventions of his day in encouraging women to camp, adventure and climb.
When a young woman named Mabel Barker brought her group of "Walden Gypsies" camping in the Lake District, Millican instantly befriended them and led them on adventures. Mabel, a kindred spirit to Millican, became one of the most enterprising female climbers of her day. She also found that Millican didn't treat her as an inferior or encumbrance in any way: "When we climbed together, it was rather a shock to find that I was expected as a matter of course to take the lead."
Like any true man secure in his own identity, Millican was never afraid to let the woman go first.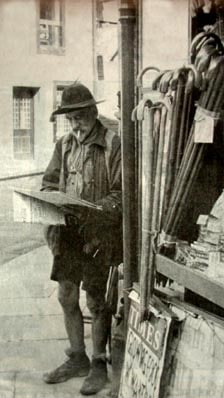 7. Develop a philosophy of life and live by it.
When Millican died in hospital in 1947, a book lay uncompleted by his bedside. Titled "Philosophy of Life," it was his journal of observations based on thirty years living in the wilderness. Sadly, the book remains lost to this day.
Millican lived his life by testing it and himself to the full. For him, the creative spirit was more important than institutionalized tradition. The key thing was to live life in keen conversation with the elements and people around you. Much of his spirit comes through in reports of the banter and fun to be had by the campfire in his "Cave Hotel." Friends and clients would enjoy warmth, coffee and spirited conversation. Political debates, ghost stories and everyday life philosophy were all part of the mix.
Following his death, his friend Mabel Barker wrote in an obituary:
"His picturesque figure and lovable personality have surely become part of the heritage of Lakeland so long as the hills endure and men love them. It is difficult to strike a fair balance between his firm belief in his own opinions and his innate modesty; to assess his curious self-assertiveness, and the absence of any self-seeking. He had, I think, early worked out a theory of life for himself and if ever anyone did so, he lived up to it consistently and completely. He has found something, and was well content with it. Into this unison of theory and practice of life, climbing fitted as a natural part. He did things on the rocks, as everywhere else, to please himself, but not for self-seeking; to fit in with his theory of life and of earth and his relation to it. He believed that people (astronomers included) were 'shutting their eyes to the foundations of the universe.' Perhaps he was wiser than most of us, and his long and happy life indeed trod a pathway to the stars. I wonder how many owed to him their first thrills on rocks and rope; in camp and caves in all weathers; in forest and on water, and in the cunning management of wood fires. Personally I owe him much."
At our company named Millican, we follow the trail blazed by Millican Dalton. We want to inspire others to value our natural environment. We want to adventure and have wild stories to tell. We want to reflect deeply on life and live it with purpose. We may not ever choose to live in a cave but, for us, Millican Dalton offers key inspiration. When we end up feeling cramped and confined in our homes, work or current lifestyle, we remember his daring example.
Jorrit Jorritsma
Co-Founder, Millican
You can find us following our own path of adventure at http://www.homeofmillican.com/
We are grateful to Matthew Entwistle's excellent book, Millican Dalton: A Search for Romance and Freedom for much of our information.