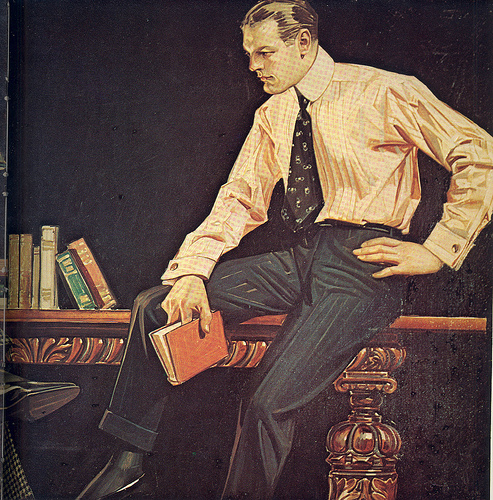 Written by Ross Crooks and Jason Lankow
A man's wardrobe is an important part of his image. Sadly, fashion has become a much-neglected area in the life of the modern man. Though it is often viewed as a "softer" topic these days, this has not always been the case. Dapper attire was once thought as important as proper grooming or a firm handshake. An over-sized Perry Ellis dress shirt billowing out the top of a pair of pleated khakis purchased from Nordstrom Rack just wouldn't cut it. The way a man dresses and carries himself reflects a strong self-perception and high level of confidence. It is essential to making a strong first impression.
Although many men see fashion as outside of their area of expertise, it is actually quite simple. Men's fashion, like all fashion, is cyclical. Themes are constantly being recreated from the past, classic features of the era are kept and re-used, while the most dramatic and dated items are discarded. For example, the 70's boot cut, flared, or "bell-bottomed" pants will forever creep their way back into the fashion spectrum in one way or another year after year, while leisure suits will never, ever have their day in the sun again. Simple.
Without going completely rogue and attempting to bring back the more extreme styles of yesteryear, a man can look to the past to seek inspiration for his own wardrobe. There lie some fashion gems that have the potential to impress one's peers and make the ladyfolk swoon. Following are 10 outdated styles that still have their charm and maintain relevance today.
1. Horn Rim Glasses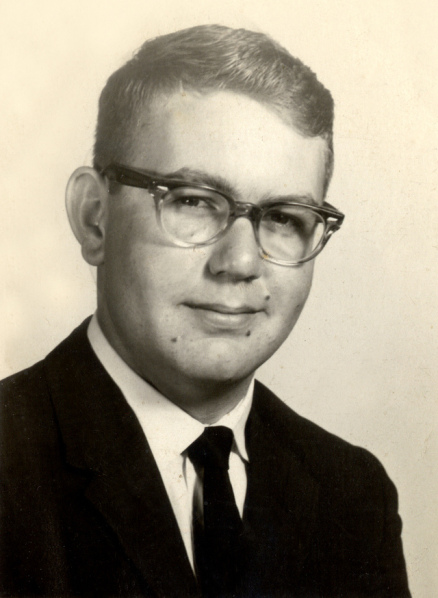 Eye problems? Embrace them.
20-20 vision? Fake it.
Taking you back to the 50's, these specs will make you look interesting. And everyone wants to be interesting. Anyone who thinks these are nerdy is missing the point. The most common style has a thick rim around the entire lens (think Buddy Holly), while a slight variation and my personal favorite, the Brimline (think Malcolm X), are also a cool option. They can be worn effortlessly with a winter suit, trench and hat, or a v-neck with old jeans and Converse. These glasses are the optical equivalent of a scotch on the rocks.
2. Ascot Tie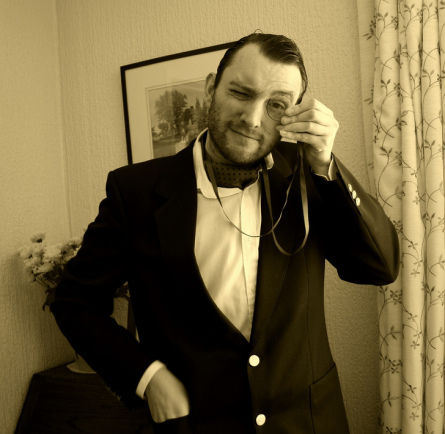 There is a glaring lack of options when it comes to men's neckwear. When it is time to spice it up a bit, some deviance may be necessary. A classy substitute for the classic necktie, the ascot can be worn for formal or casual occasions. Though the modern necktie remains the standard in its genre, various other pieces are available. Most all of them are derived from the cravat, made popular in the late 16th century, which was merely a strip of linen tied around the neck, typically in a bow shape. The ascot tie is also referred to as the day cravat and is typically made of silk, worn under the collar and tucked into the front of the shirt. Be sure to use caution when trying out your new accessory, as it should appear natural, not attempting to make a bold statement. As a rule: think class, not costume.
3. The Pocket Watch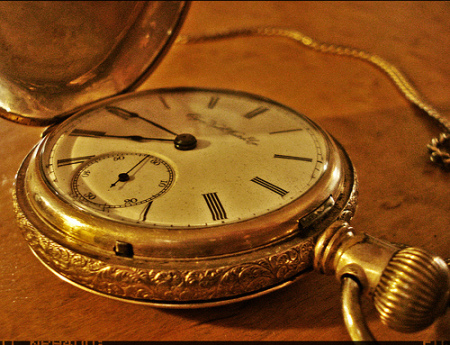 "Excuse me sir, do you have the time?" has never sounded so good. Originating in the 16th century, the pocket watch was for a long time the gentleman's key accessory, as wristwatches were thought effeminate. They had their heyday during the late 19th century when the American Railway Association set these as the standard for railroad workers' watches in order to minimize accidents.
More recently, popularity has dwindled due to the adoption of large faced wristwatches. You know those little pockets in your suit vest? They are not for your ID and debit card or an iPod Shuffle. The chain or "fob" attached to your lapel or waistcoat provides an interesting contrast to your suit that is attention grabbing, but not too ostentatious.
4. One-Piece Long Johns
While not something you should endeavor to wear while in public, one-piece long johns still have a certain old-world charm. With a button front and a back flap, their extraordinary function is undeniable. If not to be sported on the street, you may wonder about the proper occasion to display these off-white beauties. Paired with old, unlaced work boots, your long johns are best worn when stumbling groggily out of a tent or log cabin with a double-barreled shotgun under one arm. For added effect, mutter a few unintelligible phrases about "rascals" or "varmints" and fire the gun a couple of times into the air.
5. The Tie Bar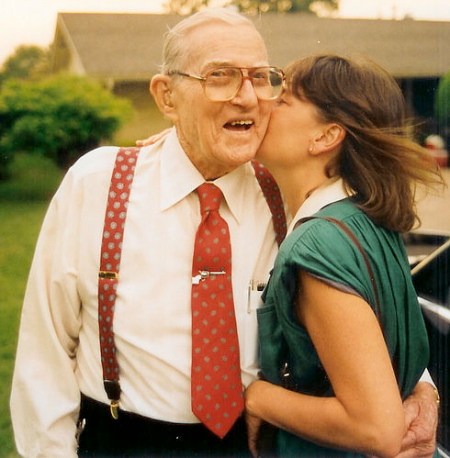 Whether used in a business or social setting, a tie bar completes the suit. It shows that in dressing yourself, no detail has been overlooked. Everything is in place, and you plan on keeping it there. This neat appearance is what men's fashion is all about; a gentleman should be well put together. This small clip also adds a stylish embellishment to your wardrobe, especially when worn with a matching pair of cuff links. It should be worn horizontally, halfway between the knot and the bottom tip of the necktie. Be sure that the color is similar to the metal tone on your watch and belt.
6. Tailcoats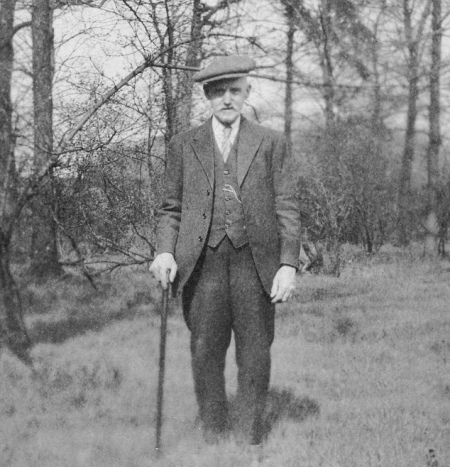 source
Be it a statesman or a gunslinger, many a man has donned the tailcoat. Originally designed to be a less formal version of the Frock Coat (a long coat that extends to the knees all the way around), it was made especially for horseback riding but soon became acceptable for formal occasions as well. The long, slim profile of the jacket gives a tall, distinguished appearance, serving fashion's primary purpose; to make one look much better than they are in actuality. The morning coat (pictured above) is a preferred variation of the tailcoat, as it has no sharp angles around the waistline; rather, it tapers smoothly from the breast back to the tails.

7. Tortoise shell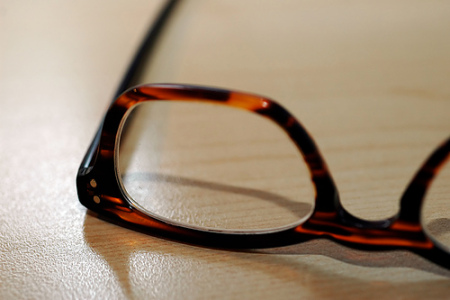 source
From sunglasses to guitar picks, this textured brown material just looks good. Some vintage spectacle frames or the accessories in your Dopp kit in tortoiseshell will make any man look cultured and classy. Widespread appreciation began in the Victorian Era with its use in making jewelry, and continued due to its durability and natural warmth when pressed against the skin. The bad news is that it is primarily produced from the shell of the Hawksbill turtle, which is now classified as an endangered species. Fortunately, there are some great synthetic substitutes on the market that look just as good.
8. Saddle Shoes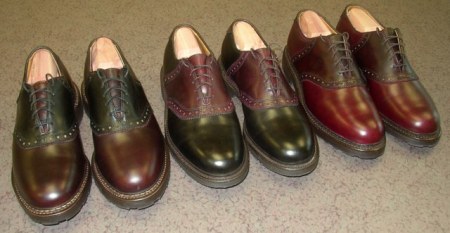 source
A man's sense of style is easily detectable based on his shoe selection. This means that it is important to have the right pair for every occasion. That being said, stick to the classics. The saddle shoe is one such design that has been popular throughout the years. Great for the summertime, the two-toned oxfords go well with seersucker or linen, just leave out the porkpie hat unless you are headed to a garden party. If the traditional black on white color combination is a bit extreme for your personal taste, tone down the contrast with a black/brown or tan/white pair.
9. Argyle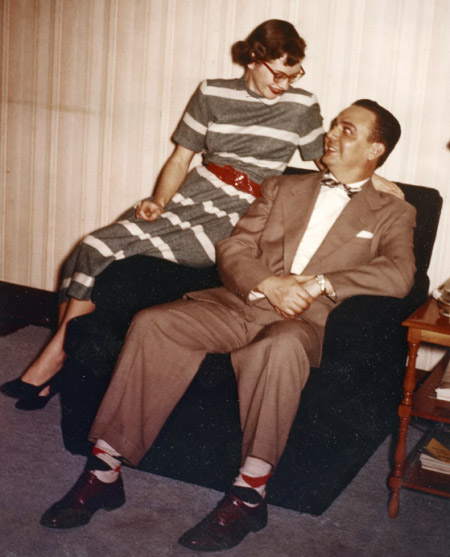 source
Argyle is one of the only patterns that have consistently remained acceptable for a man to wear. And no, the Tommy Bahama hibiscus flower is not one of the others. Due to the layering, the design is said to have been the earliest known use of two-dimensional spacing to achieve a three-dimensional effect, taken from the tartan of an old Scottish clan from Argyll.
On socks (pictured above), the checkered diamond pattern adds a splash of color to monochromatic suits. The use of the print has become more popular recently on sweaters, scarves and wool caps as well. However, if you are a real man, you know there is only one way to wear it: the kilt.
10. Wool Knickers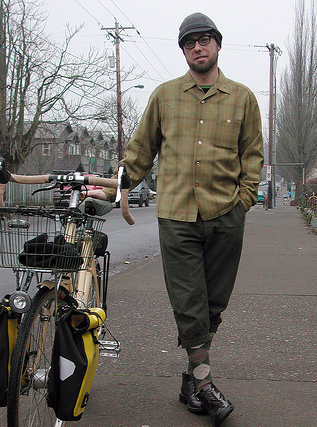 A British woman may shudder at the term, but these were an essential part of any sharp gentleman's closet from the 1920's and 30's. With long dress socks and a pair of unpolished oxfords, the urban dandy is ready to hit the street. The loose fitting upper provides comfort and mobility for casual occasions or for sporting. Their shortened length ensure that the bottoms won't get caught in the gears of your metal steed, and thus make them ideal for pedaling about town on a chilly day. Payne Stewart pulled off the look on the links most recently, though his influence didn't spill over to everyday wear.
Now, I am not encouraging all of you men to run right out and have a custom pattern made to suit your specs, but if you are feeling a bit avant garde, it is indeed an inspired look. If you are confused about the difference between knickers and male Capri pants, don't wear either.