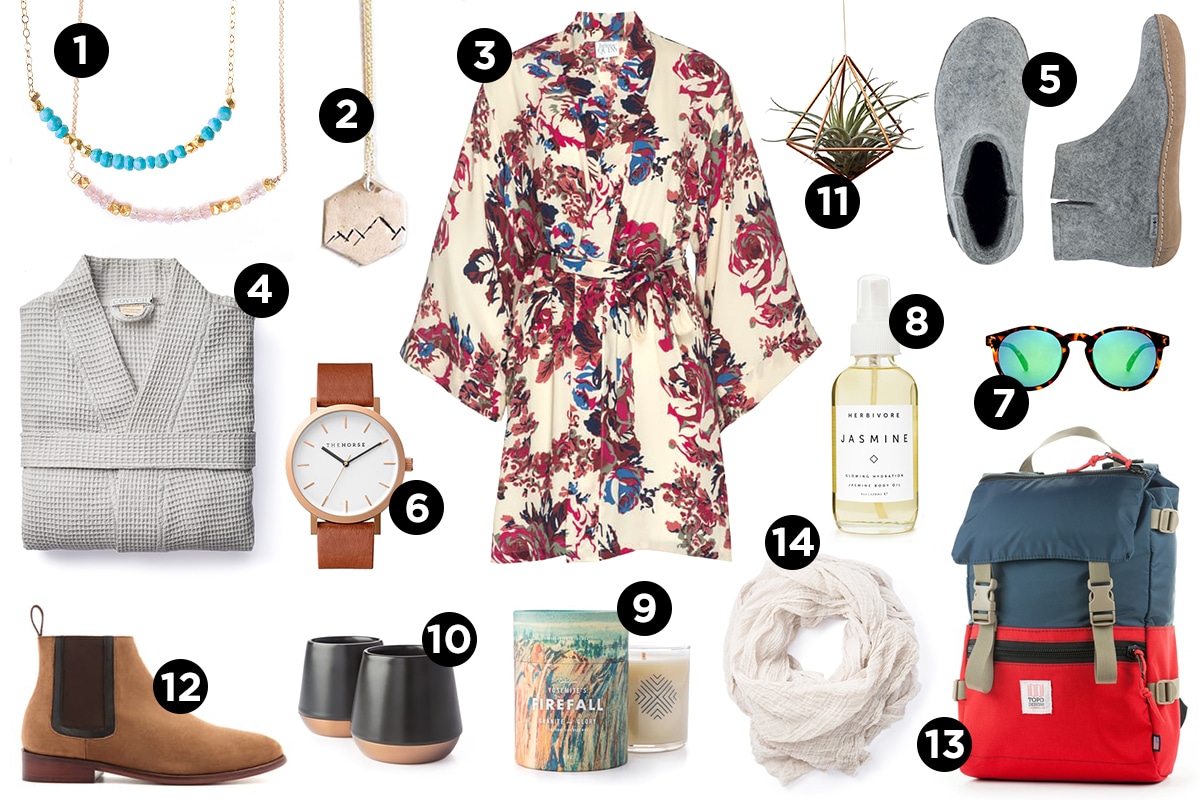 Editor's Note: This promotional gallery was put together by the gents at Huckberry.
There's only one holiday dedicated to romance, and it only comes once a year, so why not make an extra effort to make Valentine's Day special, and give your gal a swoon-inducing surprise? There are enough dark, cold, ordinary days in February as it is, without making the 14th another.
To help you get the right gifts in time to make your lady's V-Day extra-ordinary, we've rounded up our top gifting picks for the women in our lives from our Valentine's Day Shop. We've got it all divvied up into categories — jewelry, loungewear, home goods — making it a piece of cake to get something right in your sweetheart's wheelhouse, or to gather together a well-rounded gift basket for a lady who'd love just about all of it.
The Jewelry
The whole idea behind the jewelry we're highlighting is that each piece has meaning behind it. For instance, San Francisco artist Julia Szendrei's Turquoise and Rose Quartz "Love" necklaces (1) not only have a perfect balance of gold and stone, but the pattern across the front of each necklace spells out L-O-V-E in Morse code. Christina Nicole's Hex Mountain Necklace (2), on the other hand, has a pendant decorated with hand-etched mountain imagery, a token of craftsmanship and a nod to the great outdoors.

The Loungewear
This right here is the good stuff — real indulgences for weekend lounging that she probably wants, but isn't likely to buy for herself. For instance, the Kimono Robes (3) from Helena Quinn. They're the definition of elegant, made with lightweight, incredibly soft 100% silk and decorated with intricate floral patterns. For a robe that's a bit cozier, we suggest the organic cotton Waffle Robe (4) from Coyuchi. It's the kind of robe that's so comfy, she'll be searching for any excuse in the book to wear it all day. Speaking of comfy, Glerups' wool Boot Slipper (5), is practically the definition, leading one of our customers to describe 'em as "little koalas hugging your feet."
The Accessories
We've approached this one with an eye toward pieces she'd be delighted to wear any day of the week. Like watches from The Horse (6), with their minimal and unique designs that have the power to anchor any outfit, from Sunday casual to everyday work attire. As far as sunglasses go, our top pick is Dipseas (7) — with a classic turtle frame and blue lenses, they're definitely stylish while standing out from the rest of the shades she's got lying around. And if she's into skincare, just a few drops of Herbivore's organic Jasmine Body Oil (8) will keep her skin feeling healthy and moisturized all day.
The Home Goods
When it comes to gifting home goods, a little goes a long way toward making a space feel warmer and more personal. Ethics Supply (9) candles for instance can transform an interior with scents carefully calibrated to evoke landmarks like the Redwood National Forest, Yosemite, and Denali. We're also huge fans of Fellow's standout coffee mugs (10) and the Copper DIY air plant kit (11), an eye-catching display that can be hung in the air, no-soil-necessary. All these will warm and brighten up any space.
The Gear
And finally, in true Huckberry fashion, we've selected some outdoor gear that's as stylish as it is functional. Especially during the winter, our lineup of weather-resistant Thursday Boots (12) will be her go-to's for looking good even if she encounters some slush along the way. As far as bags go, we can't stop recommending Topo's Rover Pack (13), which'll serve her whether she uses a backpack for commuting or wants to pack it up for more serious travel. And last but not least, another gift that has yet to fail, the Giant Cotton Scarf (14), made of a light, hand-dyed weave that's super-cozy and has enough heft to be draped and worn just about however she wants.
____________________
Join Huckberry's 1 million+ adventure community. We deliver the coolest gear at the best prices, inspirational stories, and a hell of a lot more to your inbox every week. Membership is free and takes seconds.