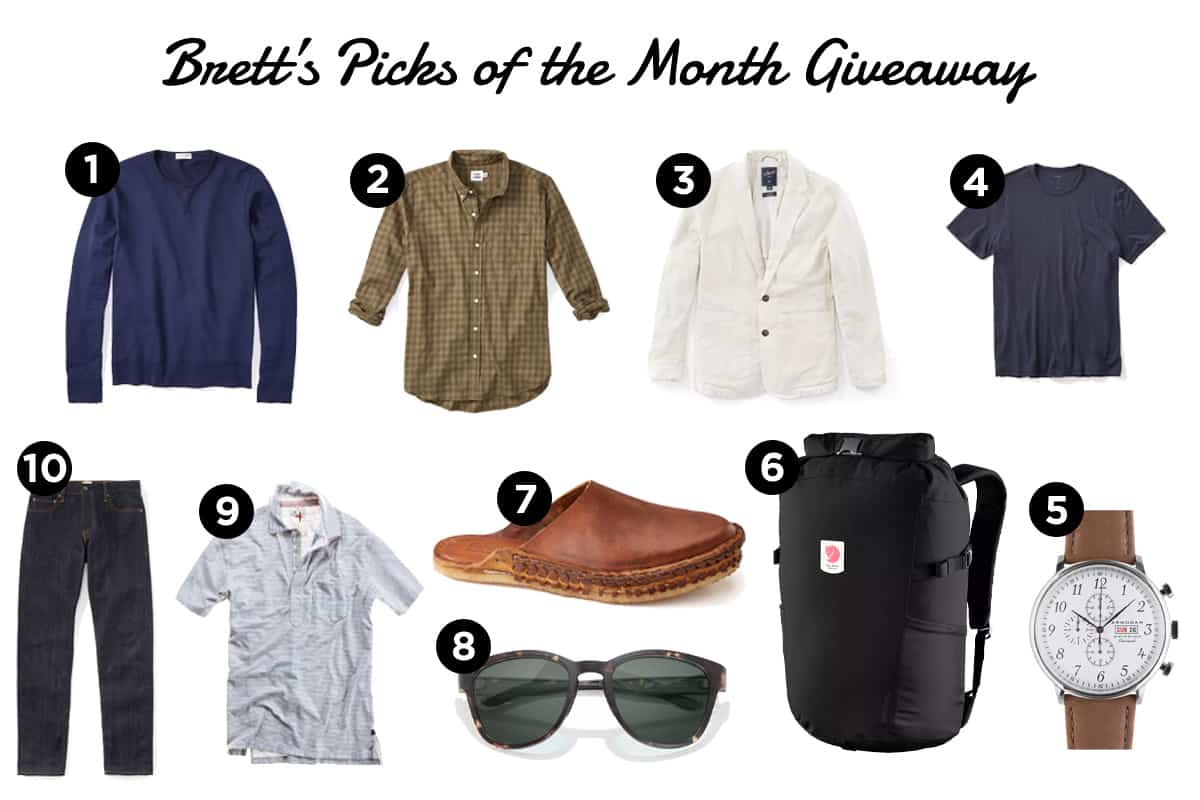 Below you'll find some of my favorite recent offerings from Huckberry. Enter the giveaway to win any of these items, or anything else available in their store (up to a value of $500).
My Picks This Month
1. Flint and Tinder Reversible Sweatshirt. In the past, anything reversible has been rightly considered a style no-no. Flint and Tinder changes that with this French terry sweatshirt that's unshrinkable, made with super comfy cotton, and able to stylishly reverse when needed (e.g., when you drop a meatball on one side).
2. Flint and Tinder Checked Button-Down. Modeled on the type of soft, worn-in, casual vintage shirts you score at thrift stores. But with more new-shirt freshness.
3. Grayers Newport Blazer. If you need a wedding season workhorse, look no further than the Newport Blazer. Features a traditional blazer silhouette and is made with a midweight fabric that's perfect for spring. Also good for the office and that weekend dinner party.
4. Proof 72-Hour Merino Tee. A premium tee with a stylish cut that combines comfort and technical performance. The merino wool wicks moisture, resists odors, and regulates temperature, all while being machine washable thanks to nylon reinforcement.
5. Armogan Spirit of St. Louis Chronograph. This watch is a great choice for those looking for both handsomeness and value. Its aeronautical inspired design, with a leather strap and classic chronograph complications, sports better-looking details than watches many times its price.
6. Fjallraven Ulvo Rolltop. The name "fjallraven" is Swedish, and translates to "arctic fox." That creature's characteristics can also describe the packs that the company makes: majestic, tough, sleek, all around badass. The roll-top design allows the bag to shrink or expand according to its contents.
7. Mohinders. Handmade in rural India, these leather and rubber slip-on shoes are both durable and flexible. The woven water buffalo leather provides a stylish and unique look that isn't found elsewhere, and the natural crepe rubber sole provides comfort all day long.
8. Sunskis. With an '80s-inspired design, these will become your new favorite shades. Every pair comes with polarized lenses, featherweight frames, and a rugged travel case — plus they're backed by a bulletproof lifetime warranty.
9. Relwen Polo. The folks at Relwen have elevated the humble polo. Featuring a 4-button reinforced placket, woven facings around the collar to maintain shape, and horizontal buttonholes that have been engineered for longevity, you won't find another polo with as many intricately thought-of details as this one.
10. Flint and Tinder Defender Denim. Kevlar meets denim for the perfect pair of jeans you'll still be wearing years down the road. Combines the comfort of cotton with unmatched durability. Made in Los Angeles from top-shelf Japanese selvage denim.
The Prize
Any item currently available on Huckberry (up to a value of $500). Be sure to check out the current line-up of items as it changes every week.
Enter the Giveaway
If you are an email subscriber, do not reply to this email to make your entry. You must click on the title of this post, which will take you to the post on our web page where you can make your entry. Use the form below to enter. Don't forget that you have multiple ways to enter! The more of them you do, the better your chances are!
Monthly Huckberry Giveaway: May '19

Deadline to enter is Thursday, May 16th at 11:59PM (CT). We'll then select one random winner. Good luck!