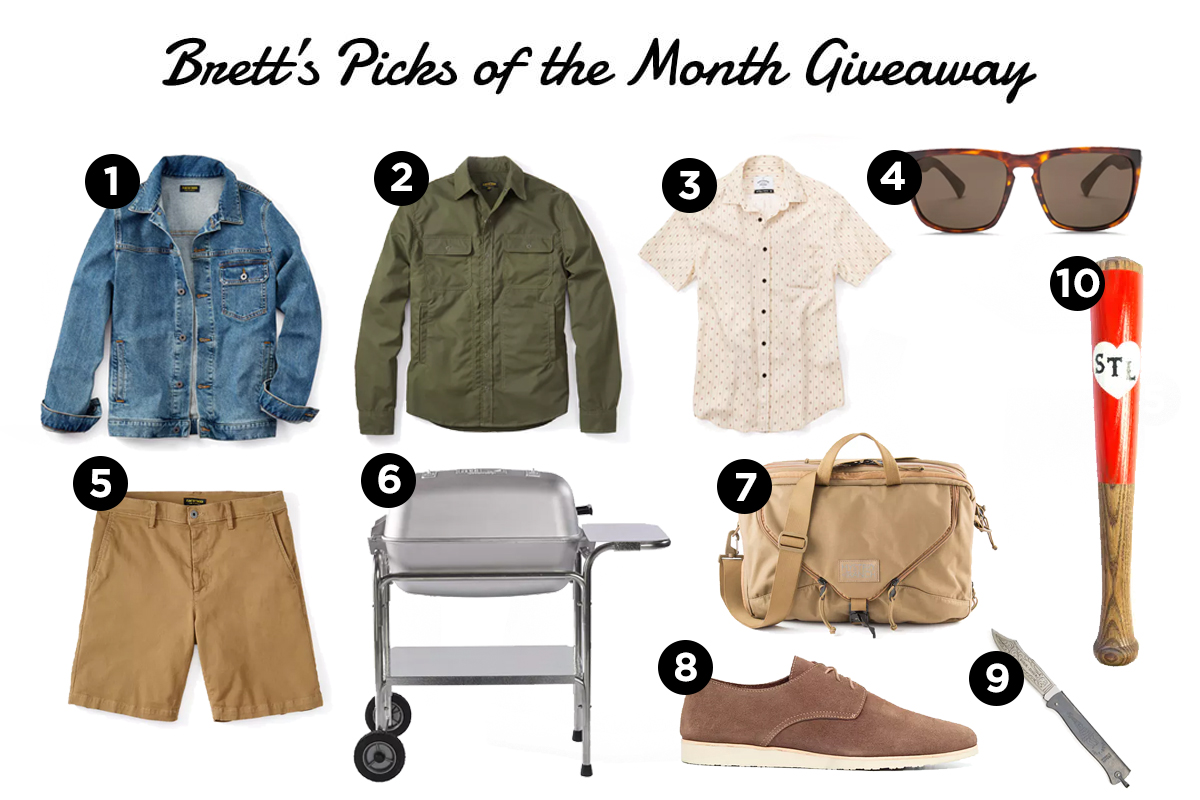 Below you'll find some of my favorite recent offerings from Huckberry. Enter the giveaway to win any of these items, or anything else available in their store (up to a value of $500).
My Picks This Month
1. Flint and Tinder Denim Trucker. This lightweight trucker has a perfectly worn-in look and feel like the one your dad's been hanging onto since his first Bob Dylan show. Ridiculously comfy and loaded up with the toughness and style that made the trucker such an undeniable American classic in the first place.
2. Flint and Tinder Staywax Camp Shirt. This modern, easy-wearing new offering from Flint and Tinder is made with a washable, weather-resistant waxed cotton. The lightweight fabric and slightly slim fit make it perfect to throw over a t-shirt as a light jacket or wear as a layer when temperatures drop, making it a perfect camp shirt.
3. Portugese Flannel. While the "flannel" in the name evokes cold weather shirts, this company's line-up of short-sleeve button-downs are actually cool, comfortable, and perfect for summer. Handsome and well-fitted, they're an easy way to put on some stand-out style.
4. Electric Knoxville Sunglasses. Designed in Southern California, but made in Italy, these sunglasses are the perfect combination of cool and craftsmanship. Polarized lenses, 5-barrel hinges, and a lifetime warranty against materials and craftsmanship will make the Knoxville your favorite sunglasses.
5. Flint and Tinder 365 Shorts. Your favorite pants from Flint and Tinder, now as a pair of shorts. With a tailored look, but the stretch and comfort of a performance garment, you'll want to wear these shorts every day this summer.
6. PK Grills Classic. The PK Grill has something of a cult following in the South because these cast aluminum grills are near indestructible — many of the thousands from the original run in the 60s and 70s are still around today. Rust-proof, durable, and ready to sling some dogs and burgers at your next cookout.
7. Mystery Ranch Briefcase. The toughest, most versatile bag out there, now in briefcase form. Just as rugged and dependable as any of their legendary products, packed with features to keep your work organized.
8. Nisolo X Huckberry Travel Derby. Nisolo — maker of superb shoes — has partnered with Huckberry to create this exclusive travel derby. Suede uppers and flexible foam sole make it your summer go-to. And at less than one pound per pair of shoes, they're a great travel option.
9. Douk-Douk Folder. A French-made pocket knife with a carbon steel blade and simple folding construction. Originally built for the working man and used for decades by the French Foreign Legion and Armies, this knife has rightfully earned its legendary status amongst knife collectors and connoisseurs.
10. Pillbox Baseball Bat. Even if you don't regularly follow the sport, you can surely appreciate the craftsmanship and artistry that goes into these maplewood bats. The various motifs will look equally good on the wall of a den or at the next company softball game.
The Prize
Any item currently available on Huckberry (up to a value of $500). Be sure to check out the current line-up of items as it changes every week.
Enter the Giveaway
If you are an email subscriber, do not reply to this email to make your entry. You must click on the title of this post, which will take you to the post on our web page where you can make your entry. Use the form below to enter. Don't forget that you have multiple ways to enter! The more of them you do, the better your chances are!
AoM X Huckberry Giveaway May '18

Deadline to enter is Thursday, June 7th, at 11:59pm CT. We'll then select one random winner. Good luck!