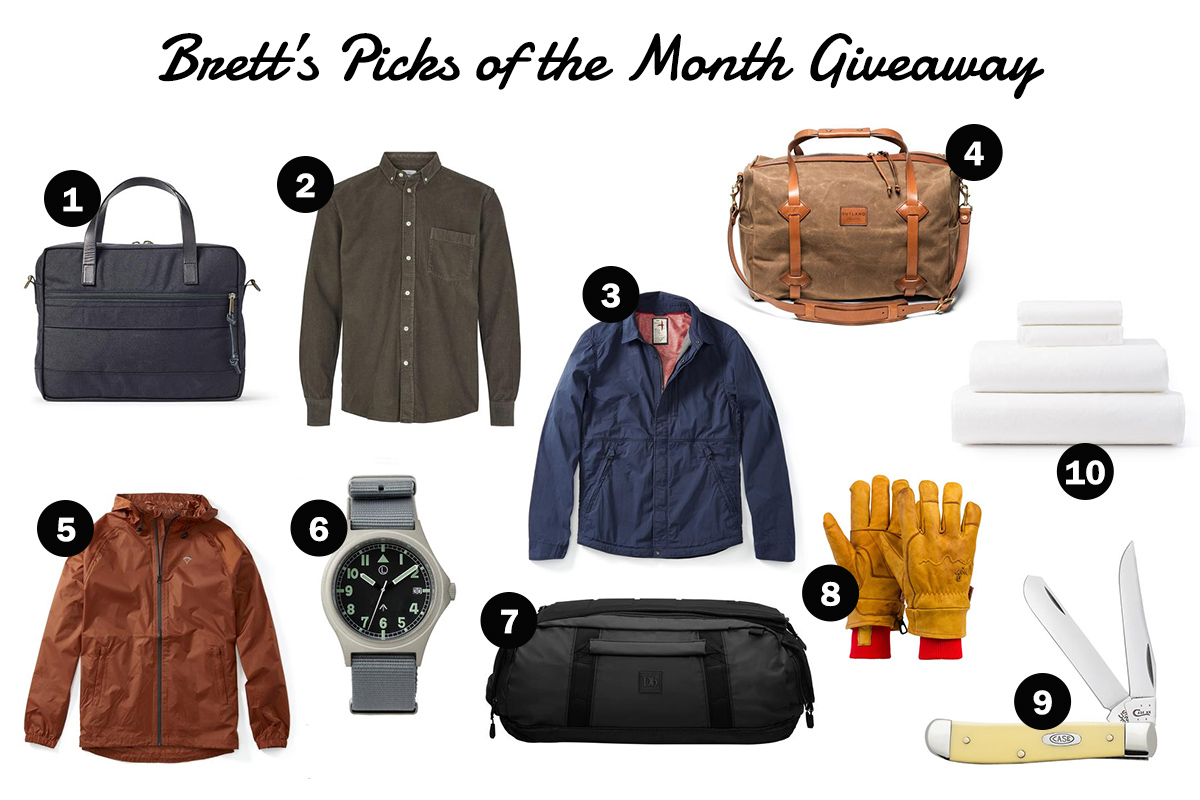 Below you'll find some of my favorite recent offerings from Huckberry. Enter the giveaway to win any of these items, or anything else available in their store (up to a value of $500).
My Picks This Month
1. Filson Briefcase. The Filson name alone means this bag will hold up for decades. Made with a heavy-duty nylon fabric, this bag finds the sweet spot between hard-sided briefcases and unstructured messenger bags.
2. Klitmoller Benjamin Flannel. Hardy apparel inspired by the sea and built for a lifetime of adventure. Made with a durable cotton fabric and pre-washed/pre-shrunk so that it's cozy and fits perfectly right out the box.
3. Relwen Covert CPO. The sleekest and most stylish windbreaker available. While winter months may technically be nearing an end, that nip in the air — especially when it's dark out — won't soon be going away. This jacket cuts the wind, but looks sharp enough to wear to the office when needed.
4. Bexar Goods Duffel. Every leather and canvas good from Bexar is handmade in San Antonio. This particular duffel features a waxed canvas body and premium leather straps, all sourced from the USA. The last duffel you'll ever need.
5. PackMack FZ Jacket. A European-engineered waterproof jacket that weighs about the same as a cup o' noodles. Breathable construction keeps you dry both outside and in — no more sweating in your stuffy jacket.
6. MWC G-10 Watch. MWC — Military Watch Company — has long been supplying their wares to military units, first responders, and police forces. Their vintage-inspired watches aren't just for those folks though; as a civilian you can get your hands on them as well. Features tough stainless steel, 100-meter water resistance, and 10-year battery life.
7. DB Equipment Carryall. A spacious duffel bag for every occasion (that also happens to be compliant with airline overhead bins). DB has taken their penchant for ski bags and made a duffel for the masses. A handy bottom pocket keeps dirty stuff separate.
8. Give'r Gloves. Heavy-duty, waterproof, and insulated, these bad boys are built to withstand anything, from grabbing a burning log out of a fire to ice fishing in below-zero temps. These have been my favorite gloves for years.
9. Case Knives Mini Trapper. With over a century of expertise packed into every blade, this classic two-bladed trapper knife from Case is sure to find a spot in your EDC. Special high-carbon steel holds an edge longer than conventional steel.
10. Upstate Sheets. Pure cotton sheets that get softer with every wash. Sleeps perfectly in every season, and they generously included a Top/Bottom indicator, so there's no more guessing which direction the sheets go. Why don't more companies do that?
The Prize
Any item currently available on Huckberry (up to a value of $500). Be sure to check out the current line-up of items as it changes every week.
Enter the Giveaway
If you are an email subscriber, do not reply to this email to make your entry. You must click on the title of this post, which will take you to the post on our web page where you can make your entry. Use the form below to enter. Don't forget that you have multiple ways to enter! The more of them you do, the better your chances are!
Monthly Huckberry Giveaway: March '19

Deadline to enter is Tuesday, March 12th at 11:59PM (CT). We'll then select one random winner. Good luck!