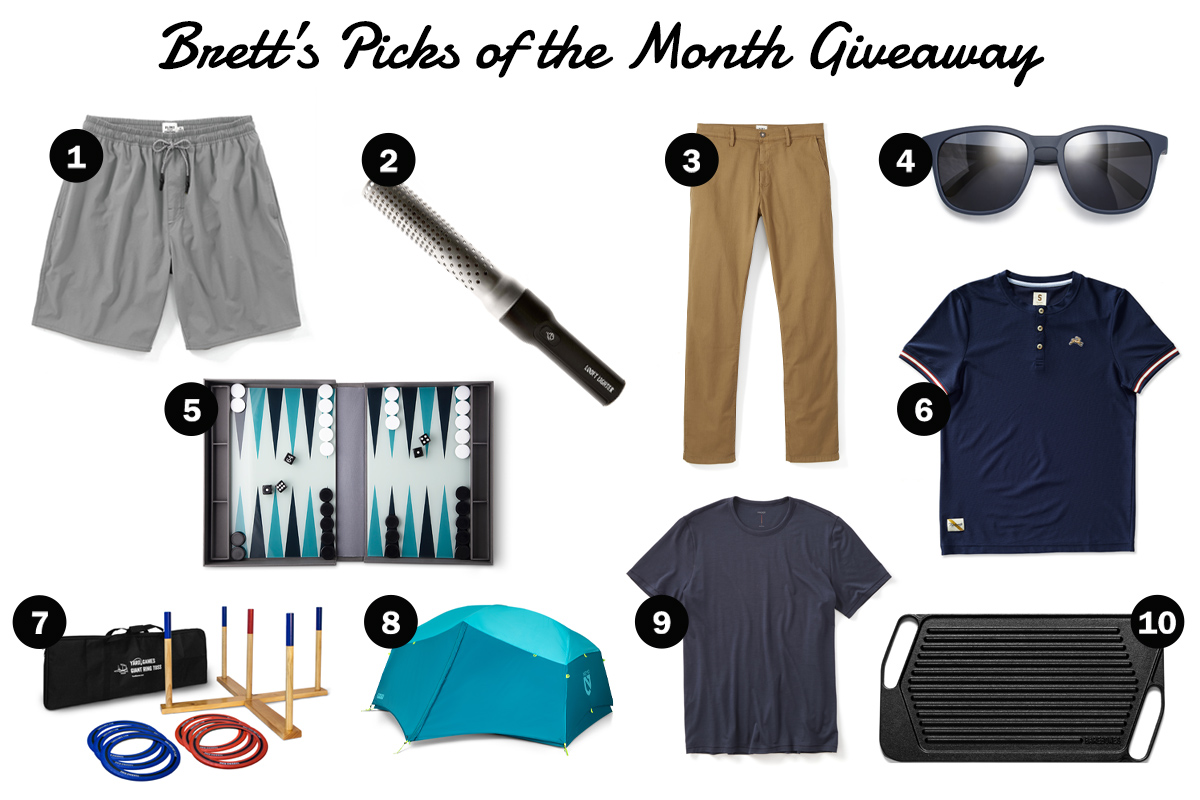 Below you'll find some of my favorite recent offerings from Huckberry. Enter the giveaway to win any of these items, or anything else available in their store (up to a value of $500).
My Picks This Month
1. Flint and Tinder Breaker Trunks. Lightweight, breathable, and with just the right amount of stretch, these swim trunks will look and feel great whether you're swimming in the pool or lounging around it.
2. Looft Firestarter. In pursuit of grilling perfection, don't overlook the way you light the grill. Ditch lighter fluid (which can leave an off-putting taste on your food), lighters, and matches altogether by using this wand instead. It ignites your charcoal with a superheated, 1100°F blast of air. Cool.
3. Flint and Tinder Lightweight Stretch Chino. Shorts are never going to be the best-looking option for summer get-togethers. But we tend to avoid pants simply because of the added heat that comes with them. Enter Flint and Tinder's new lightweight chino. Made from woven, high-twist cotton yarn, the breathable build looks great, while keeping you cool.
4. Weekender Sunglasses. An all day, everyday pair of sunglasses that won't break the bank. Lightweight but with a hardy construction, polarized lenses, and crucial hinge protection (which is where sunglasses always fail if/when they take a tumble), these can truly be taken anywhere.
5. Printworks Classic Board Games. These display-worthy games bring a touch of competition to your next date night or family get-together. Clean, modern colors make them appealing to the eye, while well-made wooden pieces guarantee a long lifespan.
6. Tracksmith Henley. Bring together the old (the henley shirt was originally designed for rowers) with the new (technical fabrics), and you've got a reimagined take on a classic of athletic wear. The Tracksmith henley is a performance top that perfectly combines form and function.
7. Giant Ring Toss. With elaborate large-scale events canceled, humble backyards will be the main venue for improvised fun during this odd summer season. So set up some fresh diversions like this giant ring toss. It's made with high-quality, durable materials and comes with a handy traveling case. The perfect entertainment for all ages.
8. Nemo Equipment Aurora Tent. Beyond the backyard, local campgrounds are a great place to escape. If you need a tent for your next trip, the vertical walls and multiple vestibules of this one give it more space than it would appear, and the intuitive design makes it a crazy easy set-up.
9. Proof 72-Hour Merino Tee. So-named because you can wear it for 72 hours without having it stink, the Proof 72-Hour Tee combines comfort, technical performance, and a stylish cut. The merino wool wicks moisture, resists odors, and regulates temperature, all while being machine washable thanks to nylon reinforcement.
10. Barebones Cast Iron Griddle. If you listened to our recent interview with Matt Moore, you'll know that the best burgers are pan-fried on a griddle, right in their own juices. This cast iron griddle can be used atop your grill, campfire, or stove for not only perfect burgers, but also other meats, vegetables, fruits, and more.
The Prize
Any item currently available on Huckberry (up to a value of $500). Be sure to check out the current line-up of items as it changes every week.
Enter the Giveaway
If you are an email subscriber, do not reply to this email to make your entry. You must click on the title of this post, which will take you to the post on our web page where you can make your entry. Use the form below to enter. Don't forget that you have multiple ways to enter! The more of them you do, the better your chances are!
Deadline to enter is June 12 at 11:59pm CT. We'll then select one random winner. Good luck!