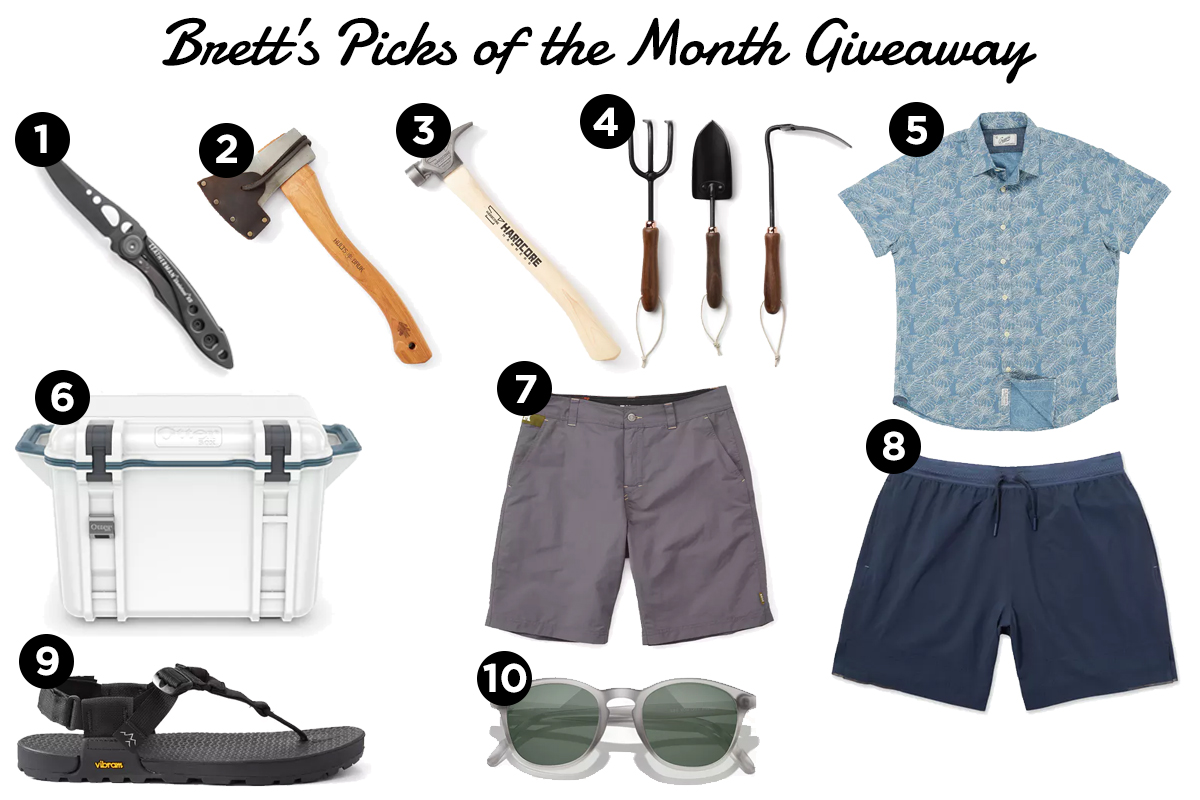 Below you'll find some of my favorite recent offerings from Huckberry. Enter the giveaway to win any of these items, or anything else available in their store (up to a value of $500).
My Picks This Month
1. Leatherman Skeletool. Leatherman has expanded their line-up to include pocketknives, which still boast every iota of reliability and utility that made the brand legendary. The Skeletool is a modern knife, built light and durable for everyday carry, with a bottle opener built into the pocket clip.
2. Huckberry Hatchet. Hand-forged in Sweden by master blacksmiths and perfectly sized for all-purpose jobs from the campsite to the home, there's a lot to love about this hatchet.
3. Original Hardcore Hammer. Named for both the hardened steel core of the hammerhead and for just how badass these hammers really are. American-made and designed to stand up to the day-in, day-out needs of a professional carpenter, this tool is just as handy for the DIY enthusiast.
4. Barebones Classic Gardener Set. The essentials any green-thumbed man needs for planting and tending the garden this summer. Includes a cultivator, spade, and square hoe.
5. Grayers Leaf Print Shirt. Known for cool weather casual menswear, Grayers is out with a new line of summer wear that's as comfortable as you'll ever find while still looking sharp. When the temperature rises, the last thing you want is an uncomfortable garment clinging to your skin; Grayers will keep you cool, comfy, stylish.
6. OtterBox Hard Cooler. Known more for their legendary, ultra-durable phone cases, OtterBox also makes a mean cooler. With two inches of refrigerating insulation, your ice and drinks will stay cool for up to two weeks. Seriously. Move on over, flimsy plastic beverage holder from Walmart.
7. Howler Brothers Horizon Shorts. Outdoor apparel that finds the sweet spot between technical innovation (quick drying and wrinkle resistant), comfort, and stylish Western charm (including cowboy-style snaps). Your outdoor pursuits will thank you.
8. Myles Switchback Short. Myles most lightweight short yet was designed with runners in mind. The Switchback is insanely breathable, light as a feather, has all the smart features we've come to expect from Myles. Take it on your most rigorous runs or just use to sneak in a few miles at lunchtime.
9. Bedrock Sandals. Drawing inspiration from ancient footwear and adding a durable modern outdoor structure, the crew at Bedrock Sandals have created one of the best take-everywhere, do-anything sandals on the market. From hiking to lounging, they'll go anywhere you do.
10. Sunskis. With an '80s-inspired design, these will become your new favorite shades. Every pair comes with polarized lenses, featherweight frames, and a rugged travel case — plus they're backed by a bulletproof lifetime warranty.
The Prize
Any item currently available on Huckberry (up to a value of $500). Be sure to check out the current line-up of items as it changes every week.
Enter the Giveaway
If you are an email subscriber, do not reply to this email to make your entry. You must click on the title of this post, which will take you to the post on our web page where you can make your entry. Use the form below to enter. Don't forget that you have multiple ways to enter! The more of them you do, the better your chances are!
Monthly Huckberry Giveaway: June 2018

Deadline to enter is Friday, July 6th, at 11:59pm CT. We'll then select one random winner. Good luck!