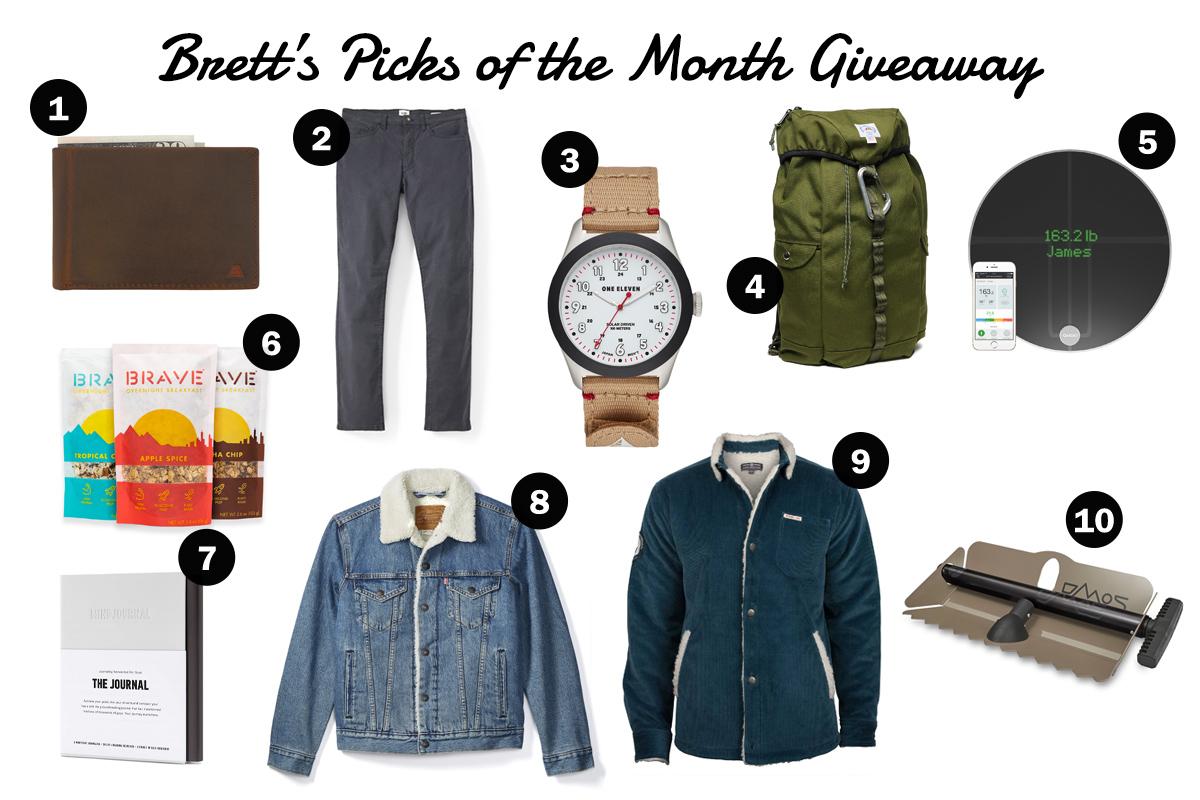 Below you'll find some of my favorite recent offerings from Huckberry. Enter the giveaway to win any of these items, or anything else available in their store (up to a value of $500).
My Picks This Month
1. Andar Bifold Wallet. Made with premium full-grain leather, this slim wallet is designed with your comfort and ease of use in mind, plus RFID protection is built right in.
2. Flint and Tinder 365 Pants. Combine your favorite tailored chinos with the stretch of a performance pant, and you get the 365 Pant — a pant so comfortable, you'll want to wear them every dang day of the year.
3. One Eleven Field Watch. The vintage field watch silhouette, upgraded for the 21st century. Its battery charges from both solar and artificial light, the materials are both durable and sustainably sourced, and the band is easily adjustable to exactly what you need.
4. Epperson Mountaineering Climb Pack. Next-level quality and craftsmanship, along with a striking design. The Climb Pack is made with incredibly durable materials and offers enough space for just about any adventure.
5. Qardio Smart Scale. Qardio's Wireless Smart Scale delivers nearly every health metric you want in one sleek, modern package. This scale not only measures weight and BMI, but offers an in-depth analysis of your muscle, fat, and bone percentages, along with a user-friendly tracking app that allows you to catalog workouts and fitness goals. Great buy for the new year.
6. Brave Foods Overnight Breakfast. Overnight oats in a convenient package. A base of rolled oats, chia seeds, and hemp hearts, is then carefully blended with tasty morsels and spices. Packed with protein and flavor, all you have to do is pour into a container, add milk, and refrigerate overnight.
7. Mind Journal. A user-friendly daily journaling program that helps you achieve your goals and improve your mental and emotional health. Includes pages for both open writing as well as set prompts for reflection. Made with quality materials and well-constructed for durability and a pleasurable writing experience.
8. Levi's Sherpa Trucker. Classic denim Americana which features deep-pile sherpa lining. Stay warm and looking sharp in this casual classic.
9. Amundsen Harvester Overshirt. A water-resistant, stretch corduroy overshirt — inspired by Roald Amundsen's 1911 Antarctic expedition. Perfectly balances heritage looks with technical performance and cozy comfort.
10. DMOS Stealth Shovel. Weighing in at less than 3.5 pounds, this portable shovel is made from indestructible aircraft aluminum. It's been stress tested in lab and field conditions to withstand 3,886 pounds of force and temperatures ranging from -40 to 170 F.
The Prize
Any item currently available on Huckberry (up to a value of $500). Be sure to check out the current line-up of items as it changes every week.
Enter the Giveaway
If you are an email subscriber, do not reply to this email to make your entry. You must click on the title of this post, which will take you to the post on our web page where you can make your entry. Use the form below to enter. Don't forget that you have multiple ways to enter! The more of them you do, the better your chances are!
Deadline to enter is January 16th at 11:59pm CT. We'll then select one random winner. Good luck!