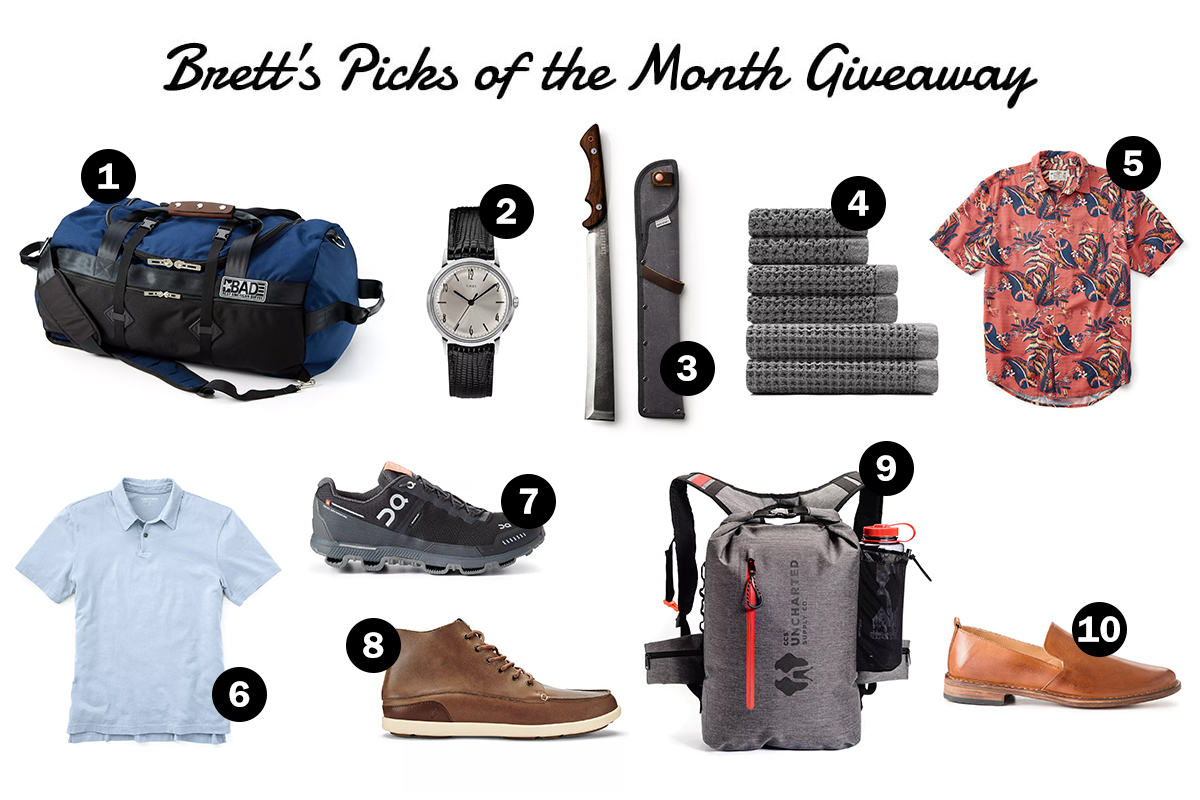 Below you'll find some of my favorite recent offerings from Huckberry. Enter the giveaway to win any of these items, or anything else available in their store (up to a value of $500).
My Picks This Month
1. BAD Duffel Backpack Hybrid. BAD Bags (which stands for Best American Duffel Bags) makes rugged packs from durable materials. Combining tough nylon fabric with double stitching on every seam, and seat belt webbing reinforcement throughout, this bag can truly stand up to any test it's put through.
2. Timex Marlin Automatic. With their first mechanical watch release since the 1980s, Timex reissued an impeccably styled classic from the 1960s. The Marlin even has an old-school hand-winding mechanical movement to go with the vintage look and feel.
3. Barebones Nata Tool. Barebones has added a new tool to their venerable line-up of gardening implements: the Nata — a machete-like knife for your outdoors needs. Use it to clear brush, strip bark, plank wood, and more.
4. Onsen Towels. The Onsen Towel boasts next-level softness. When you combine that luxurious feel with ample absorbency and quick-drying properties, both thanks to its airy weave, you've got one helluva a towel on your hands.
5. Faherty Hawaiian Shirt. Huckberry teamed up with Faherty for this exclusive Hawaiian design on their soft, short-sleeve rayon shirt. Perfectly suited for all your warm weather get-togethers and made to fit just right, Hawaiian shirts need no longer be the baggy, kitschy garments of decades past.
6. Flint and Tinder Supima Polo. The softest, best-fitting casual shirts you've ever worn. The secret sauce? 100% long-staple Supima cotton that's grown in California and knit with a new advanced technique that creates a luxurious and airy fabric.
7. Cloudventure Running Shoe. These shoes from On utilize a structural outsole innovation known as CloudTec, which revolutionized the running game. And thanks to impeccable attention to every detail of their shoes — fine sock-like liners, molded heels, a speed-lace system — they're approachable and ready for everyday wear even if you're not a top-tier athlete.
8. Nalukai Boot. This Hawaiian-terrain-tested footwear is made in the spirit of the relaxed island lifestyle and combined with modern technology. The Hawaiian word "nalukai" translates roughly to "weathered by time," which is the perfect name for these heritage leather boots. As the adventures you'll have in these versatile boots stack up, the full-grain uppers will take on your personal patina.
9. Uncharted Supply Survival System. As succinctly noted by Outside Magazine, "This bag will keep you alive." 95% of emergency survival situations are resolved within 72 hours, so the team at Uncharted worked with first responders, doctors, special forces operators, mountain guides, and other specialists to fill this waterproof, durable shell with the essentials to get you through those first 72 hours of a hurricane, earthquake, or other disaster.
10. Astorflex Patnoflex. Astorflex's stellar suede chukkas are no longer a secret. But these classic loafers might yet be. Handmade in Northern Italy by a family that's been making boots for six generations, these shoes are handsome as hell and represent the best value on the market.
The Prize
Any item currently available on Huckberry (up to a value of $500). Be sure to check out the current line-up of items as it changes every week.
Enter the Giveaway
If you are an email subscriber, do not reply to this email to make your entry. You must click on the title of this post, which will take you to the post on our web page where you can make your entry. Use the form below to enter. Don't forget that you have multiple ways to enter! The more of them you do, the better your chances are!
Monthly Huckberry Giveaway: July 2018

Deadline to enter is Tuesday, August 7th, at 11:59pm CT. We'll then select one random winner. Good luck!