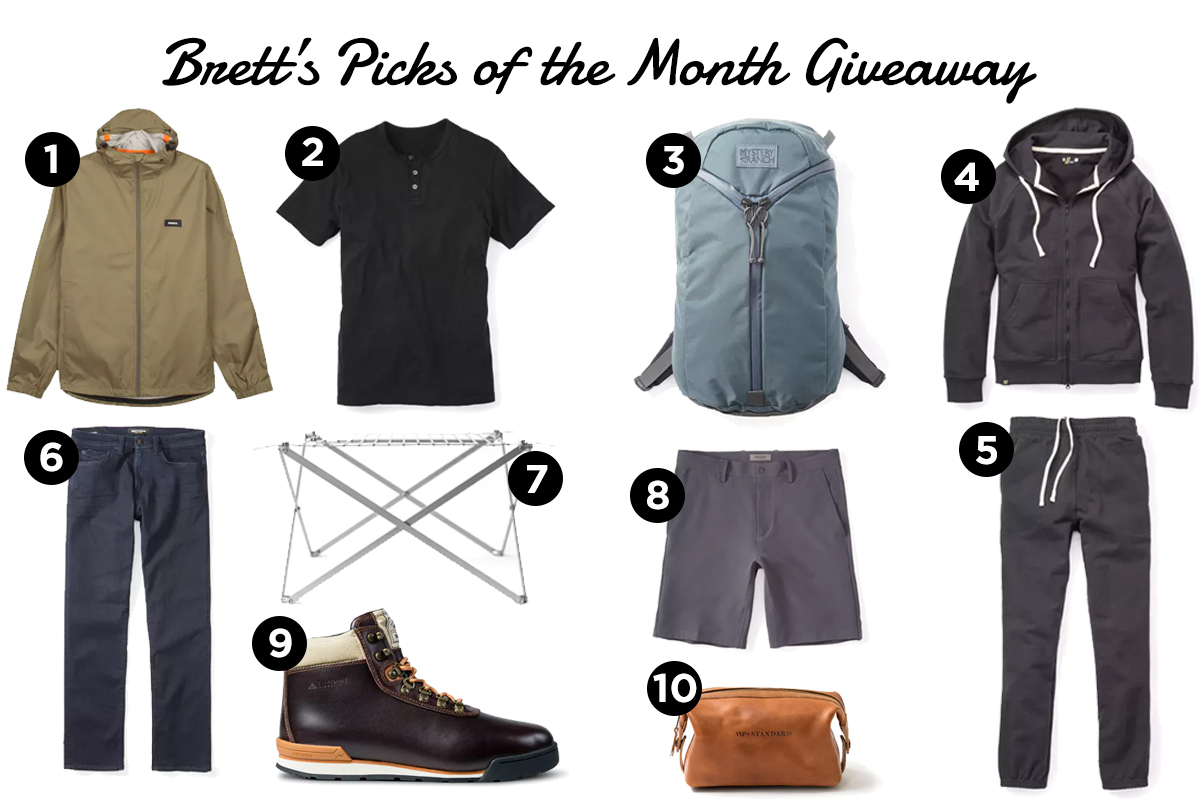 Below you'll find some of my favorite recent offerings from Huckberry. Enter the giveaway to win any of these items, or anything else available in their store (up to a value of $500).
My Picks This Month
1. Finisterre Autan. Inspired by misty UK mornings where Finisterre's HQ is located, this jacket is fully waterproof and keeps the elements at bay while staying breathable. Japanese ripstop fabric and a super lightweight design are icing on the cake.
2. Supima Air Knit Henley. Upgrade your tee collection with the softest, best-fitting casual shirts you've ever worn. The secret sauce? 100% long-staple Supima cotton that's grown in California and knit with a new advanced technique that creates a luxurious and airy fabric. Plus, the henley design upgrades the look too.
3. Mystery Ranch Urban Assault. Inspired by military assault rucksacks, this bag represents the epitome of clean, functional design. What makes it truly unique is the 3-ZIP closure that makes everything easily accessible no matter what kind of load is being carried.
4. Flint and Tinder Fieldhouse Hoodie. Flint and Tinder's new Fieldhouse Collection is inspired by old school collegiate athletics, and fittingly made with American manufacturing and premium materials. Love the rugged and workhorse-like 10-Year Hoodie? Nab yourself the Fieldhouse Hoodie, too, for all your weekend lounging needs.
5. Flint and Tinder Fieldhouse Sweatpant. The French terry fabric feels so soft, you're liable to mistake 'em for the old grey sweats from college that you've kept around for too long. Perfect for your warm-ups and cool-downs alike.
6. Revtown Denim. Designed to be comfortable and versatile, taking you from the office to weekend chores around the house to your favorite bar with ease. They'll fit just as well on day one as they will at year ten.
7. Wolf & Grizzly Portable Grill. A bring-anywhere grill that adapts to any fire you can whip up. Stainless steel construction ensures it'll give you years of cooking. Not only does it collapse flat, it also folds up to be about the same size as a water bottle. Portable cooking at its most handy.
8. Proof Nomad Short. Your new work, play, and travel shorts for when the mercury heats up. Designed to excel in all environments and constructed from a super comfortable, technical fabric that stretches 4-ways and repels water/beer/coffee. A hidden zip pocket is tailor-made for travel, allowing you to keep your everyday carry close.
9. Ridgemont Heritage Boot. Looks like the iconic hiking boot designs of the 70s and 80s, but feels like a sneaker that's comfortable to wear all day, every day. Durable and water-resistant, it's ready for walking your dog in the woods or taking a day hike with friends.
10. WP Standard Dopp Kit. The items you rely on most should be of the best quality — made with premium materials and uncompromising construction. This Dopp kit certainly lives up to that with its vegetable-tanned leather and ultra-durable zipper. This kit will last you decades.
The Prize
Any item currently available on Huckberry (up to a value of $500). Be sure to check out the current line-up of items as it changes every week.
Enter the Giveaway
If you are an email subscriber, do not reply to this email to make your entry. You must click on the title of this post, which will take you to the post on our web page where you can make your entry. Use the form below to enter. Don't forget that you have multiple ways to enter! The more of them you do, the better your chances are!
Monthly Huckberry Giveaway April '18

Deadline to enter is Tuesday, May 8th, at 11:59pm CT. We'll then select one random winner. Good luck!