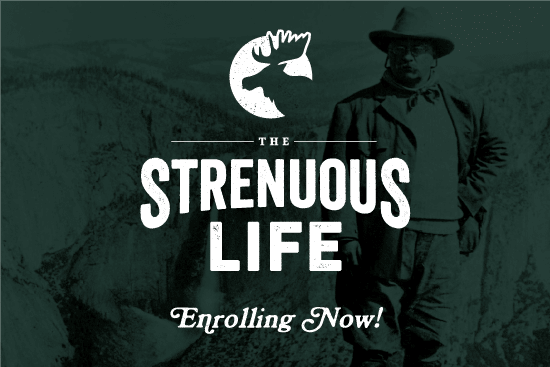 Have you found yourself with more time on your hands lately, but have realized you're not exactly sure how to spend that time?
Do you feel like you've finally got the opportunity to pursue a hobby, but have realized you don't have any hobbies to speak of, and aren't sure where to begin in exploring one?
Are you desirous to keep up your physical activity even with gyms closed, but find it's hard to stay motivated to work out at home?
In a time of uncertainty and anxiety, would you like to engage in activities that will help you become more mentally resilient?
In an age of isolation, do you want to be part of a community of men who will encourage you to stay strong in body, mind, and spirit?
Then consider joining The Strenuous Life.
TSL is both an online and offline program, and all of the requirements of the 12-week Challenge, as well as the great majority of the badges that are available to earn, remain achievable during the pandemic, even for those under stay-at-home orders. Will it take extra creativity and dedication to complete The Strenuous Life Challenge during this time? It will. But the effort expended may give more back in return than at any other time. (At the very least, you'll earn a special patch; see below!)
If you're struggling to take care of basic needs right now, and need to concentrate on other priorities, then this isn't the enrollment for you. That's okay. Hopefully you can join us down the road.
But if you're in a place where you think The Strenuous Life can actually help you take care of your other priorities, if you need an extra push and some structure to keep yourself from devolving into malaise and inertia, then this may be the perfect time to sign up.
What Members Are Saying About The Strenuous Life
The Strenuous Life is an online/offline program designed to help men turn their intentions into actions, do hard things, and become stronger in body, mind, and spirit. We've had over 6,600 people of all ages and from all walks of life sign up and the feedback has been incredible.
Here are just a few testimonials from members of the latest cohort of TSL Classes; you can read 300+ more testimonials here.
---
"The Strenuous Life has been the best decision I have ever made. I used to arrive at the end of every year realizing that I wasted all of the 12 months before. Now I look back on the weeks and months I've spent in The Strenuous Life and I realize that I haven't wasted a single one. I am more physically, spiritually, and emotionally strong. My wife, my daughter, and my son have taken every opportunity to join me in The Strenuous Life, practically earning the badges and completing most of the Agons right along with me.
I couldn't have asked for a better return on investment for the money I put towards the enrollment fee."
–William A., Class 044
---
"My class has the distinction of working through the home stretch of the 12-week boot camp during the coronavirus outbreak. Having already spent 8 weeks living The Strenuous Life and expanding our endurance, we truly helped each other by sharing details of coping and managing the situation. Really wonderful stuff. Very life-affirming. And personally, I'm thrilled with my increases in physical strength, creativity, and sense of purpose.
Highly recommended."
–Robert M., Class 045
---
"I was hopeful but a bit skeptical of what real effect TSL would have on me and my family. Wow. I could not have predicted how transformative this was going to be. The added boost of action and intentionality has tipped the scales in my life. My marriage and family have taken off in ways that I could not have foreseen. There are other pieces to the puzzle that have come together at the same time, but TSL has been a significant piece. I am deeply thankful for this group of men and the motivation this program has brought me. Unprompted, my wife said to me one night, 'You know, I am really loving this Strenuous Life thing.' So good. Thanks brothers.
–Craig H., Class 046
---
"I started The Strenuous Life at the beginning of the year and I have found the weekly Agons, badges, challenge to do physical activity, and a good deed to be rewarding and motivating. I thoroughly enjoyed the variety of the Agons during the boot camp and found that I looked forward to each Saturday morning when the next one would be posted. I have 3 sons and we would often discuss strategies for accomplishing the Agon for that week and my oldest son who is 11 years old would usually help me accomplish them. It is extremely rewarding when I accomplish one of them and he says, 'Dad, I'm proud of you.' As the 3rd month ends I find that I am more resilient and comfortable with discomfort and this is both rewarding and valuable to me. I look forward to continuing with living The Strenuous Life."
–Keith J., Class 046
---
"Self-improvement is a tough thing when you go it alone. I have been an avid reader of the Art of Manliness for like, ever, and when I saw the first chance for The Strenuous Life (TSL), I sat on my laurels and missed out.
I've struggled with whether or not I was worth the effort for quite some time, and when this year's opportunity for TSL arrived, I jumped on it. Not only was I warmly welcomed with a great introductory kit, and encouragement from not only Brett, but my class guides. Simply put, to me, TSL is essentially the Man Scouts, complete with challenges to push my body and mind to the limits, and a badge system to encourage the learning of new skills.
During my initial 12-week bootcamp, I was thankful to complete all of my challenges, earn two badges, and feel much, much better about myself in general. My newfound self-esteem was bolstered by a class of other great men who encouraged and inspired me to keep moving. I'll never be the same, and I am looking forward to a lifetime of conquering challenges! Thank you so much!"
–Marcos R., Class 045
---
"I am thankful for the opportunity to endorse TSL!
At 61 years of age I was looking for something to break the monotony of my work-oriented life. Then I read about . . . The Strenuous Life, a 12-week challenge of manly activities. Confronting my listlessness, I decided to take the challenge. Now, 12 weeks later, I can say TSL has been instrumental in changing my outlook on my life. Yes, the program involved physical strenuosity, but not more than I could do if I put some effort in. Additionally, mental, spiritual, and social challenges got me thinking, learning, growing, and interacting with other guys who were doing the same. Through TSL I have become eager to embrace hard things. If you are looking for a manly kickstart I highly recommend The Strenuous Life. Go ahead . . . do something hard!"
–John B., Class 045
---
"I was introduced to The Strenuous Life two years ago, but like many other things, I put it into the 'I'll get to that later' category. Then towards the end of last year I was going through some personal hardships and saw the reminder for the next Strenuous Life class. I somehow knew that this was the time, and didn't realize how impactful this decision would become. I have never pushed myself harder or further than I have through Strenuous Life. Experiencing the effects of the COVID-19 pandemic during the Strenuous Life boot camp has provided a unique opportunity to step up as a leader. I believe that the tenets of The Strenuous Life can prepare the men of the world to be the leaders of their households and communities that are so desperately needed right now."
–Neal T., Class 046
Take the Strenuous Life Challenge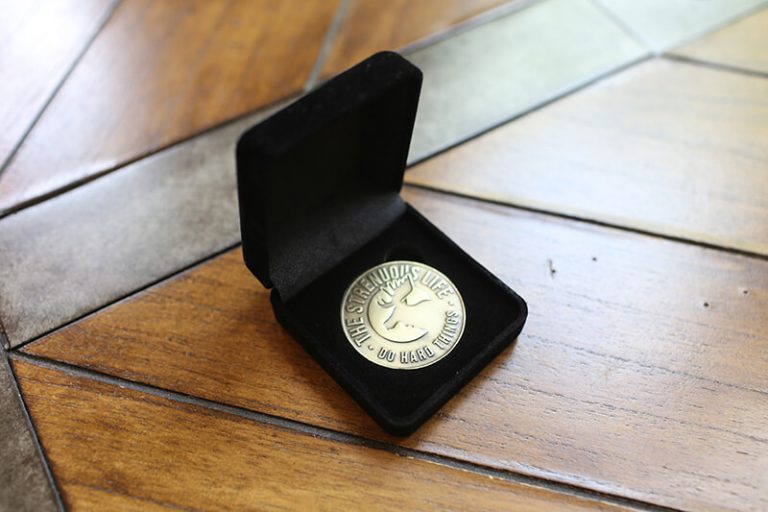 New members of TSL are enrolled into the 12-week Strenuous Life Challenge, which is designed to induct initiates into a life of strenuosity and help them form new, health-boosting, mindset-enhancing, life-improving habits. You'll be asked to hit certain benchmarks in terms of daily physical activity and good deeds, earn at least one badge, and complete a diverse range of weekly "Agons" or challenges.
The Strenuous Life Challenge is designed to push you outside your comfort zone, get you having new experiences, and help you become more than you are now in body, mind, and spirit. Those who complete the Challenge earn an exclusive TSL challenge coin, as well as a new outlook on life.
Finally Put Your Long-Standing Intentions Into Action
The Strenuous Life is like a scouting program for grown men, and its structure — which offers a set of 50+ badges and clear requirements to earn them — facilitates learning new skills, having new experiences, and forming new habits. It's designed to help you put your long-standing intentions — all those times you've said, "I'd really like to start doing _____" — into action.
TSL can be just the kick in the pants you need to finally make good on your goals. Here's a small sample of some of the stuff members have done as part of The Strenuous Life in just the last few months: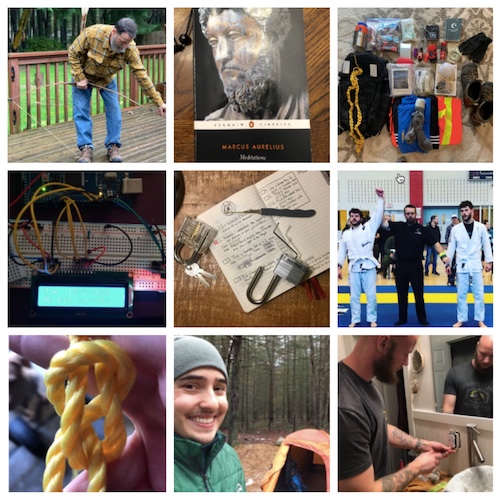 If you're finally ready to move from point A to point B with your goals, TSL will provide the map and guide you on your journey.
Meet-Like Minded Individuals (In-Person!)
Are you looking for a way to meet up with like-minded men and form more real-world friendships? The Strenuous Life can help you make those connections.
One of the features of TSL are local chapters that members can use to organize real world, in-person meet-ups. The third Saturday of every month is designated as "Strenuous Saturday" and members get together to work on badges, ruck, or do community service. Members can meet up to work on the weekly challenges as well.
While in-person meet-ups are largely on hold these days during the pandemic, remember that when you join TSL you receive LIFETIME membership. One day meet-ups will resume and you'll be able to fully take part in them; 'til then, some local chapters have begun to meet for video conference calls to catch up and even teach/learn skills together.
Earn the Exclusive Pandemic Patch
As mentioned above, while The Strenuous Life is still entirely achievable even if you're under a stay-at-home order, it will be a little more challenging to complete its requirements. The undaunted who join up during this enrollment anyway, and complete the 12-week Challenge, will receive a free, exclusive pandemic patch.
Enrollment Is Open Until Thursday, April 2, or Until We Register 3 New Classes
If you're not willing to mothball your entire life during quarantine, and want to stay engaged in body, mind, and spirit, then join us in The Strenuous Life.
Enrollment will only be open until Thursday, April 2, 2020 or until we register 450 new members. Whichever comes first.
For those enrolled, the 12-week Challenge officially begins on April 4.
Classes fill fast — don't delay in signing up! The next enrollment of TSL will not occur until the summer.
I hope to see you on The Strenuous Life.