Editor's Note: This promotional gallery was put together by the gents at Huckberry.
They call fall the most stylish season of the year for good reason — mild temperatures give a man the perfect opportunity to dress solely for the sake of looking nice, without having to worry about catching cold or sweating through his shirt. On top of that, there's just something about fall itself — the changing leaves, the first smell of the fireplaces going at night — that feels good, and just might make you want to dress for taking a stroll in the fall air.
We can all thank our lucky stars then that looking your best, insulating yourself from the occasional brisk breeze, and giving yourself a solution in case the temperature unexpectedly rises all have the same, simple solution: layering.
Now, before we proceed with recommendations on the best layers we've come across for three seasonal situations we're calling Weekday Dapper, Everyday Casual, and Weekend Adventure, here's a quick rundown of the simple rules to follow with fall layers:
Mix contrasting fabrics and materials,

especially wool, denim, and canvas. Leather boots never hurt either.

Fall colors.

Think "burgundy" over "fire engine red." Bright blues and whites are out. Brown and greens are in. For inspiration just take a look at the leaves on the trees.

Watch your lengths.

Shortest sleeves and hems on the innermost layer; longest on the outermost (unless, of course, you're wearing a vest as your outerwear).
Sound good? Now let's get onto the recommendations.
Weekday Dapper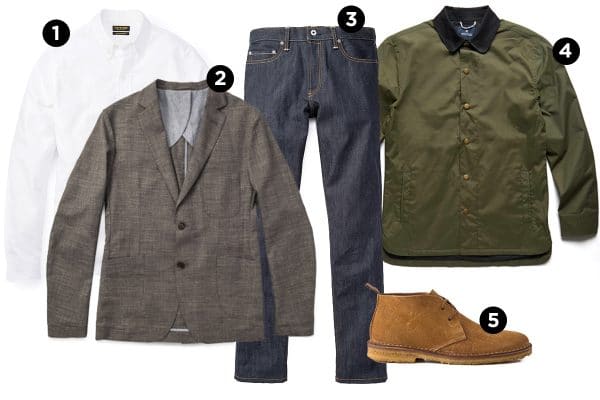 For a dressier social occasion, work your way from the inside layer out. We recommend starting with a classic, hardy oxford, like (1) Flint and Tinder's Texas Shirting, made in a little factory in El Paso that's been at it for three generations. Over that you can't go wrong with Taylor Stitch's modern classic (2) The Telegraph Blazer, and Roark Revival's lightweight update to the traditional English fieldcoat, (4) The Officer Jacket. As for pants and shoes — a dark pair of denim, like (3) Flint and Tinder's Stretch All-American Selvage Jeans is a great way to add character to an otherwise more formal outfit, especially after they begin to earn the individualized fades they're famous for. And (5) Astorflex's Italian-made desert boots are a timeless, super-durable option for your feet.
Everyday Casual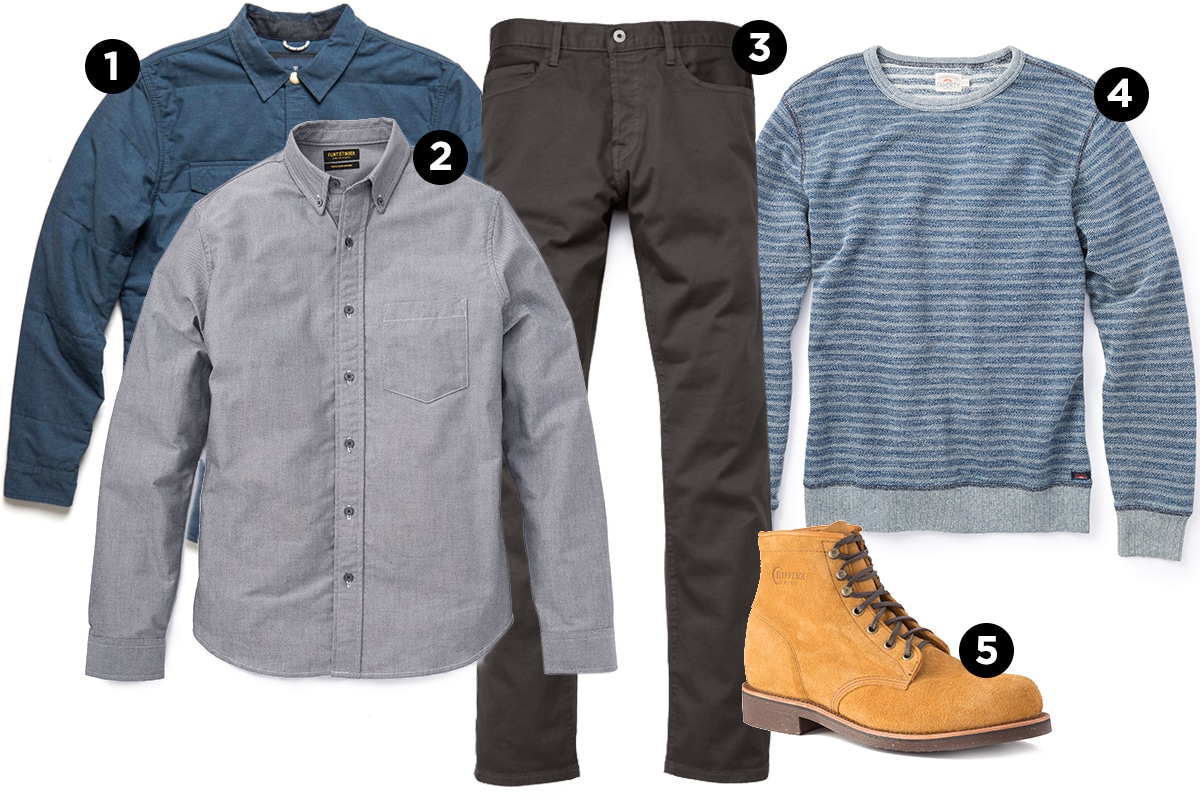 Think soft, real soft — that's our advice for casually kicking back in the fall. For an iconic layered look perfect for pumpkin carving or just sipping a hot toddy on a porch swing, pair a chunky oxford like (2) Flint and Tinder's Texas Shirting, with a blanket-soft (4) Faherty Pullover. Then top that all off with (1) Roark's Murman Shirt Jacket, an updated throwback to 20th century work shirts. For pants, think stretchy. We're all about (3) Flint and Tinder's 365 Pants, which can pretty much take the place of the rest of your pants. They're cut like a jean, feel like a chino, and stretch like a performance pant. And on your feet go with these (5) Original Chippewa work boots, made in the USA from a butter-soft rough out suede, exclusive to Huckberry.
Weekend Adventure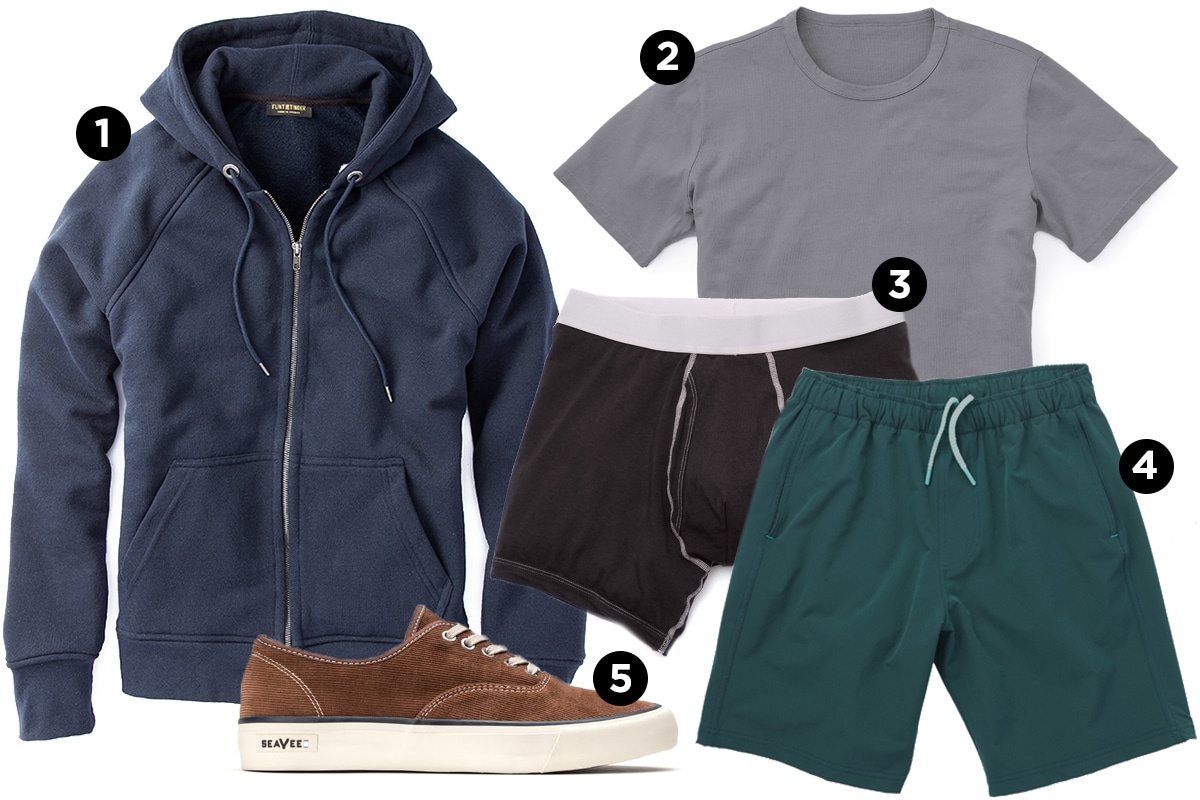 When it comes to escaping into the changing foliage (also known as leaf peeping), layering up properly is all about being ready for a wide range of weather you might find yourself in. It's best to start with the basics. (3) Flint and Tinder's Heritage Boxer Briefs are 100% American-made essentials, built especially to keep comfortable where it counts most. On that same note, (2) Flint and Tinder's Supima Air Knit Tees give you the same comfort on your top half, and are made so soft they feel more like cashmere than traditional cotton. Also extremely soft is (1) Flint and Tinder's legendary 10-Year Hoodie. These are built 100% in the USA with all-metal hardware and backed by a 10-year guarantee. It's truly an investment in your wardrobe (and USA manufacturing). For bottoms, we recommend (4) Myles stretchy, structured shorts to keep you fully-mobile on those fall days when there's just starting to be a faint chill in the air, but it hasn't gotten cold yet. They're favorites around here for performing like athletic shorts, yet looking polished enough for getting on around town. And on your feet, you gotta go with (5) SeaVees' garment-dyed Cordies. These are durable, corduroy versions of one of the original casual sneakers designed in California in the 60s.
_______________________

Join Huckberry's 1 million+ adventure community. We deliver the coolest gear at the best prices, inspirational stories, and a hell of a lot more to your inbox every week. Membership is free and takes seconds.