"A place for everything and everything in its place."
Your great-grandfather likely used that maxim, and his grandfather as well. It actually first appeared in print way back in 1640. The saying was born among sailors, who needed to both keep things orderly in the tiny galleys and cabins below deck, and make sure all their tools and ropes were placed and secured properly up above, so that things didn't wash overboard when the ship was rocked by storms and waves.
"A place for everything and everything in its place" came ashore in the 19th century, and was adopted most rigorously by farmers, who owned and used a wide variety of tools and pieces of equipment, and who couldn't afford to leave them exposed to the elements. Keeping track of their tools ensured they could get to work when they needed to, and there was always plenty of work to be done.
The maxim was subsequently taken up by men in all trades and businesses, white and blue collar alike, who saw how having a set place for their tools and papers, both at home and at work, contributed to their success. The standard espoused in old books was for a man to be able to dress himself in the dark or find any tool in his shed with his eyes closed.
While a man's tools and necessities may have changed over the centuries, the wisdom in "a place for everything and everything in its place" remains the same. Whether at school, work, or home, creating a system of order for your possessions will create numerous benefits in your life, like saving you time and money, and making your life just a little bit less stressful.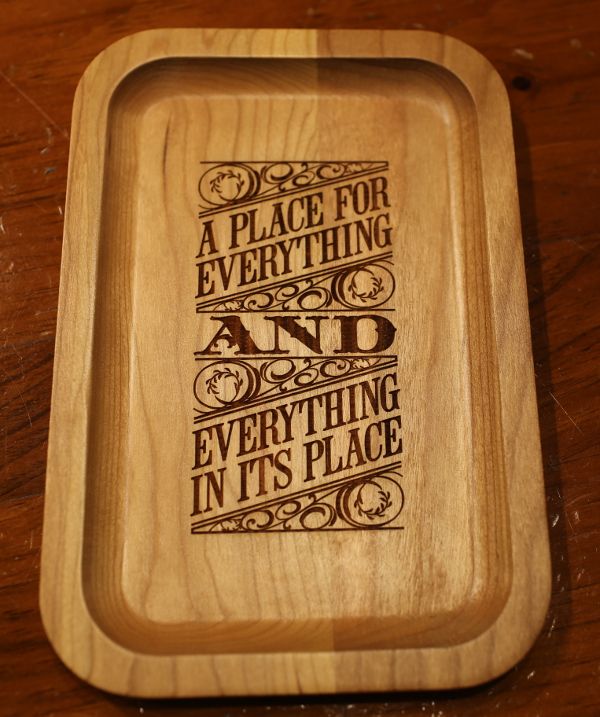 To help you better live by this maxim, we've created an exclusive, classy wooden catch-all with the saying etched right into it. Not only will it ensure you never lose your keys, wallet, or other EDC items, every time you go to drop and pick up your belongings, you'll be reminded to always put things where they belong and keep your home ship-shape.

Specs:
9 x 6 x ¾
Cherry Wood
Laser Etched