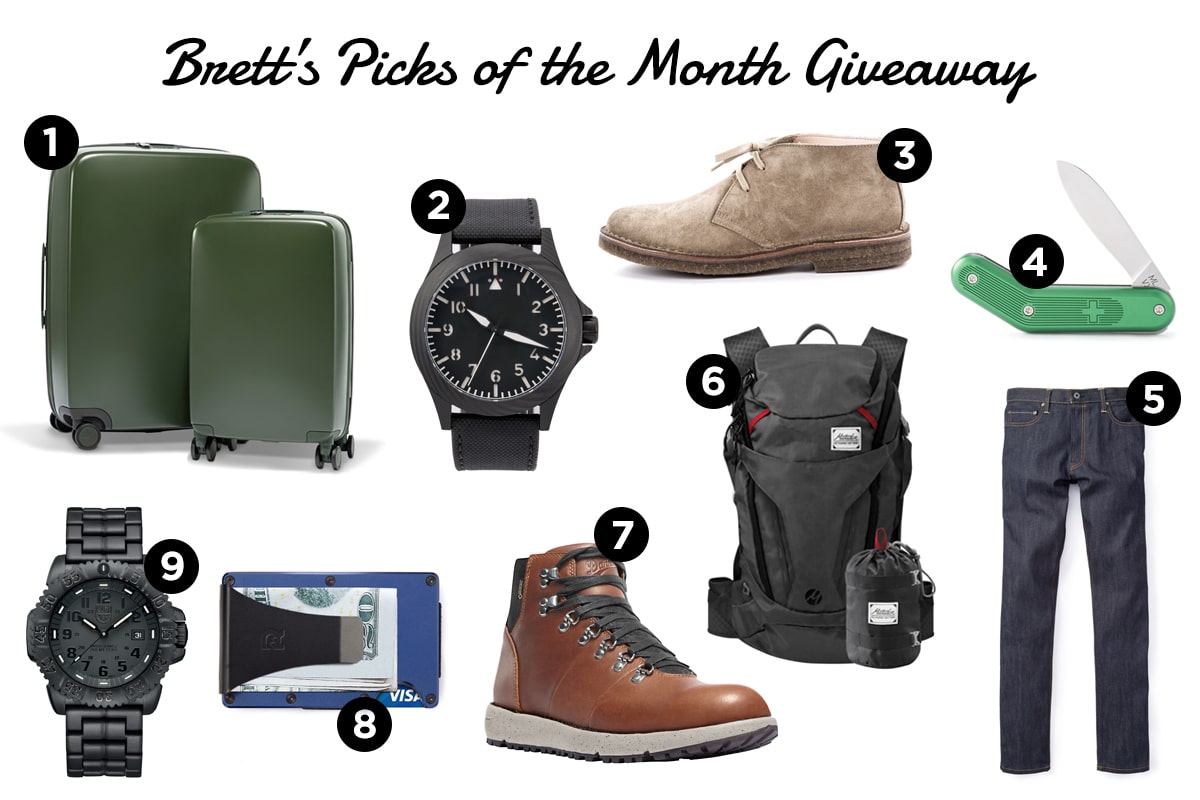 Below you'll find some of my favorite recent offerings from Huckberry. Enter the giveaway to win any of these items, or anything else available in their store (up to a value of $500).
Our last winner was Chris from Lilburn, GA. He chose the Leatherman Wave. Will you take home this month's prize?
My Picks This Month
1. Raden Luggage. When you need a hard-case, rough-and-tumble luggage bag, Raden is our recommendation. Their bags feature a ridiculously lightweight polycarbonate shell, water-sealed zippers, a battery for your phone and laptop, plus GPS tracking.
2. Ventus Black Kite. The Black Kite has all of the legibility, durability, and accuracy of a classic pilot watch, but combines it with a carbon fiber case — a material that's incredibly lightweight yet stronger than steel.
3. Astorflex Chukka. Fall is boot season. Enter Astorflex. It all starts with premium European leather that's aged for 30 days, then softened with all-natural ingredients to produce a supple suede. Your closet could use a versatile pair of chukkas, and this is that pair.
4. Malvaux Knife. Leave it to the Swiss to improve upon one of longest-standing designs in history. With an ergonomic handle and a superb simplicity, it's just about perfect. This exclusive Forest Green color isn't available anywhere else, so snatch it up before it's gone for good.
5. Flint and Tinder Jeans. Chances are you could use some new jeans heading into fall. You won't get a better product at a better price than Flint and Tinder Selvage Jeans. With material from the oldest mill in the U.S., and made entirely here to boot, this is a pair you'll be proud to wear, and look darn good in too.
6. Matador Packable Backpack. This bag offers superior performance in the smallest possible package. It packs away to fit in the palm of your hand and unpacks into a 24-liter pack with a waterproof main compartment. Perfect for stashing in a bigger backpack for use as a day pack on outdoor and travel adventures.
7. Danner Vertigo 917. Danner designed the Vertigo 917 with the urban explorer in mind. Outfitted with all the technical details that make their trail boots among the most popular in the world, but with a lightweight sole and twin gores for easy on and off, the Vertigo is ready for any urban (or outdoor) adventure you find yourself on.
8. Ridge Wallet. This slim aluminum wallet gives you RFID protection without the bulk that often comes with that distinction. The expandable track holds anywhere from 1-12 cards, giving you ample versatility based on your outing. Plus 10% of proceeds go to support the Navy SEAL foundation.
9. Luminox Navy SEAL Colormark. This blackout edition of the popular Luminox Colormark includes both an ultra-strong yet lightweight polycarbonate bracelet, but also a rubber strap for use in wet conditions to match the watch's 200m water resistance.
The Prize
Any item currently available on Huckberry (up to a value of $500). Be sure to check out the current line-up of items as it changes every week.
Enter the Giveaway
If you are an email subscriber, do not reply to this email to make your entry. You must click on the title of this post, which will take you to the post on our web page where you can make your entry. Use the form below to enter. Don't forget! You have multiple ways to enter! The more of them you do, the better your chances are!
Huckberry Giveaway September '17

Deadline to enter is Monday, September 18, 2017 at midnight CT. We'll then select one random winner. Good luck!