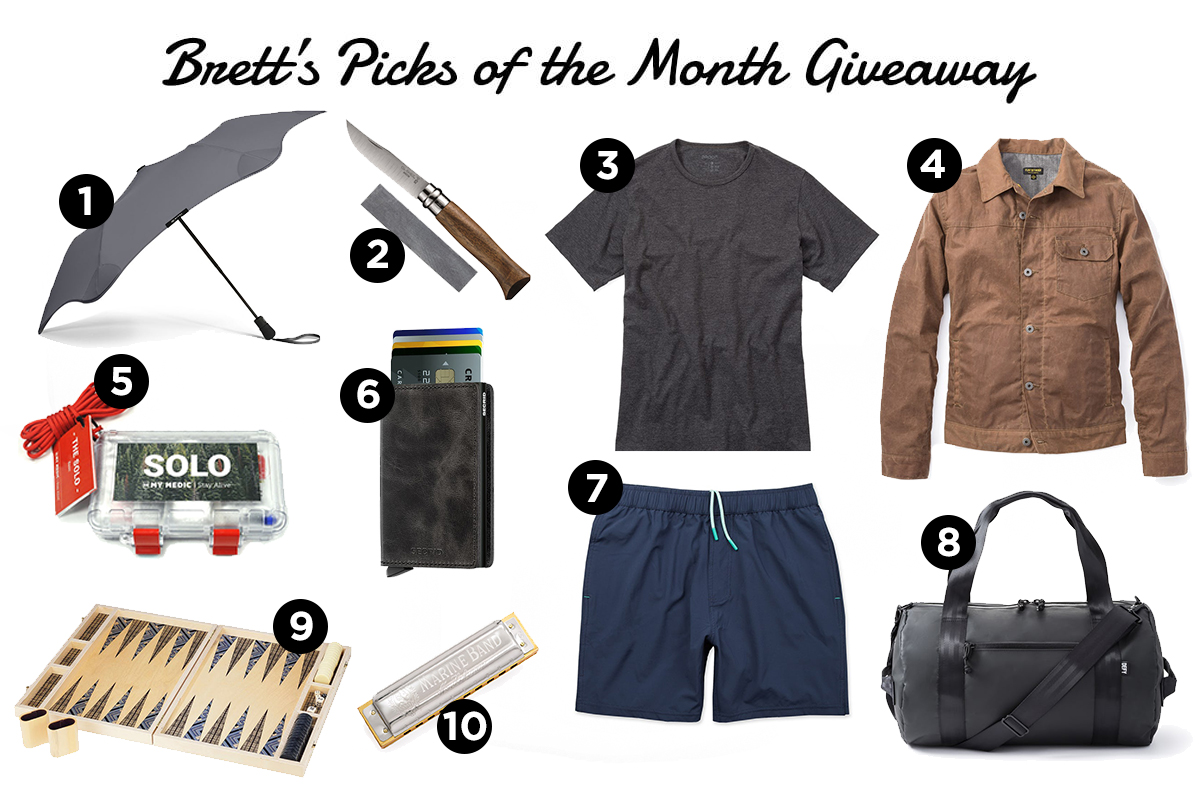 Below you'll find some of my favorite recent offerings from Huckberry. Enter the giveaway to win any of these items, or anything else available in their store (up to a value of $500).
My Picks This Month
1. Blunt Umbrella. Spring is here, which for many parts of the country means plenty of rain. Upgrade your cheap umbrella; Blunt's offerings won't blow out, give up, or fly away. The Metro is their go-anywhere travel umbrella, designed to endure serious rain and wind while remaining small and portable.
2. Opinel No. 8. The iconic French knife of the everyman. The design (and name) has become nearly synonymous with "pocket knife" in France, and it's hardly changed at all in over 125 years of production. Perhaps the best part? A price tag that's affordable for the everyman.
3. Proof Passage Tee. This tee is built to keep you fresh, especially on long trips. Its quick-drying stretch cotton blend and anti-odor treatment borrow liberally from technical outdoor base layers for non-stop comfort.
4. Flint and Tinder Waxed Trucker Jacket. Made with waxed, weather-resistant sailcloth, this trucker jacket is soft right out of the box, and can be worn with just a tee underneath since both the body and sleeves are fully lined with soft cotton flannel. Perfect for spring when you're constantly adding and subtracting layers.
5. My Medic First Aid Essentials. These first aid kits are specifically designed to help everyday people save lives in everyday situations. Top-notch supplies are packed in a super durable carrying case that's built to take a beating. Bring it hiking or camping, or stash it in your vehicle.
6. Secrid Slimwallet. This super slim wallet has a spring-loaded push mechanism for easy card access. Also has a built-in RFID blocker to protect your privacy. This model has a lightweight aluminum casing surrounded by a rich leather shell.
7. Myles Momentum Short. The Momentum Short has been upgraded and provides exceptional versatility. With a lightweight stretch fabric, water-repellent finish, and a tailored silhouette, they're perfect for both working out, and hanging out. Nab 'em before you need 'em.
8. Defy Ultimate Overnighter. Why does this bag proclaim itself the "ultimate overnighter"? Handcrafted in America, to defy the notion that US manufacturing is dead, their bags are made with the same tarpaulin material the military uses, as well as military-grade ripstop nylon lining. It truly doesn't get any tougher.
9. Wolfum Backgammon Set. Made of handsome birchwood and brass hardware, the game sets from Wolfum will last far longer than the cheapo board games you buy at a big box store. Backgammon is one of the oldest board games there is; it's high time you learned, and with a nice set to boot!
10. Hohner Marine Band Harmonica. The harmonica is surprisingly easy to pick up on and loads of fun to play, especially around the campfire. Hohner has made harmonicas for over 150 years, and they're the harp of choice for everyone from Bob Dylan to John Lennon to Steven Tyler.
The Prize
Any item currently available on Huckberry (up to a value of $500). Be sure to check out the current line-up of items as it changes every week.
Enter the Giveaway
If you are an email subscriber, do not reply to this email to make your entry. You must click on the title of this post, which will take you to the post on our web page where you can make your entry. Use the form below to enter. Don't forget that you have multiple ways to enter! The more of them you do, the better your chances are!
Monthly Huckberry Giveaway March '18

Deadline to enter is Thursday, April 5th, at 11:59pm CT. We'll then select one random winner. Good luck!