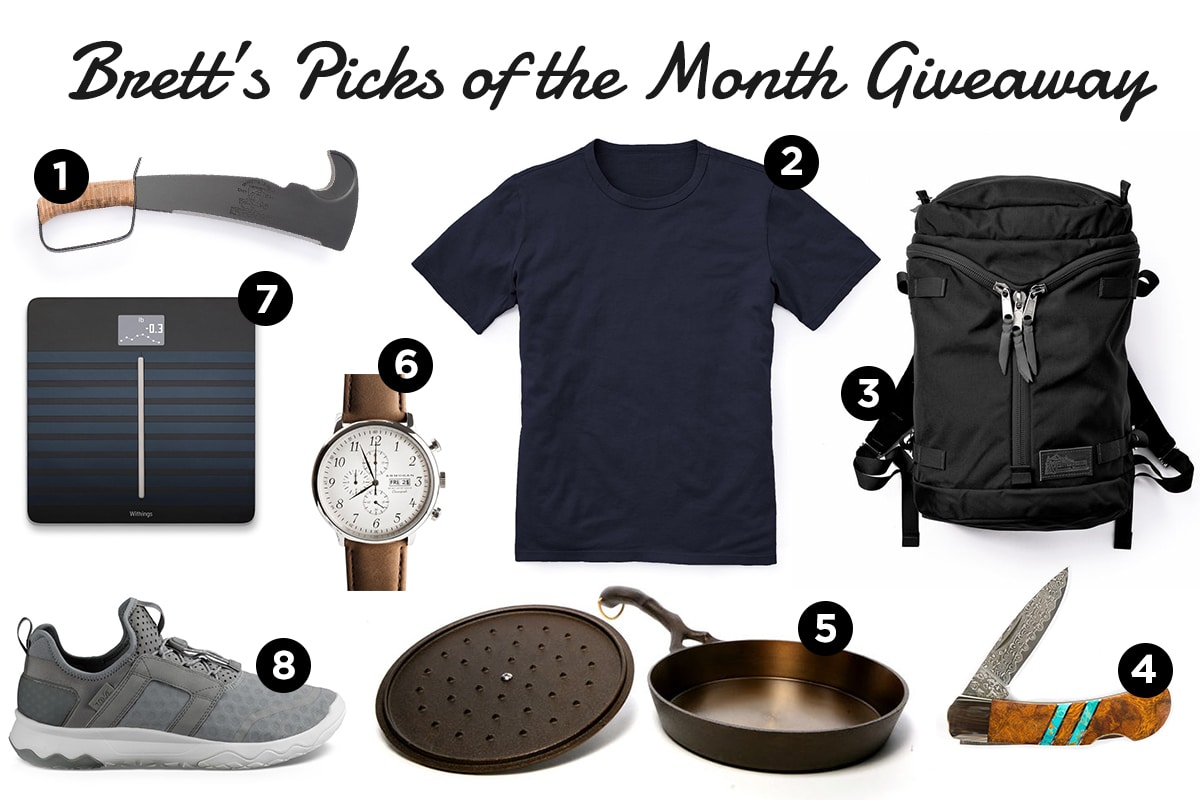 Below you'll find some of my favorite offerings from Huckberry this month. Enter the giveaway to win any of these items, or anything else available in their store (up to a value of $500).
Last month's winner was Brett from Augusta, GA. He chose the Filson Original Briefcase. That's been a popular choice over the years! Will you take home this month's prize?
My Picks This Month
1. Woodman's Pal. The only tool you want by your side when blazing a new trail. The Woodman's Pal is designed to be a single tool that clears brush, blazes trails, and thins, trims, chops, and prunes anything that gets in the outdoorsman's way.
2. Flint and Tinder Air Knit Shirts. The softest, best-fitting casual shirts you've ever worn. The secret sauce? 100% long-staple Supima cotton that's grown in California and knit with a new advanced technique that creates a luxurious and airy fabric. I wear Flint and Tinder's tees, henleys, polos, and jeans (best pair I've ever owned) almost every day, and not only do they feel great, I get a lot of compliments on them.
3. Kletterwerks Drei Zip. The triple zippers on this rucksack give you easy access to gear stored anywhere in the bag, and a zippered lid compartment and accessory pocket consolidate and make your small items accessible. A great pack for bike commutes and day hikes.
4. Santa Fe Stoneworks Knives. These knives feature a richly marbled handle and a Damascus Steel blade, which hails from Japan and is comprised of 16 layers of stainless steel. In short, the knives are as beautiful as they are sharp and durable.
5. Nest Homeware Cast Iron. These USA-made skillets are double-seasoned for a non-stick surface on day one, and they've been machine-smoothed for even cooking. Plus they have a seriously comfortable handle that's been modeled after a cherry branch. You'll have a brand new family heirloom to pass down.
6. Armogan Watches. Mixing old school aviator chronograph pilot design with modern touches like the suede leather strap, this watch fits any occasion. Over the years, the leather strap develops its very own distinctive patina. The Spirit of St. Louis is my versatile favorite and my go-to watch.
7. Withings Body Scale. A stat-tracking, weight-taking, insight-giving scale, the likes of which hasn't been seen before. It helps you know yourself in two key ways: highly accurate weight and body measurements, and standing heart rate and Pulse Wave Velocity measurements.
8. Teva Sneakers. An unstoppable do-anything combination of a sneaker, trail runner, and quick-drying river shoe with a quick-lacing system that adjusts to the needs of life's adventures as fast as you do. Check out Teva's take on the hiking boot as well.
The Prize
Any item currently available on Huckberry (up to a value of $500). Be sure to check out the current line-up of items as it changes every week.
Enter the Giveaway
If you are an email subscriber, do not reply to this email to make your entry. You must click on the title of this post, which will take you to the post on our web page where you can make your entry. Use the form below to enter. Don't forget! You have multiple ways to enter! The more of them you do, the better your chances are!
Monthly Huckberry Giveaway – March '17

Deadline to enter is Wednesday, April 5, 2017 at 5PM CT. We'll then select one random winner. Good luck!