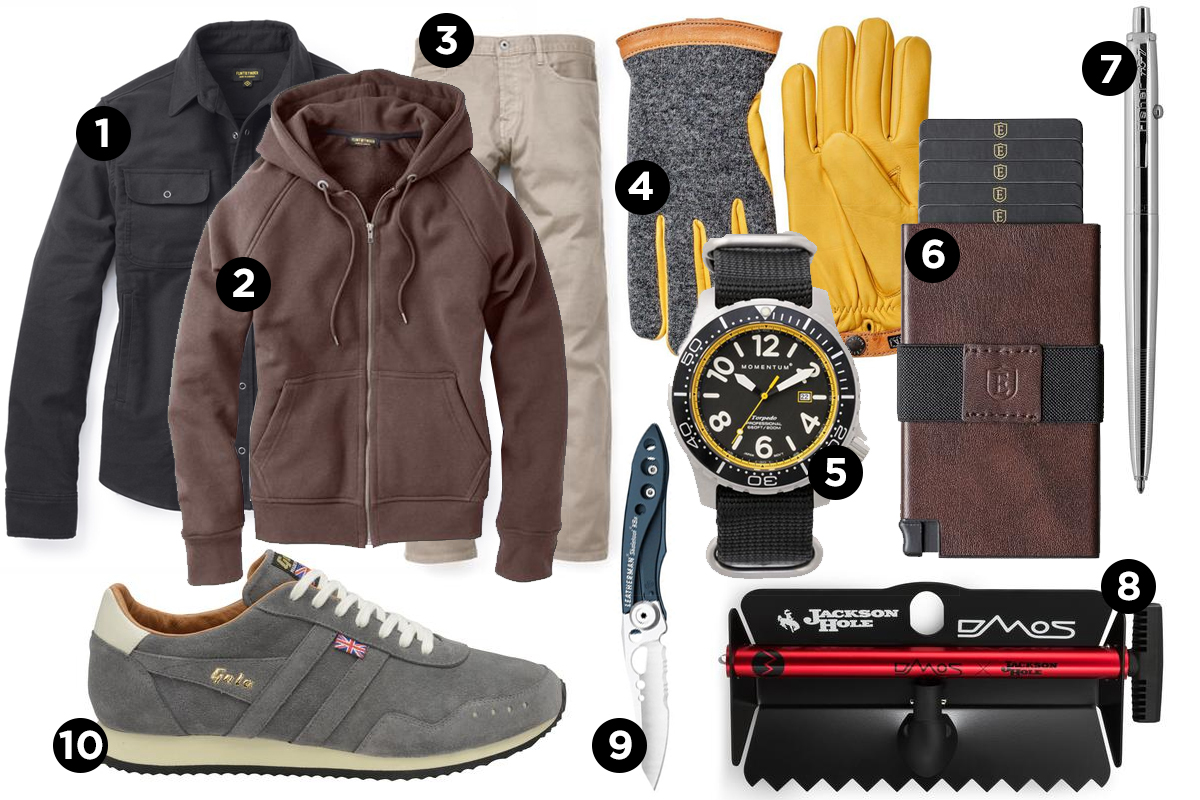 Below you'll find some of my favorite recent offerings from Huckberry. Enter the giveaway to win any of these items, or anything else available in their store (up to a value of $500).
My Picks This Month
1. Flint and Tinder Moleskin Shirt Jacket. An American-made (and sourced) shirt jacket with the perfect combination of ruggedness and softness. Made in a classic workwear silhouette, the Moleskin Shirt Jacket takes the comfort of traditional workwear up a notch with a heavyweight cotton that's brushed to perfection.
2. Flint and Tinder 10-Year Hoodie. This uncompromising hoodie is expertly sourced, cut, sewn, and washed here in the U.S. into a premium sweatshirt that'll grow and age the way a favorite sweatshirt should. Only gets softer with wear and is guaranteed not to shrink. Now available in a new color: rust.
3. Flint and Tinder 365 Pant. Combine your favorite tailored chinos with the stretch of a performance pant, and you get the 365 Pant — a pant so comfortable, you'll will want to wear them every dang day of the year.
4. Hestra Deerskin Wool Gloves. A classic glove that combines wool and leather to keep your hands warm during cold, damp winter and spring days.
5. Momentum Watches Torpedo Blast 44. Engineered for reliability in the field, and won't break the bank. Features a black dial with oversized numbers and a pop of color in the seconds hand and minutes track so you can quickly read the time at a glance.
6. Ekster Senate Wallet. Pushing the boundaries of what the traditional wallet is capable of. Includes smart features like a solar-powered tracking function and built-in RFID blocking. Where Ekster wallets really shine is the one-touch access to your cards: their patent-pending card slider technology extends your cards for easy access at the push of a button.
7. Fisher Space Pen. Writes smoothly, evenly, and dependably, upside down, underwater, over grease, and in extreme temperatures. Thanks to a pressurized ink cartridge with specially developed ink, it can even write in zero gravity, hence the name and its inclusion on every manned NASA space mission since 1968.
8. DMOS Packable Shovel. Weighing in at less than 3.5 pounds, this shovel DMOS is still incredibly strong: it's been stress tested in lab and field conditions to withstand 3,886 pounds of force. Perfect for your car's emergency kit or to stash in your pack on snowshoeing excursions.
9. Leatherman Skeletool. Leatherman has expanded their line up to include pocketknives, which still boast every iota of reliability and utility that made the brand legendary. The Skeletool is a modern knife, built light and durable for everyday carry, with a bottle opener built into the pocket clip.
10. Gola Track Shoe. Easy-wearing, lightweight retro sneakers made in the UK and backed by 100 years of shoemaking experience.
The Prize
Any item currently available on Huckberry (up to a value of $500). Be sure to check out the current line-up of items as it changes every week.
Enter the Giveaway
If you are an email subscriber, do not reply to this email to make your entry. You must click on the title of this post, which will take you to the post on our web page where you can make your entry. Use the form below to enter. Don't forget that you have multiple ways to enter! The more of them you do, the better your chances are!
Monthly Huckberry Giveaway – Jan '18

Deadline to enter is Tuesday, February 6th, at 11:59pm CT. We'll then select one random winner. Good luck!