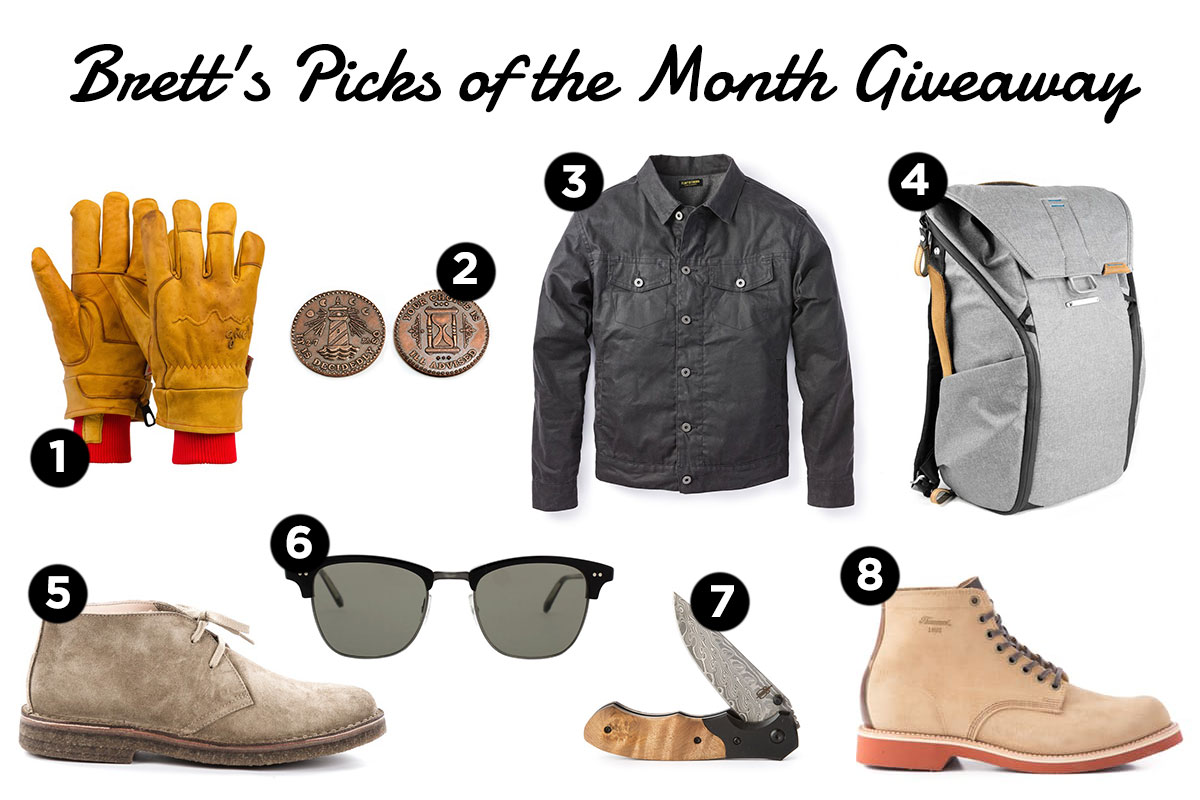 This year, rather than having weekly Huckberry giveaways, we're moving to doing them monthly. When doing them weekly, it was easy for the giveaways to get lost in the shuffle. With our monthly giveaways, you'll be able to see at a glance all the things that grabbed my attention during the month (though you can still choose anything on Huckberry — with a value up to $500 — if you win), some of which I've even field-tested myself. Plus, you'll have more time to enter, which you can do below. Win-win!
My Picks This Month
1. Give'r 4 Season Glove. Heavy-duty, waterproof, insulated gloves inspired by treks and chores. These bad boys are built to withstand anything, from grabbing a burning log out of a fire to ice fishing in -25 degrees.
2. The Decision Maker Coin. Whether you're stuck on one of those tough decisions you can't make heads or tails of or just flipping to see who buys the first round, you'll find it handy to have the solid copper Decision Maker always at the ready.
3. Flint & Tinder Waxed Jacket. Tough, timeless, and made in the USA, this flannel-lined jacket is constructed with a waxed and weatherproof Martexin 7 oz. sailcloth, which like selvedge denim or leather, will only get better with age.
4. Peak Design Everyday Backpack. If there's one word we could use to sum up this bag, it would be adaptable. This backpack is up for any situation you're in, no matter what you need to carry. With custom dividers that can be used to endlessly configure the internal storage compartment, you can carry all your gear for any mission.
5. Astorflex Chukka Boots. Handmade in Northern Italy by a family that's been making boots for six generations, these boots are handsome as hell and represent the best value on the market. It all starts with premium European leather that's aged for 30 days, then softened with all-natural ingredients to produce a supple suede.
6. Garrett Leight Lincoln 48. Reminiscent of iconic 1950s style, the Lincoln sunglasses sport a classic square frame with antique metal accents for a sharp pop of color that will add that extra bit of panache to your finest duds.
7. Army Linerlock Folder. The sharp-as-all-get-out Damascus steel blade, paired with black stainless steel bolsters and a burled wood handle makes for a handsome knife that'll draw compliments every time you pull it out.
8. Thorogood Kenosha Boot. With a full-grain leather upper, Goodyear welt construction, and a resistance to water, oil, and any other stain, these Thorogoods are boots you don't want to miss out on.
The Prize
Any item currently available on Huckberry (up to a value of $500). Be sure to check out the current line-up of items as it changes every week.
Enter the Giveaway
If you are an email subscriber, do not reply to this email to make your entry. You must click on the title of this post, which will take you to the post on our web page where you can make your entry. Use the form below to enter. Don't forget! You have multiple ways to enter! The more of them you do, the better your chances are!
Monthly Huckberry Giveaway: January '17

Deadline to enter is Friday, February 3, 2017 at 12PM CT. We'll then select one random winner. Good luck!