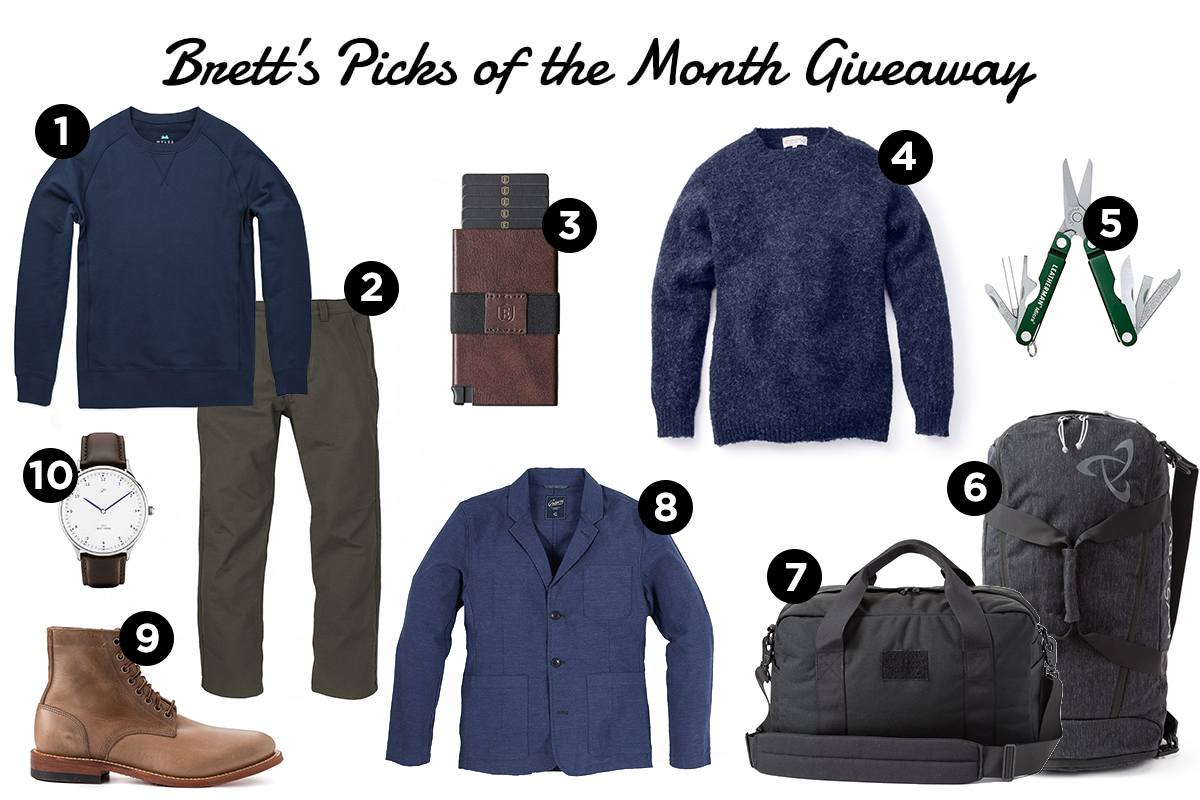 Below you'll find some of my favorite recent offerings from Huckberry. Enter the giveaway to win any of these items, or anything else available in their store (up to a value of $500).
My Picks This Month
1. Myles Elements Crew. How do you upgrade one of the most enduring styles in menswear? By upgrading the fabric to heavyweight, organic Storm Cotton, which makes this crewneck a water-repellent performance piece while still retaining a classic look. Wear it for warm-ups in the morning and then pair it with jeans at night.
2. Edgevale Cast Iron Pant. Uncompromising durability, incomparable utility. Just like a cast iron pan that's been passed down from generation to generation, you'd be hard pressed to make a dent in these pants, even on your most extreme adventures.
3. Ekster Senate Card Holder. Pushing the boundaries of what the traditional wallet is capable of. Includes smart features like a solar-powered tracking function and built-in RFID blocking. Where Ekster wallets really shine is the one-touch access to your cards: their patent-pending card slider technology extends your cards for easy access at the push of a button.
4. Shetland Woollen Company Shaggy Sweater. This classic fisherman's crew is made with Scottish-sourced wools. This sweater gets its name from the shaggy wool fibers on the outside of the fabric, a result of the brushing that gives the shirt a remarkably soft feel.
5. Leatherman Keychain Pocket Tool. It's like Leatherman's classic and legendary multitool, but miniaturized. Perfect not only for a keychain, but also to tuck away in a tackle box, glove compartment, sewing kit, or any other place where its tools will come in handy.
6. Mystery Ranch Mission Duffel. Mystery Ranch has made many appearances in my monthly picks, and for good reason. They're hard to beat in terms of sheer toughness and badass-ery. The Mission Duffel is a backpack hybrid, and can just as easily follow you into the woods as it can the gym.
7. GORUCK Kit Bag. GORUCK has added a new style to their lineup. The Kit Bag is their take on a tactical duffel, made with all the same high-quality and ultra-durable materials that have made the brand famous.
8. Grayers Poindexter Sportcoat. Come spring, it's nice to have a medium-weight sport coat to be able to wear out on the town when it's a little too warm for an overcoat. Grayers puts a focus on comfort, without compromising style, which is right where the Poindexter lands. A little bit of stretch makes it comfortable for all-day wear no matter what you're up to.
9. Oak Street Trench Boot. Comfort and style for all-weather conditions. The Trench Boot uses natural Horween leather, resoleable Goodyear welt construction, and calfskin lining for comfort. They're a perfect addition to your everyday shoe arsenal.
10. About Vintage 1969 Quartz. The first quartz watch was introduced to the world in 1969, which changed the watch industry forever. Modeled after the earliest quartz watches, About Vintage's 1969 model channels the details of the era into a clean, minimal, and compact watch that's extremely wearable.
The Prize
Any item currently available on Huckberry (up to a value of $500). Be sure to check out the current line-up of items as it changes every week.
Enter the Giveaway
If you are an email subscriber, do not reply to this email to make your entry. You must click on the title of this post, which will take you to the post on our web page where you can make your entry. Use the form below to enter. Don't forget that you have multiple ways to enter! The more of them you do, the better your chances are!
Monthly Huckberry Giveaway Feb '18

Deadline to enter is Wednesday, March 7th, at 11:59pm CT. We'll then select one random winner. Good luck!