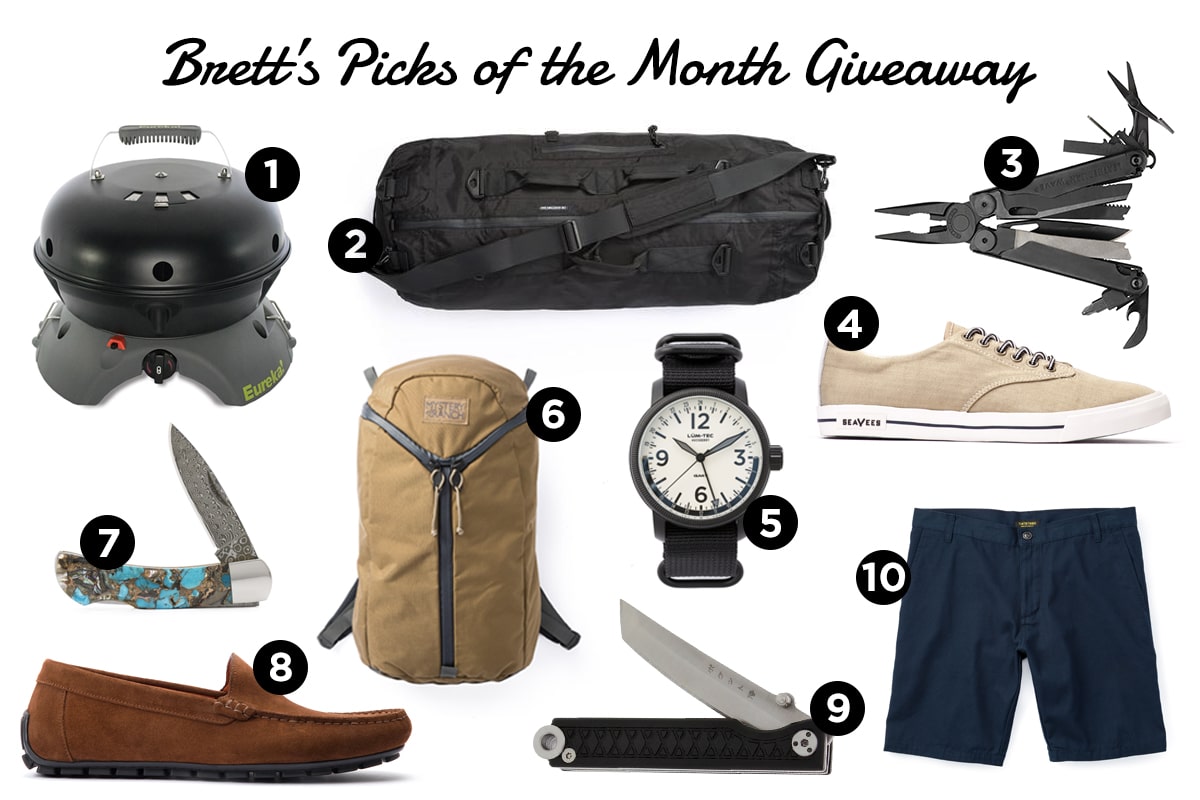 Below you'll find some of my favorite recent offerings from Huckberry. Enter the giveaway to win any of these items, or anything else available in their store (up to a value of $500).
Our last winner was Jack from Atlanta. He chose the Everyday Backpack from Peak Design. Will you take home this month's prize?
My Picks This Month
1. Eureka Camping Gonzo Grill. Take your camp cooking game up to the next level with this super portable, all-in-one cast iron grill, griddle, and stove. Grill burgers, fry pancakes, simmer chili, and more.
2. Piorama Adjustable Bag. It's a duffel bag, it's a backpack, it's a shoulder bag . . . it's three bags in one. Expandable and transformable, this bag offers an unmatched level of versatility and fits the requirements of any itinerary.
3. Leatherman Wave. Odds are when you were a kid, you admired your dad's prized Leatherman multi-tool. Upgraded over the years, the legendary brand still packs more functionality and durability into their products than anyone else.
4. SeaVees Hermosa Plimsoll. Featuring the classic style and fit of a SeaVees shoe, with a custom herringbone upper. Its nickel eyelets and waxed cotton laces give it an additional upgrade over a traditional sneaker. Wear 'em day after day, and look sharp along the way.
5. Lum-Tec X Huckberry GMT. If you need a mission- and adventure-ready timepiece, look no further than Lum-Tec. They've doubled the amount of luminous paint that other companies use, so you can see the time no matter how dark it is and how blurry eyed you may be. Lum-Tec also includes free battery changes and timing adjustments, for life.
6. Mystery Ranch Urban Assault Pack. Mystery Ranch's design philosophy balances four concepts: function, comfort, quality, and durability. What makes it truly unique is the 3-ZIP closure that makes everything easily accessible no matter what kind of load you're carrying.
7. Santa Fe Stoneworks Abalone + Bronze. Making some of the best-looking knives on the market, Santa Fe Stoneworks is back at it with their abalone shell offering. The handle is a combination of turquoise from Arizona, Gulf of Mexico abalone shell, and bronze alloy. And the Damascus steel blade ensures the knife works just as well as it looks.
8. Wolf & Shepherd Suede Driver. What better leather to construct a driving shoe with than the very same stuff found in some of the finest autos in the world? W & S sources their material from the same tannery that provides leather for the likes of Mercedes and Audi. Engineered for comfort, this is the finest driving shoe around.
9. StatGear Tactical Samurai. Taking its design cues from the legendary steel of the samurai, this knife is known for its extreme strength and sharpness, and as a bonus, it shrinks down to keychain size. With a built-in pocket clip and keyring loop, it's always at hand no matter how you prefer to carry.
10. Flint & Tinder Canvas Short. Designed with your warm-weather adventures in mind, the Flint and Tinder Canvas Short is cut from durable, but lightweight cotton canvas, washed for easy wearing, and cropped just above the knee for a slim silhouette with room to move.
The Prize
Any item currently available on Huckberry (up to a value of $500). Be sure to check out the current line-up of items as it changes every week.
Enter the Giveaway
If you are an email subscriber, do not reply to this email to make your entry. You must click on the title of this post, which will take you to the post on our web page where you can make your entry. Use the form below to enter. Don't forget! You have multiple ways to enter! The more of them you do, the better your chances are!
Monthly Huckberry Giveaway: Aug '17

Deadline to enter is Tuesday, August 8, 2017 at midnight CT. We'll then select one random winner. Good luck!