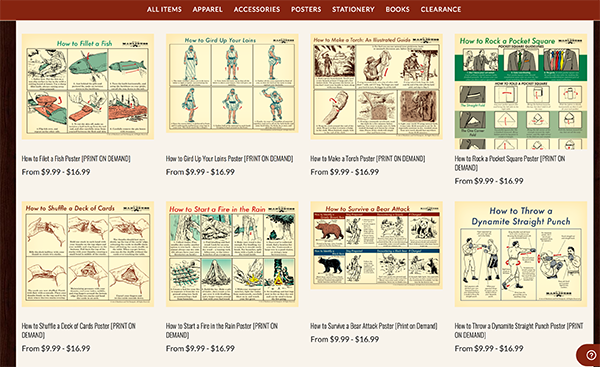 Since 2011, we've worked with talented illustrator Ted Slampyak to create hundreds of vintage-inspired, illustrated how-to guides. During that time we've had folks ask us to make his illustrated guides available as posters for purchase in the AoM Store.
The problem we've run into is how to manage inventory on these illustrated guide posters. I have to commit to buying a significant quantity of posters when I go with a traditional printer, but maybe there's just a few people who'd want to buy a How to Survive a Bear Attack poster, a handful who would want to buy a How to Fillet a Fish print, and another handful who would want to buy a How to Gird Up Your Loins poster. I wouldn't be able to buy, say, 1000 prints of all of our hundreds of different illustrated guides and keep them all as inventory in our warehouse.
To solve this conundrum of different segments of people all wanting to buy a different illustrated guide, we've teamed up with Printful to offer print-on-demand posters.
Print-on-demand means exactly that. Whenever you place an order for a poster, Printful prints the poster and ships it to you. I don't hold any inventory in our warehouse. Print-on-demand will allow us to make all of our illustrated guides available for purchase as a print.
Another nice thing about print-on-demand is that you can buy an illustrated guide print in multiple sizes or the size you prefer. You're not stuck with only a single option.
The one downside of print-on-demand is that it's a bit more expensive than regular posters because they're printed one at a time rather than in bulk. We've done our best to keep prices down, but our print-on-demand posters will be a few dollars more than our regular posters that are printed in mass quantities.
We have over 20 of our illustrated guides available as POD posters in the Art of Manliness Store and we're continuing to add to the collection each week. So if you don't see an illustrated guide available as a poster yet, be patient. We'll get there.
Thanks for your continued support of the Art of Manliness. Your purchases at the AoM Store contribute to what we do here at AoM.