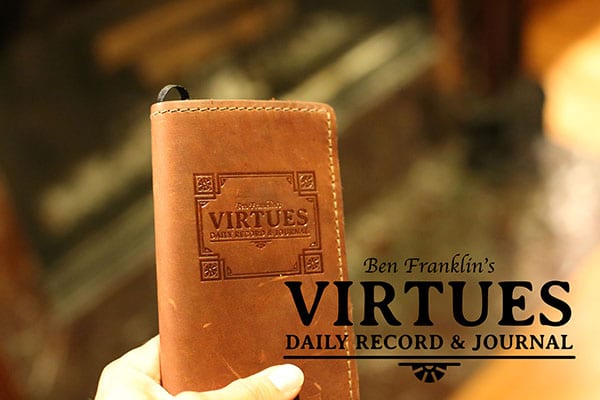 Benjamin Franklin was the quintessential self-made man. From humble beginnings, he rose to become a successful printer, scientist, musician, and author. In his spare time, he helped found a country.
The key to Franklin's success was his drive to constantly improve himself – mentally, professionally, and morally. His quest for excellence in the latter pursuit began in earnest at age 20. It was then that he conceived of a program that would motivate and push him to adopt more virtuous habits. Ever the moral pragmatist, he drew up a list of 13 virtues, and created a chart on which to keep track of his progress in living them. Each week he would specifically focus on one virtue while also keeping track of the others. He would then move on to the next virtue and so on, eventually going through four cycles of each of the virtues in a single year.
When he failed to live up to the virtues on a particular day, he would place a mark on the chart. When Franklin first started out on his program he found himself putting marks in the book more often than he wanted. But as time went by, he saw the marks diminish.
Though Franklin never attained his goal of "moral perfection," he felt that the effort had still greatly improved his life:
Tho' I never arrived at the perfection I had been so ambitious of obtaining, but fell far short of it, yet I was, by the endeavour, a better and a happier man than I otherwise should have been if I had not attempted it.
Of the 13 virtues, Franklin found it most difficult to implement the principle of Order. To make the most of his time, he created a daily schedule for himself. To begin the day on the right foot, not only in regards to Order, but living virtuously in general, he would ask himself this question:
What good shall I do this day?
This reflection helped Franklin focus on things he could do to serve his fellow man and benefit his society as he went about his daily routine.
In the evening, he would return to the question by asking himself:
What good have I done today?
Franklin examined how he had spent his hours and whether he had done the good deeds he had planned on doing, as well as if he had taken action on unforeseen opportunities to lend others a helping hand.
The Art of Manliness x Benjamin Franklin Journal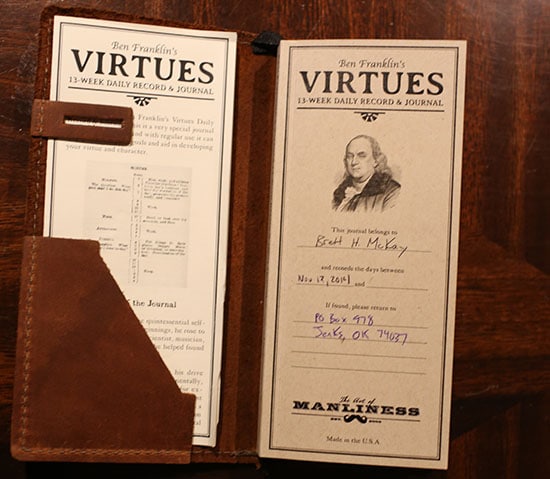 Ever since I wrote about Ben Franklin's 13 virtues and his diary back in 2008, I really wanted something like it for myself and for our readers. Well, that time has come! I'm proud and excited to announce the launch of the Benjamin Franklin's Virtues Daily Record & Journal.
The journal is divided into 13 weeks — one for each of Franklin's virtues — with each week containing an agenda and journal section for each day.
The design of this heirloom-quality journal is inspired by both Ben Franklin's original diary and his virtue charts. It's printed on acid free paper in the United States and encased in a handsome leather journal cover that's handmade in Utah. The journal insert is replaceable, so once you've gone through one cycle of the virtues, you can begin anew and continue your journey towards personal excellence. Hold on to your old inserts as a record of your daily life and strivings during that period of your life.
How the Journal Works
The Virtue Chart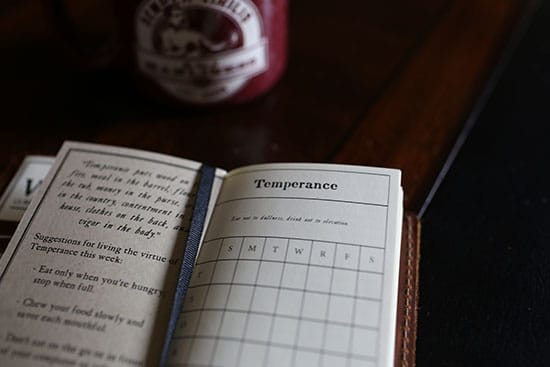 At the beginning of each week, you'll find a page with a chart that lists all 13 of Franklin's virtues. The chart consists of a column for each day of the week and 13 rows marked with the first letter of each virtue. Each evening, do a personal evaluation on how you lived the virtues. Place a dot next to each that you violated during the day. The goal is to minimize the number of marks you put in your charts, thus indicating a "clean" life free of vice.
Especially concentrate on improving yourself in the one virtue inscribed at the top of that week's chart. After 13 weeks you'll have given each virtue focused attention. On the page to the left of the virtue chart, we've provided suggestions on things you can do to live that particular virtue. These are just suggestions. It's important to keep in mind that neither our, nor Franklin's interpretation of the virtues are set in stone. You can bring your own meaning to them and create your own action plan for living them.
The Journal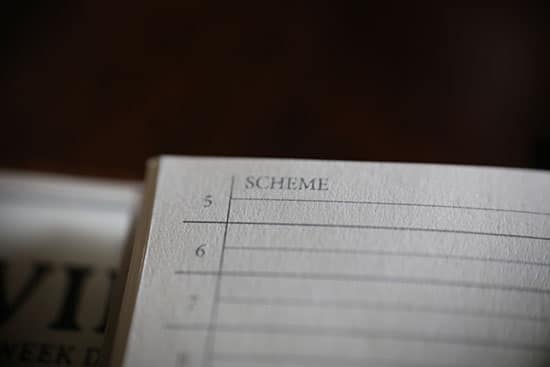 Each day of the week has two pages. The page on the left is a daily agenda for you to plan out your day or for you to simply log what you did with each hour of that day. If you're using your agenda to plan, we recommend doing that the night before or first thing in the morning.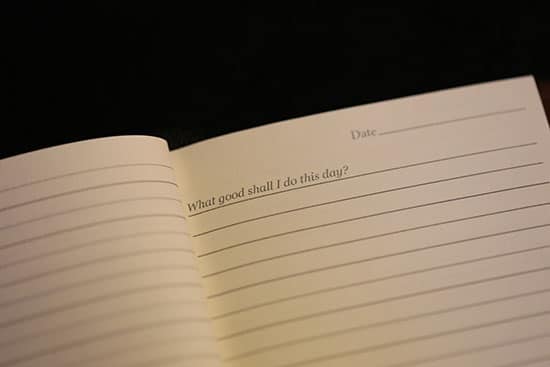 The page on the right is used for journaling and answering the questions Franklin posed to himself each day in his diary: 1) What good shall I do this day? and 2) What good have I done today?
At the beginning of the day write a few lines under the question "What good shall I do this day?" about the things you plan on doing to improve your community and the lives of others. Your plans needn't be ambitious. A goal to give a compliment to a co-worker, visit a bed-ridden friend, or do a small act of service for a family member are all worthy aims.
At the end of the day reflect on what you actually accomplished and write it down under the prompt "What good have I done this day?" You may have accomplished all the things you set out at the beginning. You may discover you took advantage of unforeseen opportunities to do good. If you don't have anything to write, think of that blank space as biting encouragement to do better tomorrow.
Follow the process for 13 weeks. If you feel you've become the better for it, begin the cycle again with a new journal and continue your quest to become the person you want to be.
Order a Virtue Journal Today
"It may be well my posterity should be informed that to this little artifice [virtue chart], with the blessing of God, their ancestor ow'd the constant felicity of his life, down to his 79th year, in which this is written. What reverses may attend the remainder is in the hand of Providence; but, if they arrive, the reflection on past happiness enjoy'd ought to help his bearing them with more resignation . . . I hope, therefore, that some of my descendants may follow the example and reap the benefit." -Benjamin Franklin
The Ben Franklin Virtue Journals are available for order now in the Art of Manliness Store for $44.90 for the journal + leather cover. You can buy just the journal inserts for $16.99. Orders will ship later this week. The journal makes for a handsome Christmas present. Act quick because supplies are limited and if we run out, it might be a couple weeks before we get more in stock.
Thank you for your continued support of the Art of Manliness!
Update: Holy cow. These things are more popular than I thought they'd be. We're almost out of our first run, but we've ordered more. They'll be back in stock in two to three weeks. Go ahead and order if you want one before Christmas. We'll send your journal out as soon as we get them. Thanks!