A few years ago we introduced our one-of-a-kind Art of Manliness etched mug. It's since become one of our biggest sellers in the AoM Store and we've seen it crop up on the desks of men around the world.
We've had requests to offer a mug in a different color and design, and today we make good on that request.
If you're a listener of the podcast, or have seen my YouTube videos, you know that I end each episode by signing off with "Staaay manly." It was inspired by the fictional Ron Burgundy's sign-off of "Stay classy, San Diego." It's meant to be a little humorous, but also sincere. I now get letters from AoM readers and podcast listeners that end with "Stay Manly" as their valediction and I've even had a few instances where I've been out and about in public and people shout out, "Hey, Art of Manliness! Stay manly!"
Since the phrase has become sort of an AoM touchstone, what better place to put it than on the side of a handsome, vintage-inspired camp mug?
Our Stay Manly mug is a virile reminder to always be the best man you can be and to keep a metaphorically hairy-chested, Theodore Rooseveltian, bear-wrestlin' attitude in a milk sop world.
And it's built with that same attitude to match.
Like our original AoM mug, the Stay Manly mug is made of ceramic and is thick-walled to keep your soups, stews, and beverages hotter, longer. It weighs in at a hefty 1.3lbs and holds a healthy 15oz. Its vintage shape and speckled finish is reminiscent of old diner mugs that brawny blue collar workers would have hefted while fueling their bodies for a hard day's work. And the large, three-finger handle makes for comfortable holding even for the most calloused and oversized mitts.
Emblazoned on the outside is the phrase "Stay Manly," designed to pay homage to old-time diners where the waitresses call you "hon" and the pancakes are the size of a grown man's head. And unlike most branded coffee mugs with a chintzy printed-on design, we've deep-etched our artwork right into the ceramic, giving it a unique look that will never fade with use or wash off over time. It's destined to become a vessel of manliness that will be passed down for years to come.
Comes packaged and ready to gift.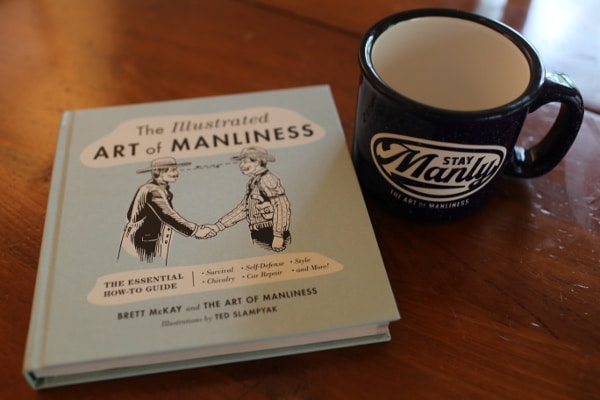 Speaking of gifts, Father's Day is just around the corner. While coffee mugs have certainly become the go-to Father's Day gift, the Stay Manly mug breathes new life into this timeworn gifting tradition. Make sure your dad is drinking from a coffee mug as manly as he is. It also makes a great companion gift to our new book, The Illustrated Art of Manliness.