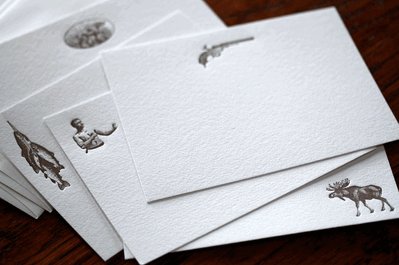 At the Art of Manliness, we've long been proponents of hand-written correspondence. But if you've spent any time looking for stationery, like we have, you know that the selection of stationery designed for men is abysmal. Most stationery companies tailor their offerings for their female customers, and butterfly, flower, and polka dot motifs abound. To be sure, some stationery companies do offer options for men, but while these very plain designs are safe and acceptable, they're devoid of any kind personality and most importantly, they don't exude any good old fashioned manliness.
Unhappy with the lackluster stationery for men currently available, The Art of Manliness has teamed up with Page Stationery to create a line of letterpress correspondence cards. This line of stationery is traditional, distinguished, and manly.
Why Does a Man Need Stationery?
A man's personal stationery can be used to drop a line to friends and family and to dash off notes of congratulations or condolence. Of course we know that while writing and receiving handwritten notes and letters is an incredibly enjoyable tradition, not too many men are ever going to get in the snail mail habit. Which is fine. But every man still needs to have a set of stationery stashed away in his desk. Why? If for no other reason then for writing thank you notes. Even in our modern age, a thank you note is still expected to be written by hand; emailed thank you's are still not looked upon as carrying the same weight. We all are the recipients of gifts and good deeds from time to time. Instead of having to run to the store every time you need to write a thank you note, you should always have a set of correspondence cards at the ready.
Why Correspondence Cards?
Correspondence cards have been the traditional form of men's stationery for more than two centuries. The reason? Men like to keep things short and to the point. The note cards are big enough for a proper message and small enough that you don't need to feel pressured to write a long tome or guilty about leaving a bunch of extra space. They're really the perfect size.
Why Letterpress Stationery?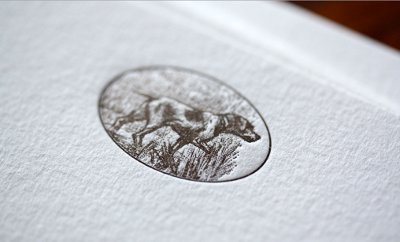 Letterpress printing is not only the oldest kind of printing, it is also in my opinion the handsomest. Involving moveable type or images, it's a process of relief printing in which a plate with a reversed, raised surface is inked, and then paper is pressed on top of the raised surface, transferring the ink. The design is indented into the paper by an experienced craftsman. For a tactile guy like me, who loves things with texture, letterpress is the only way to go.
Introducing Art of Manliness Stationery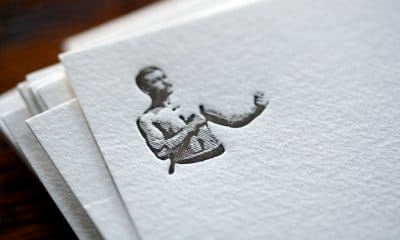 We excited to announce our partnership with Page Stationery and our new line of Art of Manliness stationery. We don't think you'll find a more handsome line of stationery for men anywhere.
We offer 25 different motifs for you to choose from and have printed on your correspondence cards. The note cards measure 4.25″ x 5.5″. The paper is a thick 300gsm slightly textured writing paper that was chosen to highlight the unique dimension and character of the letterpress printing process. For the standard note cards, the motifs are printed in chocolate brown ink.
The standard note cards are packed 15 to a box and come with 15 unprinted envelopes. A box costs $15.
You can choose to get a box with all the same motif or get a box with a mix of different motifs. For an extra charge, you can also choose to customize your order by having your name printed on the card and your return address printed on the envelope flap. Going the customization route also allows you to choose a different color for the printing. The minimum order for customization is 50 quantity. You will be emailed a proof and will get to work with Page Stationery's designers to create your stationery to your liking.