When I graduated from high school and left home to become a freshman at the University of Oklahoma, I had never done a single load of my own laundry. I had never cleaned my own bathroom. I had never cooked for myself, unless plates of nachos count. I was a typical middle-class kid from the burbs, and the first time I moved away from home, I floundered. I finished the fall semester with a 2.6 GPA, and moved back home to go to a local college in my hometown.
My parents, God bless 'em, had tried to prepare me for leaving the nest, but they were also willing to do a lot of things for me, and as a teenager lacking foresight, I didn't see a reason to look the gift horse in the mouth and learn how to do them myself. I eventually learned a lot of the basic life skills I had once been lacking, but I wish I had prepared myself a little better to become independent and self-reliant once I had flown the coop.
With my bumbling, stumbling launch into the real world in mind, back in 2012 I aimed to create a series of posts that might save young men from making the same mistakes I did. It was called Heading Out On Your Own: 31 Basic Life Skills in 31 Days, and it was so popular and well-received that many folks asked that we turn it into a book that they could give to young men they knew who were about to leave the nest.
Well, we took that request to heart and after nearly a year and half of work, HOOYO the book is finally ready to launch.
Heading Out On Your Own: 31 Basic Life Skills in 31 Days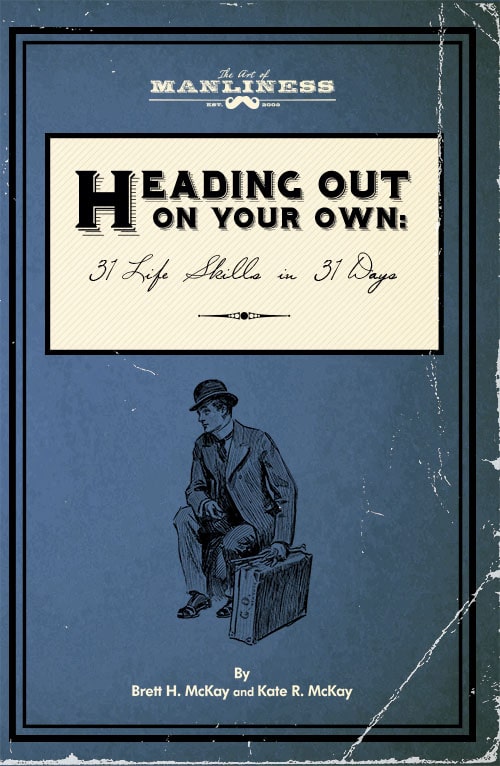 The goal of Heading Out On Your Own is simple: to help young men heading out on their own for the first time learn some of the very basic life skills they need to master to succeed at living independently. While we couldn't possibly include every single life skill a young person needs to have under his belt, this book covers all of the most important essentials. And after reading dozens of "life skills" books on the market during the research and writing of the original series, I can confidently say that Heading Out On Your Own is by far the most thorough, comprehensive, and imminently readable one to ever have been published.
Here are just a few of the things you'll learn how to do in Heading Out On Your Own:
Develop a Self-Reliant Mentality
Do Laundry
Ace a Job Interview
Create a Budget
Make Small Talk
Rent Your First Apartment
Create a Weekly Attack Plan
Shop for Groceries
Live With Roommates
Maintain Your Car
Cook
Iron a Dress Shirt
And Much More!
Who This Book Is For
Heading Out On Your Own is primarily directed to young men who are about to live on their own for the first time. To that end, it makes a great graduation or birthday gift for a young man.
While the skills covered in the book may seem like common sense, many young men leave home without much schooling and practice with them. Even for those who had parents who valiantly tried to teach them these things, we all know that teenagers often don't pay much attention to such tutelage, figuring they'll figure it out later. Plus, you'd be surprised at the number of nuances there are in not just crudely getting such things done, but instead doing them in the best way possible. Any young man can pick up these sorts of skills by an endless, bumbling process of trial and error; this book gives them the dope that will enable them to hit the ground running from the get-go. A young man who reads HOOYO as he strikes out on his own will save himself a ton of headaches and money, enabling him to channel his valuable energy towards completing his goals and conquering the world.
At the same time, Heading Out On Your Own is a great book for men who have been living independently for a long time already. I know I truly learned a lot in the research and writing of the original blog series, even though I've been "on my own" for a decade now. It also provides a great refresher for stuff you once knew, but forgot — helping you perform life's basic tasks better, more efficiently, and more enjoyably than ever before.
Why Should I Buy This If I Can Read It on the Blog for Free?
Great question and completely fair. It's true that you can read all of the content in the book for free on the site. It has and always will be free. However, there are a few reasons why you might consider buying the book:
Heavily edited. We wrote the original blog series in 31 days. Some of those posts were 3,000-4,000 words long. While we did our best to edit for typos and for content, under such demanding constraints, lots of typos and errors got past us. In HOOYO the book, we've proofread it dozens of times and made lots of changes.
Better format. We've formatted the book so that it's easy to read on e-readers and so that it's appealing to the eye in paperback.
All in one place. I don't know about you, but I definitely prefer reading content that's all in one place and organized, versus clicking around to 30 different links.
Makes a great gift. As mentioned above, it's a great gift for a young man graduating high school or college. It's also a great book to have by the toilet so you can refresh your skills of self-reliance while you relieve yourself.
Supports the Art of Manliness. If you've enjoyed all the free content we've provided on AoM over the years, purchasing a copy of Heading Out On Your Own is a great, tangible way to give back.
Plus, if you know a young man who doesn't currently read the blog, giving him the book serves as a great way to introduce him to AoM and put him on the path to vigorous manhood.
A Manly Bargain!
Unlike our previous two books which were published by HOW Books, with HOOYO we decided to experiment for the first time with self-publishing. Consequently, we had more control over pricing. With the paperback version, because we're using a print-on-demand model, the built-in cost is higher and we don't have much wiggle room for bringing down the sale price. But with the digital version, we're able to put the price where we think an ebook should be: just $6.99! HOOYO contains almost twice as much content as our previous two books; for such an incredibly beefy book, the price is an awesome bargain. The cost-saving tips and skills the book contains will save you that amount many, many times over.
Buy Heading Out On Your Own
Paperback Version
You can buy a paperback version of Heading Out On Your Own on Amazon. Because we self-published this book through Amazon, you'll only find the paperback version there (it's not available in brick and mortar stores). Right now it's priced at $11.83, but that changes day to day, in accordance with Amazon's mysterious algorithm.
Ebook Version
We have an ebook version of HOOYO in the following formats for $6.99.
Please Give It a Review on Amazon
After you've had a chance to read HOOYO, if you dug it, we'd really appreciation you telling folks by leaving a review for the book on Amazon.
Limited Time Bonus Offers!
We'd really like to this get book on the Amazon.com bestsellers list. We've done it with our previous two books and I think we can do it again. If you're thinking about buying the book, please buy a copy today. The more people who buy it now, the better we'll do in the ranking, which means more people will see the book. If you're on the fence about picking up a copy, we're providing the following incentives:
Buy 1 book (including ebook version) — get a 30% discount in the Art of Manliness Store.
Buy 3 books — get a 30% discount in the AoM Store + 1 free AoM poster of your choice (just the poster, no frame included).
Offer ends Tuesday, March 11, 2014.
Please forward your email receipt of proof of purchase to [email protected]. We'll send your discount code to you right away. If you're eligible for a poster, that will take a week or two to fulfill, so please be patient.
Book Giveaway!
We've got 5 signed copies to giveaway to our amazing readers! To enter for a chance to win, simply leave a comment below sharing which life skill you wished you knew when you headed out on your own for the first time. Deadline to enter is Thursday, March 6, 2014 at 5PM CT. We'll pick 5 random comments to select our winner.
Thanks for the support everyone and stay manly!