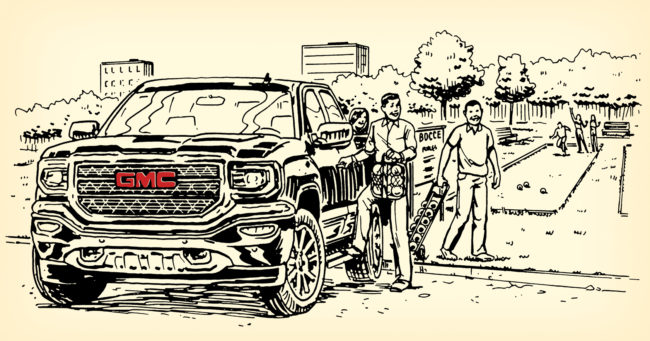 | | |
| --- | --- |
| | This post is brought to you by the 2016 GMC Sierra. Through precision, great trucks and great men are made. THIS IS THE PRECISION OF PROFESSIONAL GRADE. What's this? |
Maybe you spend the week laying bricks, cutting marble, or getting your hands dirty under a chassis. Perhaps it's constructing internet-shattering pillow forts with the ones you love. Or maybe you're all over town, staying up to speed on the Dow's every spasm using your GMC Sierra's available 4G Wi-Fi hotspot. Whatever you tackle day-to-day, you always strive to exemplify the modern craftsman, balancing your work and your life while pushing the heights of innovation and quality.
Mastering your craft remains the goal.
So herein lie a few keys to doing what you do best to the best of your abilities:
Don't embrace quick solutions.
Though this could be as simple as skillfully matching your tie to your suit, it's a philosophy that also extends to one's career. Shortcuts abound in life. But a true craftsman stays prepared and precise, taking the time to do things well, and never opting for easy.
Cultivate an appreciation for the well-made.
Just as you take time to build things to your highest standards, you recognize exacting craft in the work of others. And when seeking inspiration, look no further than the GMC Sierra for a quick refresher on the definition of precision, form and function.
Choose simplicity.
It's a noisy world. Stay focused and strive to get your message across clearly, honestly and directly. You'll gain a reputation for being reliable and truthful. That will attract more than a few admirers to your craft.
Go above and beyond.
You believe in pushing yourself. And you refuse to be like anybody else in your field. Always striving for something unique and incredible. Your originality will become a hallmark.
Let your inner child out to play.
Sorry we just said "inner child." Point is, have a great time whenever possible and stay curious. Surround yourself with the right friends and mentors. Be the first to suggest bocce with an after-work brigade of friends. Hold your loved ones close. It makes work/life/the people around you that much happier on the road to self-fulfillment.
Welcome innovation.
Some people run away from technology and new developments. Not you. You adapt easily to new inventions, when you're not inventing them yourself. Like how you manage to stay connected to everything happening at your son's soccer game using your GMC Sierra's available hands-free text messaging through Apple CarPlay, even when you're busy driving your daughter to her volleyball game.
Find some "you" time.
Everybody needs a breather in life. Time to reflect and build upon your ideas. Time to reignite your passion for what you do. Time to relax before you tackle a project with new eyes. Rome wasn't built in a day.
Still, maybe don't take as long as Rome.