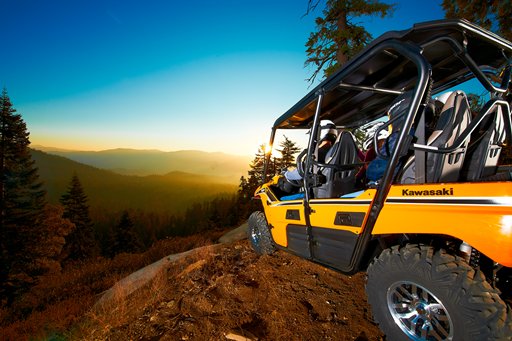 Editor's note: This is a guest post from Scott Shaffstall.
Nothing is as idyllic for the man sitting behind a desk as dreaming of exploring the great outdoors. Marco Polo ventured through Asia to the Far East. Christopher Columbus sailed across the Atlantic in the opposite direction. Lewis and Clark's team, with the help of Sacagawea, pursued the Northwest Passage and discovered a few things along the way. As has been previously discussed in the Art of Manliness community, men are wired to explore new surroundings. But amidst our fast-paced modernity, year-long, month-long, or even week-long trips are hard to come by. By using modern recreational off-highway vehicles, in my case a Kawasaki Teryx4, you can escape deep into the heart of the great outdoors in only a fraction of the time needed in the past, while having a hell of a fun time getting there. If you happen to have lady friends or a few best buddies to play navigator, tail gunner, and designated comic relief, it conveniently offers seating for four.
Below are five of the top places to escape in your off-road vehicle, whether it has two, three, or four wheels. And when you cut the engine in the middle of nowhere, you'll be able to appreciate the beauty that can only be found when a man gets off the beaten track and into nature.
1) Moab and Paiute ATV Trail, Utah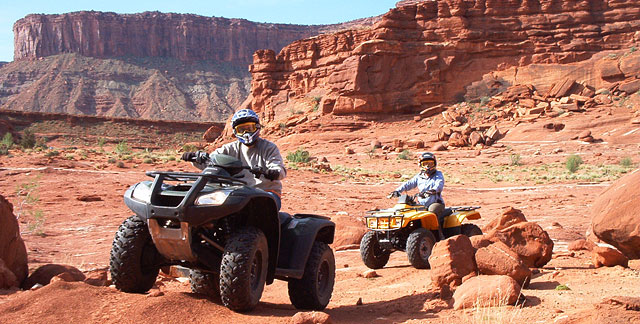 Two of the best places to ride in the country can be found upon the red rocks of Moab, in Southeast Utah, and via the high-altitude Paiute ATV Trail in the southern central portion of the state. Although it may be a bit of a drive for those on the West Coast, and a major trek for anyone back East, this area boasts without a doubt some of the best riding in the world. Moab has a little bit of everything: sand, water, cliffs, slickrock, giant human-crushing boulders, and epic scenery. It is remote – extremely so – and has been labeled by many riders as the ultimate adventure destination. Demanding both intense physical and mechanical skill, the terrain can be unforgiving. But what is exploration without a little risk? Many of the trails in this area were created by prospectors of by-gone eras, traversing two mountain ranges and miles of red rock cliffs. Without a doubt, you will daydream of the bright blue skies overhead once you are back in your office at work.
The other major riding location is known as the Paiute ATV Trail, a 275-mile journey traversing dense forests. This ride takes over 25 hours to complete. Add over 1,500 miles of side forest roads and trails, and the possibilities here are pretty much limitless. Fishing and camping sites are in abundance for the men who shun hotels. Herds of deer, elk, and even moose are present. At its highest point, the Paiute Trail climbs to over 11,500 feet above sea level, offering incredible views. (Be sure to bring your camera.) It is important to note that while Moab can be extremely challenging, the Paiute is less strenuous, allowing you dads out there to bring your miniature men along for the ride.
2) Calico Ghost Town, California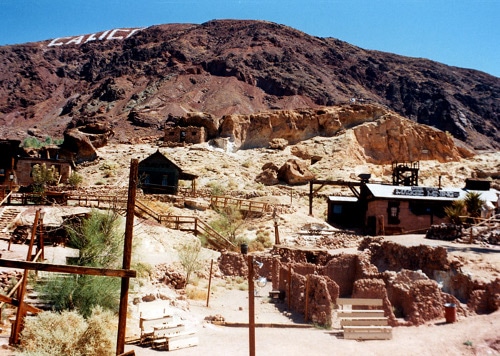 This silver-mine mecca went boom-to-bust in the 1880s after hundreds of miles of tunnels were carved into its mountainsides by grizzled fortune seekers. From dozens of saloons, to houses hosting scantily-clad females, this town epitomized everything wonderful about the Old West. The town has since been recreated to resemble its heyday, complete with the historic 'Glory Hole' from which sprang over $20 million in silver ore and even a ride-on train for you Lionel buffs out there.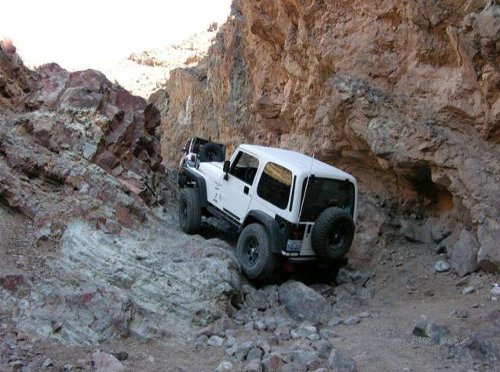 The real adventure, however, begins just outside of town, as the lands surrounding Calico are open to off-road vehicles. Abandoned placer claims, tailing piles, and vertical and horizontal shafts dot the surroundings and give you a feeling of what it must have been like to trek through such country with nothing but a pack mule, a sack of provisions, and a prayer of striking it rich. Today's canned bean rations are non-existent, as we can carry coolers in the beds of our vehicles. If a mining town isn't enough history for you, the Calico Early Man Site is located just a few miles away. This archaeological excavation site has uncovered a possible stone workshop, quarry, and campsite of nomadic hunters and gatherers hailing from the Pleistocene Era, a mere 200,000 years ago.
3) Hatfield-McCoy Trails, West Virginia

The legendary land of the Hatfield-McCoy feud, in which the men murdered the XY chromosome-carriers of the rival family, is also the home of some of the finest riding trails in the country, with over 500 miles to ride in West Virginia. Spanning over five counties, with four more planning to open soon, the area (referred to as Trail Heaven) offers six different trailheads ranging in difficulty from easy to downright masculinity-testing. If the routes alone aren't enough to get your blood flowing, perhaps the realization that you are riding over some former Civil War battlefields will give you a sense of the era when dudes sported mustaches on a much more regular basis.
As the most popular trail system on the East Coast, the Hatfield-McCoy Trails are not nearly finished. Plans to incorporate the network into multiple states may eventually include up to 2,000 miles of open trails. Luckily, my Teryx4 has comfortable bucket seats, so the pain in my rear that would usually be the consequence of such long distances is non-existent.
4) Upper Peninsula, Michigan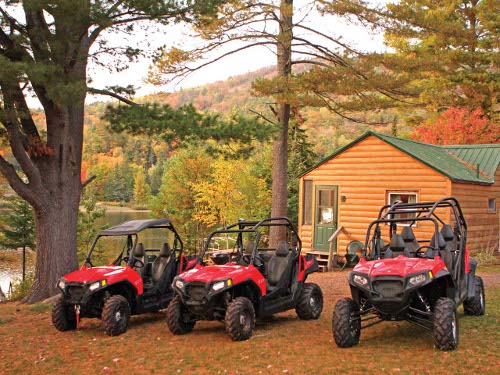 While Michigan's Lower Peninsula is already a popular destination for many, with easy access to the Silver Lake Sand Dunes beginning right at the edge of civilization, those looking to really get away from it all should head north of the Mackinaw Bridge to Michigan's Upper Peninsula. If you're looking to lose yourself in a forest canopy of cedars and pines the likes of which Robin Hood would be proud of, this is the place. In nearly any direction there are hundreds, if not thousands, of miles of trails that bring you to deserted beaches on Lake Michigan and Lake Huron, over abandoned railroad tracks, and across river-spanning trestles over 100 feet high.
If your mother told you that you were a water baby, look no further. The UP features dozens of pristine lakes and rivers, as well as the Tahquamenon Falls, the second largest waterfall east of the Mississippi. For those of you who enjoy tracking game, the region is a hunter's paradise. While vast stands of woodlands make it necessary for hunters to travel to their deer camp or blind via a four wheeler, my Kawasaki is again a perfect fit, with optional rifle case mounts available to secure our weapons of choice behind the rear seats.
5) Imperial Sand Dunes (Glamis, California)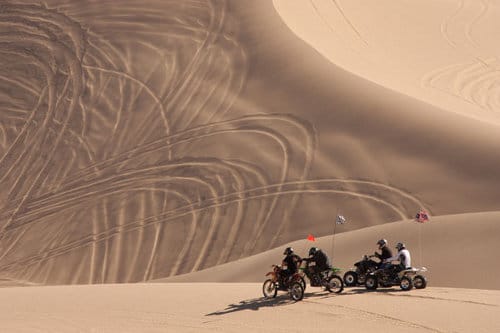 Have you ever seen a movie (think Lawrence of Arabia) that was shot with the hero stranded in the middle of the desert, trekking across a sea of sand in order to get to relative safety on the other side? Chances are that movie was not shot in the Sahara, but in the Imperial Sand Dunes. With summer temperatures approaching 120 degrees, this is the home of some of the most brutal desert conditions in the United States. Over 40 miles in length from North to South, you can easily lose yourself in these dunes and wind up across the Mexican border. (Hint: When you start to see farmland appear out of the sand, chances are you're in another country).
With razorback peaks rising hundreds of feet from the desert floor, dune bowls almost a mile in diameter, and the best sunsets I've ever seen, this is easily my favorite place to escape to. And like a flowing river, no dune in Glamis is ever the same – the winds are constantly refining their art. To quote the 1962 classic mentioned above, Jackson Bentley asks T.E. Lawrence, "What attracts you personally to the desert?" Lawrence's response: "It's clean."
What are your favorite off-roading destinations? Share with us in the comments!