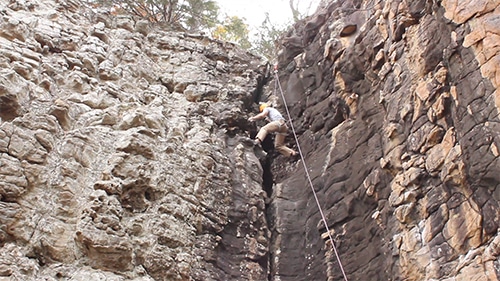 I fancy myself an outdoorsy guy. I love to camp, hike, canoe. I really believe that getting out into nature is an important switch of manliness. We all have a bit of wild in us, and the less time we spend in nature, the more disconnected from that core aspect of our being we become. In my experience, if you don't periodically tear out into the woods, restlessness, depression, and a distinct malaise so common to modern life sets in.
But being a dad of two young kids and living in the suburbs of Tulsa, Oklahoma, I always felt my options for outdoor recreation were limited. There are a few state parks nearby, but they're nothing to write home about. The campgrounds look like some sort of tamed suburban park, complete with manicured lawns. Not very wild. And while I know there are plenty of folks who don't mind taking their youngins camping, Kate and I would rather wait until the tykes are out of diapers before we bring them along.
If I wanted to go somewhere really cool, I figured I have to fly or take a long road trip, but then I'd need to find someone to watch the kiddos for at least several days. My in-laws were willing to watch the kids for a weekend, but it didn't seem like I could do anything or go anywhere worthwhile in just two days. I felt pretty stuck.
As I've discussed before, I've admittedly experienced acute cases of FOMO talking to our editor and community manager Jeremy or the gents at Huckberry. Jeremy lives in Denver, Colorado and has lots of beautiful national and state parks at his disposal. He and his wife get out and into the mountains for hiking pretty frequently. Whenever I hear him talk about his recent outdoor adventures, I get a bit envious. The Huckberry guys live in my favorite part of California — San Francisco. They're just a drive away from the Redwood National Forest as well as Yosemite National Park. Browsing their Instagram feed often fills me with FOMO.
But lately I've been doing some thinking. Somehow I built up this stupid idea that if I couldn't hike or camp in the Sierra Nevadas or Rockies, I might as well not even try to get out in the wild.
How stupid and self-defeating is that? Pathetic. I've long argued that just because you can't take on a pursuit in its most ideal or "authentic" form, doesn't mean you can't do something. Sure, I can't get to Yosemite right now, but that shouldn't stop me from experiencing Mother Nature closer to home. I love the outdoors, so instead of wallowing in FOMO, I decided to find some adventure in my own backyard.
I pulled up Google Maps and gave myself a three-hour drive radius around Tulsa to find some wild adventure. It's long enough to really get away from Tulsa, but short enough that traveling didn't suck up an entire day. I'd heard great things about the Ozarks so I decided to chart a course to Arkansas.
Then, I thought about what to actually do on our weekend adventure. Kate and I have already camped a lot, so I wanted to try something different to really get out of our rut as much as possible. I came up with two outdoor activities that I had almost no experience with: rock climbing and kayaking.
I knew Darren Bush (one of our regular contributors) had recommended the Buffalo River as one of the best wilderness canoe and kayak trips in the country, so I used his post to find an outfitter. Now I just had to set up a rock climbing excursion. My climbing experience was limited to a single outing at an indoor gym, so I knew we needed a guide to…ahem…show us the ropes. I asked around and came up with a tip for the Horseshoe Canyon Ranch in Jasper, AR. With Kate's parents agreeing to take the kids for a weekend, we were locked and loaded.
Total time spent planning this trip? About an hour.
I'll admit that my expectations were pretty low going into the weekend. Would going away for such a short amount of time even be worthwhile, and could the Ozarks really satisfy my craving for beautiful, wild nature? I mean, I'd seen a few pictures and heard a few good things, but come on. How could it be as good as the Green Mountains of Vermont (where I've spent several summers) or the Sierra Nevadas (where I dream of going)? Could there even be good rock climbing in this area of the country? Would the Buffalo River just look like the Arkansas River here in Tulsa (which is usually a not-so-picturesque sand bar)?
Over the course of two posts, I'll be sharing my answers to these questions. These posts will be one part travelogue, and one part how-to, all with the goal of inspiring you to find some wild and adventure in your own backyard.
Today, I share my experience rock climbing at the Horseshoe Canyon Ranch and hiking in the Ponca Wilderness Area.
Rock Climbing in Jasper, Arkansas
Kate and I dropped off the kiddos at Nana and JaJu's house early Friday evening and headed out to Jasper, AR. We arrived at the Horseshoe Canyon Ranch around 10PM. Total trip time was, as planned, a little over three hours.
The H.C.R. is a dude ranch that sprawls across 350 acres of beautiful, rugged Ozark landscape. On the way in I almost hit one of the horses that they let roam freely at night. When we arrived we settled into our rustic, comfortable cabin. Tent camping is allowed on the property, and normally we would have been up for that, but since Scout was just two months old at the time, the chance to sleep uninterrupted in a real bed simply couldn't be passed up. Kate and I hit the sack as soon as we got in; the next day was a packed itinerary.
When we rose in the morning, we stepped out of the cabin and took in the fantastic view. The fall foliage was just past peak color, but still pretty vibrant. The H.C.R sits adjacent to the Buffalo National Wilderness Area, nestled in a valley that is flanked by large sandstone bluffs. On those bluffs is where we'd be doing our climbing.
After being featured in major rock climbing magazines, the Horseshoe Canyon Ranch has become something of a climbing mecca in recent years and is one of the premier spots in the Southeast. When the cold and snow come to other areas of the country, climbers of all ability levels head to the ranch to extend their season. The crew at the H.C.R has built over 400 climbing routes of varying degrees of difficulty into the valley's bluffs.
Our guide for our half-day of climbing was Jason Roy. He's what you'd imagine a rock climbing guide to be — laidback, funny, and extremely patient with noobs like us.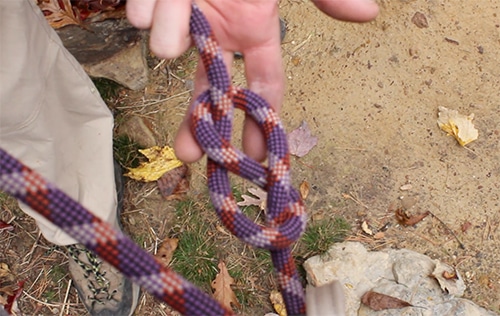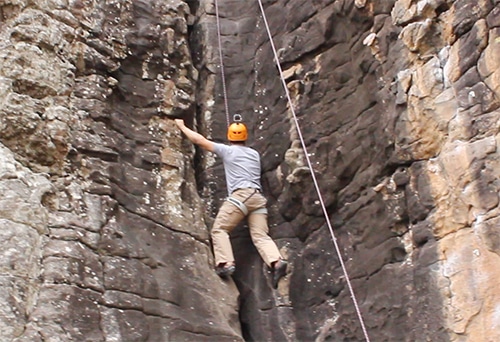 We started off our day on a short rock face to learn the basics — how to tie ourselves in, along with some basic climbing techniques.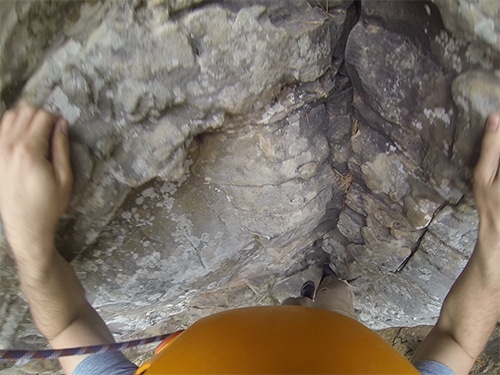 The big takeaway in our training was that rock climbing is all in the legs. Before my one-on-one with Jason I had a tendency to just rely solely on my upper body strength. Now I know better.
The climbs themselves were great. Jason did a fantastic job of finding our "flow" zone – those routes that were neither too easy nor too difficult for us.
The best part was definitely the views from the top. The fall colors were amazing, and the landscape looked an awful lot like my beloved Vermont.
Jason was gracious enough to take part in a few short videos that serve as a primer to rock climbing. We go over the very basics, from how to tie yourself in to basic climbing footwork.
I also created a video of my climbing experience. I experimented with a GoPro, so you can see the climb from my point of view.
I was incredibly impressed with the ranch (can't wait to take the kids there), and impressed with the killer climbing available there. Who knew there was a super cool climbing spot in my own backyard?
Hiking in the Ponca Wilderness Area
Wilderness is:
"…an area where the earth and its community of life are untrammeled by man, where man himself is a visitor who does not remain."
"…land retaining its primeval character and influence, without permanent improvements or human habitation."
"…affected primarily by the forces of nature, with the imprint of man's work substantially unnoticeable."

–Excerpts from the Wilderness Act of 1964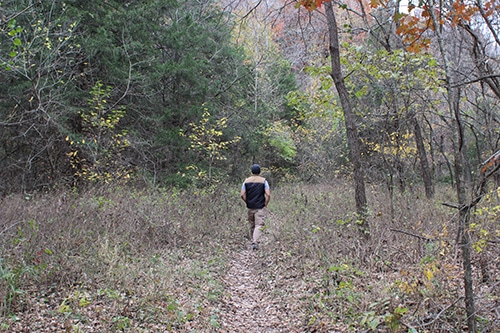 After our rock climbing excursion, we took the recommendation of our guide and went for a hike in the Ponca Wilderness Area. The Ponca Wilderness features over 11,000 acres of land full of, as the Arkansas Travel Bureau puts it, "scenic waterfalls, majestic bluffs, ancient caves, mountain streams, historic homesteads, and rough terrain." All of it runs along the Buffalo National River.
We started off from the trailhead at Kyle's Landing campground and followed the Indian Creek Trail, and then splintered off on to another trail whose name eludes me. We spent much of the time hiking in a dry riverbed that went through a canyon. The fall colors were amazing and the air crisp. Perfect fall hiking conditions. I again marveled at how much the scenery reminded me of Vermont.
Man, I sure do love hiking. Kate and I kept telling each other to get our "forest bath" in. It would be a while before we could be surrounded by nature like this again. I soaked in the scenery as much as I could, and we mostly walked in silence. We're both the type that enjoy letting our mind wander in a sort of meditative state while we're hiking. Every now and then one of us would pipe up with some sort of thought and we'd have a discussion, but we mostly just soaked in the beauty around us.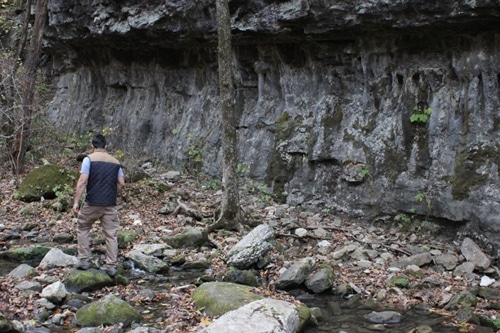 There was hardly anyone on the trail, but on the way back, we ran into a couple and started to chat. They were perfect examples of Southern hospitality: friendly, warm, and eager to share information with us outsiders. They were from the area so they had plenty of dope on where the best hikes and sights were. We realized how many amazing trails were waiting to be discovered in the area and we vowed to return to this beautiful locale again to explore them.
We probably hiked a good hour and half out. We wanted to make it to the end, where a beautiful waterfall waited, but it started to get dark and we had foolishly neglected to bring out flashlights, so we headed back to the car. It was getting dark by the time we made it back to the trailhead, so we made a good decision. We pulled away to our next destination — the awesomely-named Yellville, AR — which was about an hour to the northeast.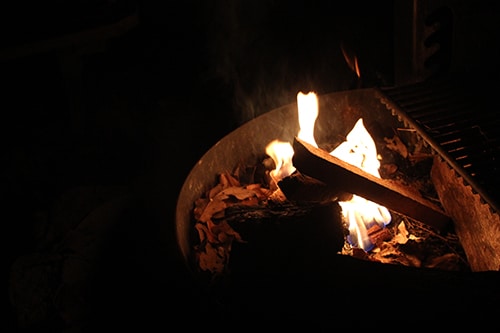 We had booked that night's lodgings at the Silver Run Cabins — located just a couple of minutes away from the kayaking outfitter we'd be using in the morning. Our cabin was quaint and rustic, and there was a firepit in the back, so we spent a good hour sitting around it, recounting our day's adventure and talking about our family and personal goals. A perfect way to end the day.
Next week, I'll recount our kayak trip down the Buffalo National River and offer a primer on picking the best kayak from Darren Bush. Until then, stay wild my friends.
What are some lesser known wild places in your backyard? Share with us in the comments!