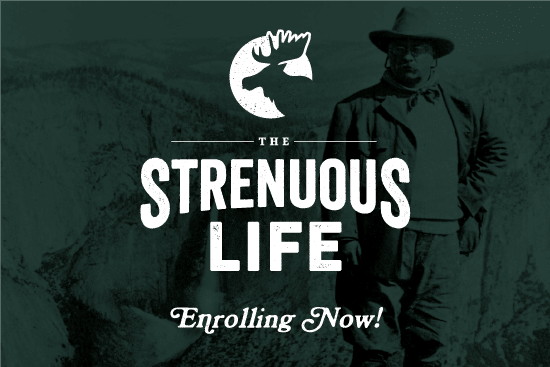 Spring is officially here. If you're looking to slough off the lethargy and doldrums of winter, consider signing up for The Strenuous Life. It will get you back moving, back outside, and back feeling like you've got some positive momentum going in your life.
The Strenuous Life is designed to help men turn their intentions into actions, do hard things, and become stronger in body, mind, and spirit. We've had over 2,600 people from all walks of life sign up and the feedback has been amazing. Men who have committed to the program have reported making huge strides with their goals and ambitions. TSL instills a bias towards action that carries over to every aspect of members' lives. Guys have lost weight, learned new skills, and made new friends. We've had several men report that the kick in the pants they got from TSL was the thing that finally got them to quit that job they hated or go after that big audacious idea they've been thinking about for years.
If you're looking to make 2018 the year you finally get around to doing all those things you've always said you'd do, then I invite you to join the March 2018 TSL cohort and spring into The Strenuous Life.
What Members Are Saying About The Strenuous Life
"I had found myself in a state of depression. The sort where you don't even realize that's what it is. Every day going through the motions of life without actually living, without thriving. A full on rut.
I signed on out of need for change, but was surprised by where that change occurred. This was not a 'guided program' taking you on a tour of becoming a better man; this was a concrete set of goals to help me figure out how to do that my damn self; this was a set of challenges to reach down and start finding my metal; to hold myself to my own integrity for my class and ultimately, for my own personal sense of honor.
The ruts will always be there, but every strenuous day I make myself a little better than the one before and better for everyone around me." –Daniel B., Class 014
---
"Current culture is suffocating for men. We've known this for quite some time, and every now-and-then a movie will be made (ex. Fight Club) or a book written (ex. Wild at Heart) to offer solace as masculinity is slowly snuffed out. TSL has taken that anguish and focused it toward a positive goal: developing the masculine spirit, mind, and body to be useful for your friends, family, and community. It has been a breath of fresh air for me to find like-minded men through the program who can't live with the status quo and who want to be strong to be useful." –James T., Class 014
---
"Before I joined The Strenous Life I had, and still have, a number of things I wanted to do but I never went beyond the phase of wanting and dreaming. The Strenuous Life gave me the guidance, passion and plan of action to actually DO the things I wanted. Simply put, I was motivated, guided, and disciplined in such a way that I was able to take my intangible wants and turned them into achievable actions which has had great benefit to myself, my family, and the community I surround myself with. I would recommend this program to anybody who seeks to be better and improve themselves and the lives of those around them." –Taylor J., Class 014
---
"The Strenuous Life has certainly jump-started my new year and has been a springboard for achieving many personal goals of mine. The program instills the belief that abstract ideas without practical action are not worth much. The group of like-minded men you are put with brings new insights and experiences to many of the questions/issues that we as modern men are facing. The weekly challenges bring you out of your comfort zone and challenge you physically, mentally, socially, and spiritually. In essence, the rationale behind TSL is that nothing worth doing in life is going to be easy and in order to better train ourselves for rising to the occasion of life's challenges, we should challenge ourselves on a daily basis. I have The Strenuous Life to thank for inspiring me to finally apply to Officer Candidates School for the Marine Corps, and I am able to take what I learn in the program to the Officer Candidate selection process. I cannot recommend this program enough and the value that it brings to your life cannot be portrayed in just a few sentences; to anyone on the fence about joining, you won't regret taking this step." –Josh O., Class 013
---
"TSL kickstarted the most productive and joyful season of my life. Shortly before my class was initiated, I quit my job, moved states, and started a construction company.
Since then I've been more efficient and productive at work, more present with my family, and more focused on my goals than at any other point in my life.
Thanks to the consistency brought about through daily exercise and weekly Agon challenges, I've become more spiritually aware of the needs of my family and those around me. I'm in the best physical shape since Army basic combat training and the badge requirements have kept me honest in the vigilant struggle to hone my skills needed to become a better man." –Bradley Y., Class 013
---
"'Life gets in the way.' That was always my excuse. I signed up for The Strenuous Life because I wanted to kickstart myself. Get more workouts in. Build more strength and skills to be useful. Signing up for The Strenuous Life has helped me to build routines and now I just find a way to get a workout in. I find ways to work on building skills instead of internetting all evening. It's become a routine or habit. The Agons are a nice extra challenge, and the badges provide nice structure to learning physical and mental skills. That said, you get out of it what you put into it. There is structure, but you have to do the work yourself. The program won't do the work for you." –T.C.P., Class 015
---
"Going through the first 3 months of TSL, I was challenged to make it a habit to "Do Hard Things" through the weekly "Agons" (some of these are now part of my daily routine). Through the badge work, I was able to redevelop my daily journaling habit, gained almost 10 pounds in 2 months doing the Starting Strength barbell program, and have become more thankful of the people and things around me. I've also been inspired by the biographies of Ben Franklin and Napoleon. If they could do it, so could I.
Although I'm one of the very few Filipinos in TSL, the online community was very welcoming of diversity, and it feels great to be part of an international group of men who want to become better and take a bite out of life in the process." –Mark S., Class 015
It's Time to Put Intentions Into Actions
One of the pieces of feedback that I really enjoy hearing from members is how The Strenuous Life was the thing that finally got them to do the stuff they've said they'd do for years. Camping trips and adventures that have been on the bucket list finally got done, exercise habits were finally formed, and new skills were finally attained.
It's been amazing and heartening watching men turn their intentions into action thanks to TSL. Here's a tiny sample of some of the stuff members have done on The Strenuous Life in last few months:

What's been on your "someday list" for years? Get certified in CPR? Come up with a debt repayment plan? Start exercising regularly? Learn how to do home and car repairs yourself?
It's time to cross the items off your "someday list" and put them on your "completed list." The Strenuous Life can help. We provide the structure on learning new skills that will help you turn your intentions into action.
Meet Like-Minded Individuals (In Person!)
We're big believers in face-to-face interaction here at AoM.
Every time I read a report about how people, particularly men, are lonelier than ever and how that's leading to all sorts of physical and mental problems, I wanted to do something to counter it. The Strenuous Life is our contribution to solving this problem. One of the features of TSL are geographic groups that members can use to organize in-person meet-ups. The third Saturday of every month is designated as "Strenuous Saturday" and members get together to work on badges, ruck, or do community service.
If you've been looking for more real-world friendships in your life, TSL is a way to make those connections.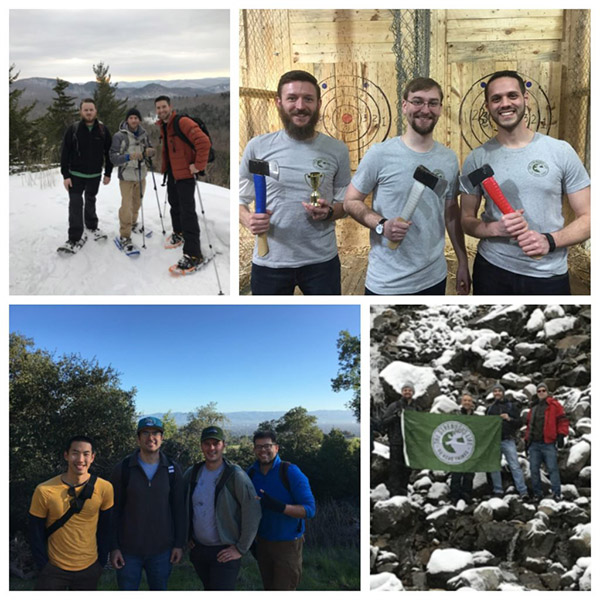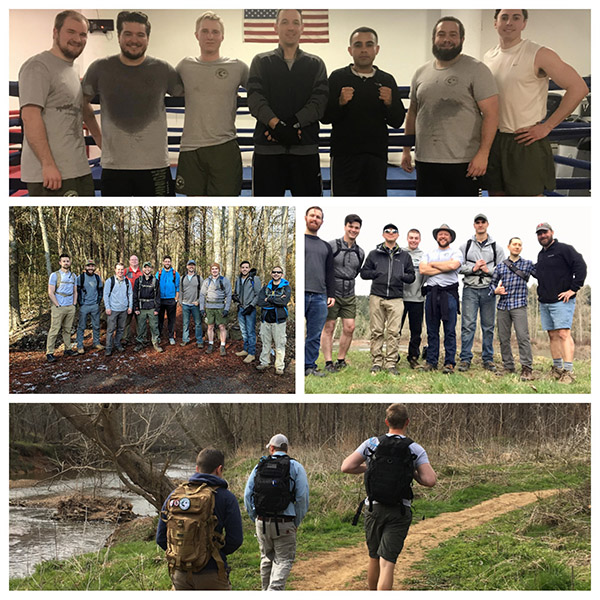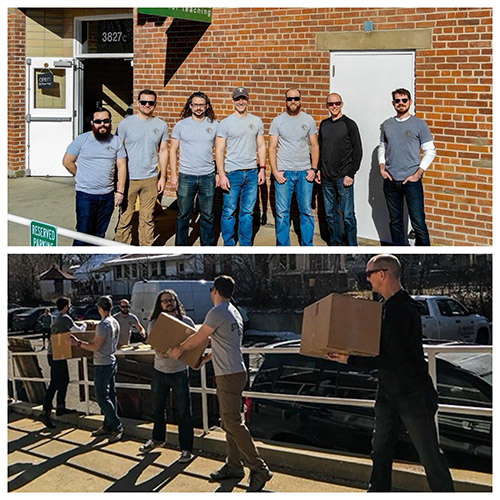 Enrollment Is Open Until March 29, 2018 or Until We Register 4 New Classes
Enrollment will only be open until Thursday, March 29, 2018 or until we register 600 new members. Whichever comes first.
Classes fill fast so you'll want to register as soon as you can. The next enrollment won't be until June.
I hope to see you on The Strenuous Life.