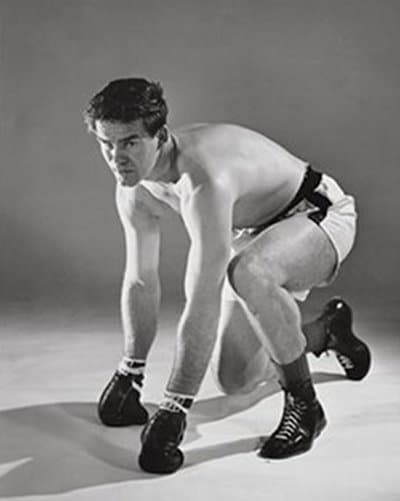 Editor's note: This is a guest post from Matt Moore. And a mighty fine companion piece to those who have been inspired to stop "should-ing" and follow their dream.
Matt has written a bunch of awesome articles for AoM in the past, and has happily agreed to become a regular contributor on AoM. He'll be dishing out a monthly cooking article for us. Congrats on the Today Show gig, Matt, and welcome aboard!

"No" is my favorite word in the English language. I understand that may sound a bit contrarian to positive thinking, so perhaps I should clarify my comment. It's not so much the word itself, but the effect of the word that I most value. For me, hearing the word "no" is the best form of personal motivation.
Most successful people are willing to make known that their journey to the top was fraught with several "no's" along the way. Sure, there are stories of those who find overnight fame, but more often than not, a look into the background of these overnight sensations reveals that years of hard work, including failures, laid the groundwork for the final result seen by all.
I firmly believe that it does not matter how many times one is told "no" in a lifetime; rather it's their response to the word which plays a key role in defining one's character.
Last week, I was catching up with a friend over cocktails at one of my favorite establishments. After a few drinks, our conversation turned from the NFL playoffs to discussing his new business plan. The truth of the matter – his plan is anything but new. I've heard him recount his idea fifty times in the last five years, yet he never puts his words into action. Perhaps it's his fear of failure, rejection, or just complacency. In any event, it's moments like these when I'm reminded of the words of Ernest Hemingway. "Always do sober what you said you'd do drunk. That will teach you to keep your mouth shut."
I'm not saying that you need a cocktail to come up with great ideas. Instead, I'm telling you to stop talking, to stop resolving for another year: it's time to walk the walk. Today is January 24th, or the 4th week of the New Year. For all of those who made New Year's resolutions, I've got to ask: Are you still on track?
Whatever your goal may be: to lose weight, to start a business, to change careers, or to become a better husband/father, I suggest sharing your goal with others in order to hold yourself accountable. Of course, it's normal to fear failure or rejection. I've yet to meet a man who likes to be told he cannot do something. So instead, let's alter our thinking. Try using the word "no" as fuel to turn a negative into a positive.
Last year, I resolved to write and publish a book. I get it, not really the most original idea, but hear me out. For years, my friends relied on me to supply simple, tasty recipes for everything from a Super Bowl party to an intimate date with their lovely lady friend. Over time, I realized a true need in the marketplace for recipes that were written from a man's-man perspective, without the attitude or presumptuous tone of so many cookbooks already on the shelves.
I don't want to bore you with the details of the publishing world, especially considering the entire industry is now in unrest, but the fact of the matter remains; becoming a successful author – major publisher or not – is still a VERY difficult task. Realizing I was facing an uphill battle, I put on my thick-skin, preparing myself for not only for criticism, but also rejection.
As it turns out, I received a "no" from every agent and publisher in the literary world (If you didn't turn me down, I probably just didn't contact you). You see, publishers and agents are interested in books that sell. In the non-fiction world, having a platform as an author is crucial in selling books. Though a platform used to be restricted to high profile or celebrity figures, it's encouraging to know that publishers will now consider those with large followings on blogs, Facebook, or Twitter as potential candidates for a publishing deal. Me? I had nothing going in my direction, save what (only) I thought was a genius idea. Looking back, I'm not surprised that I was told "no." However, because I had expressed my goal to others, I was committed to pressing on.
I decided to start my own publishing company to release my book, Have Her Over for Dinner; a gentleman's guide to classic, simple meals. I'm certainly not the first to pursue the self-published route, with the advent of e-books, Kindle, the iPad, print on-demand, etc., becoming a 'published author' nowadays is more realistic than ever.
Lacking the funds to hire a publicist, I took on the sole responsibility of marketing my book to the masses. I'd now found myself in the role of author, chef, freelance writer, photographer, agent, publisher, accountant, and publicist. (I'm never short on answers to the "what do you do for a living" question).
I found that pitching to media is a full-time job. Sourcing contacts, sending out review copies, following up with handwritten letters and phone calls, lunches, dinners, etc. is all quite exhausting, and expensive. Nevertheless, after you've convinced all of your family members and friends to buy your book, you must rely on the media to garner the attention of the public. It's a path full of no, No, NO, NOT EVER, NEVER. In fact, I made it my goal to receive at least ten "no's" each day. I didn't view it as a negative, instead I simply saw it as a sign that I was working hard.
As it turns out, persistence pays dividends. After walking down the path of thousands of "no's" . . . I finally got a "yes", followed by another, and another, and another, etc.
I can clearly remember reaching out to Brett for the first time to inquire about writing for the Art of Manliness. He gave me a shot. In fact, I owe a big thanks to both Brett and the readers of this site who have generously supported my work over the past year. Thank you.
To wrap up my story, I can assure you that I'm not writing this post from a tropical island living off royalty checks. Instead, I've just finished up my biggest gig to date The Today Show– hopefully my segment this morning on cooking a romantic meal with Kathie Lee and Hoda went well.
I'm also quite pleased to share that after all of that effort, my book was named one of the year's best cookbooks by The New York Times – an honor rarely bestowed upon self-published titles.
If you're like me, you visit The Art of Manliness to seek advice on how to become a better man. In a world where men's lifestyle sites focus on vanity, false wealth, or the hottest celebrity of the week, Brett and Kate's community provides an excellent forum for discussing real issues that matter. Which begs the question, are you just reading, or are you actually putting all of this great advice into action?
I'm hoping that my journey will help you refocus on that New Year's resolution. It would have been easy to give up – blaming my failure on the opinions of others – but instead I persisted through the hard times without a guaranteed result. Let me tell you, it's been one hell of a journey thus far.
Whatever your goal is in the New Year, I challenge you to stick with it. Be at your best day-in and day-out. You will stumble, will be discouraged, and will be told "no" a thousand times, yet it's all part of the ride. Rely on faith. Be persistent. You might just get what you worked for . . .
—
MM
________________________________________________
Matt Moore is the author of Have Her Over for Dinner; a gentleman's guide to classic, simple meals.