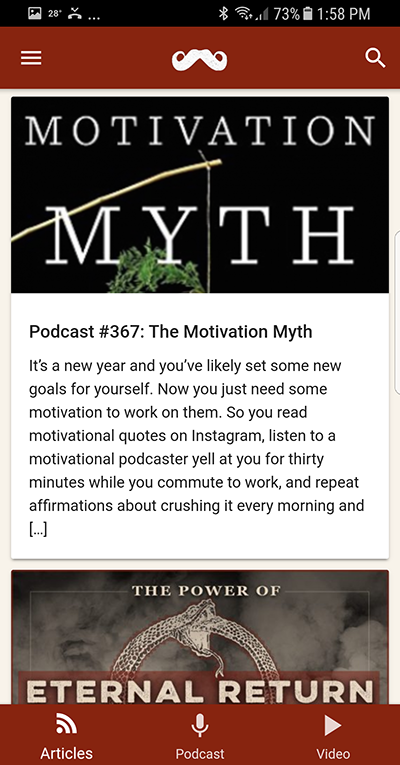 Hey, did you know there's an Art of Manliness app for iPhone and Android devices?
It's true, and we've recently updated the app based on user feedback. Here's what's new with the Art of Manliness app:
Better Offline Reading. Have you ever been in a place with no wifi and had the itch to read some AoM? With our recent update to the app, this is no longer a problem. The app caches the most recent articles on your phone so if you find yourself disconnected from the internet (or just don't want to waste mobile data), you can still read the latest AoM content.
Cleaner and Easier to Use. We've updated the layout for easier reading and navigation.
Ad-Free Option. The app is free thanks to a small ad placed at the bottom of the app. While not super intrusive, we did get requests from several users to provide an option to pay to remove the ad. So we did. For $1.99 a month, you can remove the ad. It's all done through an in-app purchase via the App Store or Google Play. You can manage your subscription in the app menu in the upper-left hand corner, and you can easily cancel at anytime.
Of course, if you don't want to pay, you can still read the content for free on the app with the ad or on the site in your browser.
More Updates to Come
We'll continue to update the app. The next feature we'd like to add is the ability to save favorite articles.
Download the Art of Manliness App!
A Thank You to Our All-Star Readers
Your smartphone screen is primo real estate, so for you to download our app is a real honor for us. Thanks in advance to all our "AoM All-Star Readers" who decide to download our app and make the Art of Manliness a more integral part of their daily lives. We'll continue to do our best to send you content via the app that's geared towards helping you become a better man in all aspects of your life.