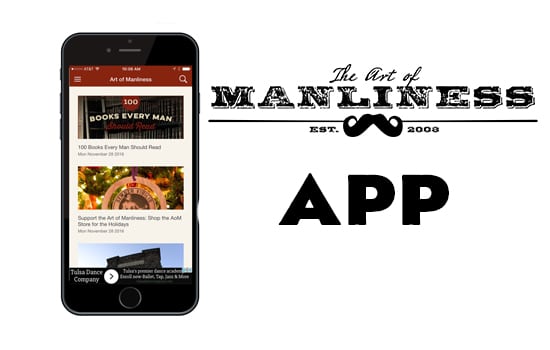 Back in 2010, we put out an Art of Manliness app for iPhone. Unfortunately, the company we used to make the app stopped providing support for it and it's been defunct for awhile. When Android devices started picking up steam, people began taking our feed and creating crappy, un-authorized Art of Manliness Android apps.
These impostors aside, we have not in fact had an official AoM app on the Apple App Store or Google Play store for several years.
Since that time, we've had tons of people asking us to make an official smartphone app for iPhone and Android. Well, after a six-year app hiatus, we're happy to announce the launch of a new and improved Art of Manliness app, available both on iPhone and Android.
Download the Art of Manliness App!
Why You Should Download the Art of Manliness App
Our app is admittedly pretty basic, but there are some benefits that come with using it:
Faster. The mobile app definitely loads content faster on your mobile device compared to visiting the site on your phone's web browser.
Easy to read. Content has been optimized for easy mobile reading.
Limited off-line reading. If you find yourself in an area that doesn't have WiFi or cellular service, you can still read our content from the app. Off-line reading is limited though. You'll need to have clicked on an article within the app while you were connected to the web for it to work. We're working on a way to provide a more robust off-line reading feature.
Get all of our podcasts in one place. If you're a fan of the podcast, we've got a section in the app dedicated to it. You can listen to the latest episode or browse through our archives to listen to episodes you may have missed.
Get notifications when we publish something new. You can opt-in to have the app send you a notification every time we publish something new so you never miss a post. We'll also use the notification feature to occasionally send exclusive discounts to the AoM Store as well as secret messages to co-ordinate our mission for manly world domination. (No, seriously. We'll be sending some secret messages through this. It will be fun.)
It's free! The app is 100% free. We'll be supporting it via a small ad placed at the bottom of the app. No annoying pop-ups asking you to download some smartphone game.
Just the Beginning…
The app is new, and though we've tested the wazoo out of it, there's still bound to be some bugs in it. If you do find one, please let us know via Twitter. We'll take care of it posthaste.
We'll continue to look for ways to improve and refine the app in the coming months. One feature that I'd like to see is the ability for users to save their favorite articles so they can create a personal Art of Manliness Library on the app for future reading and reference. We're also looking for ways to link content within the app to each other. We've also had a few people request a paid version of the app so that they can get rid of of the ad at the bottom of the screen.
After you've given the app a test drive, we'd appreciate it if you left us a review on the  iTunes App or Play store. Those help boost our app's rankings so more people can discover it.
You Still Haven't Downloaded the Art of Manliness App? Download it Already!
A Thank You to Our All-Star Readers
Your smartphone screen is primo real estate, so for you to download our app is a real honor for us. Thanks in advance to all our "AoM All-Star Readers" who decide to download our app and make the Art of Manliness a more integral part of their daily lives. We'll continue to do our best to send you content via the app that's geared towards helping you become a better man in all aspects of your life.