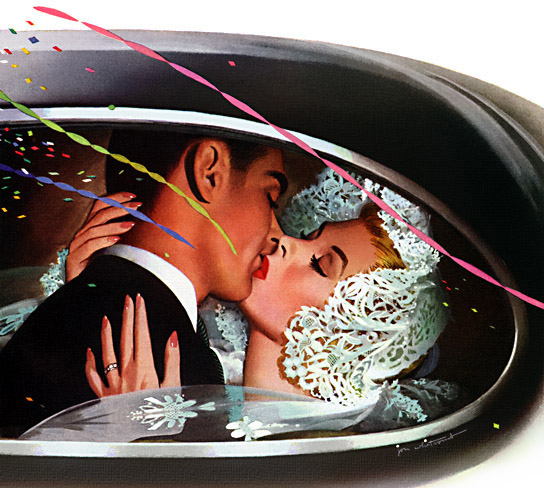 Editor's note: This is a guest post by Mike Arnot, the founder of GroomGroove.com, the leading wedding-related website for grooms, the best man and groomsmen. Recently featured in The New York Times and now on AoM, Mike and the guys at GroomGroove.com are finding the manly stuff in weddings, all from a guy's perspective.
***
"Mike, these wedding invitations are cut all crooked," my then-fiancée (now awesome wife) said, with a healthy dose of disgust directed my way.
I immediately got that cold sweat one gets when they realize they've screwed something up, royally –  something to which they should've been paying closer attention.
As you undoubtedly have no idea, ordinarily when things like wedding invitations are found to be defective, the prospective bride simply returns the offending items to the quaint paperie from whence they came, like she'd return a pair of high heels to a shoe store. No muss, no fuss.  Except here, there was no store. No owner to chastise.
Only me, and I was guilty as charged.
You see, as part of my wedding duties back in the day, I was tasked with cutting our homemade wedding invitations with a tabletop paper cutter – literally hewing perfection out of pink, purple and silver sheets of (expensive) paper. Our wedding invitations were cut "all crooked" because of my lack of attention to detail with the cutter. Because "you didn't hold the cardboard square with the blade," as my fiancée put it.
Like most men, I was not particularly interested in wedding planning, let alone invitation making. And I let it show. I now know that my wife saw my lack of interest in wedding planning as a lack of interest in the marriage. In many ways, because of my approach to the whole thing, I almost missed my own wedding. I've been seeking redemption for the crooked invitations and my general lack of interest in the events leading up to my wedding for several years now.
I offer the following advice in hopes that you can avoid my fate!
The Bride's Big Day
It's pretty easy for men to blame our lack of interest in weddings on the fact that weddings are typically frilly, overly pink, and bride-focused. After all, it's the bride's "Big Day." It's even called the "bridal" industry. My own wedding photographer referred to my groomsmen and I as "props" to showcase the bride. (We were well-dressed props!) However, bride-centrism is really no excuse. After all, if you're diving in head-first with someone that you're planning on spending the rest of your life with, and that person is really interested in throwing a great wedding to celebrate your…you know...commitment, get interested. (My dad recently told me that he couldn't stand watching Family Ties with my mom, but did it precisely because she loved it. All those years, and he manned-up, just for her.)
A Rite of Passage
Despite bride-centrism, weddings are a rite of passage for men – they are one of the defining elements of manhood. (Indeed, some guys love weddings so much they have more than one in their lifetimes!) In some religions, marriage is one of the sacraments, and the wedding is the public manifestation of that sacrament. The wedding is the capstone on the culmination of trying to find a compatible mate. We've rejected some ladies in favor of others, and been on the receiving end of rejection. Once you've found The One, the wedding is meant to publicly declare to your friends and family that you've committed to this person. If you're going to be spending all that money anyway (the average wedding comes in at $38,000) you may as well go out with a bang, and not a whimper.
So here are some tips that will help you avoid some of the painful parts of wedding planning, and quite possibly eek some fun out of your part of this rite of passage.
First, figure out your duties
As a prospective groom, there are plenty of things that you're expected to take care of, many of which will be familiar to you if you've ever attended a wedding. This means relatively easy tasks like picking a best man and groomsmen and choosing a venue for your wedding reception. In fact, there's a whole grocery list of groom's duties that are on your plate, and many of them are time consuming. Familiarize yourself with the list by clicking on the link. (We've found that nothing snaps a guy to attention like the prospect of making a wedding speech in front of a couple of hundred friends and family.)
Make sure you handle your best man and groomsmen
The easiest way to make sure you're doing your part is to handle your best man and groomsmen. That means making sure they know what they're expected to do, and when. Above all, make sure your wingman knows his best man duties. (Turns out he has a lot on his plate, too.) That includes getting fitted for a suit or tux, springing to attend the wedding and possibly even making a wedding toast. All too often, grooms will delegate these tasks to their bride, as if she doesn't have enough things on her to-do list already. "Hello, dog house! It's nice to be here."
Take charge of some of the things that are fun to plan
Other than your typical duties, you can also take on wedding planning duties that will actually be of interest to you. Here are some examples:
Handle the Wedding Transportation
My favorite wedding to attend as a groomsman was when the groom arranged for each groomsman to have matching BMWs. Now that was a fun weekend, particularly the parts involving small stretches of blacktop. Antique cars? Benzes? Horse and Carriage? Vintage Trans-Am? If you're a groom and take charge of the wedding cars, you'll have free reign.
Figure out what to wear
What's the point of reading Esquire, GQ or the Art of Manliness if, on your own wedding day, you're wearing whatever your fiancée thought would look good? If you think you and the boys would look awesome in new midnight blue suits a la JFK, do you really want to be relegated to a cheap, poly-blend rental? We suggest that you learn about the options when it comes to wedding tuxedos and attire. You might not really understand the distinctions between white-tie and black-tie, or the point of a cummerbund, but you'll be happy to have figured out what makes you look like James Bond, rather than a medium-sized, black and white penguin wearing ill-fitting drapes.
Plan the Honeymoon
I don't know about you, but I work for the weekend and for vacations. And nothing gets me more pumped than planning a killer vacation – be it with the boys or with my wife. I planned our honeymoon – soup to nuts – and made sure we combined a tropical beach with some classic golf courses nearby. Sure, I made sure to plan some spa treatments, but my wife and I played leisurely rounds of golf every day. (To add some excitement, I didn't let my wife in on any of the details until our wedding day). Take charge of the honeymoon. It's the least stressful part of wedding planning, and it gives you an opportunity to bust out some romance and really shine.
Plan the Floral Arrangements
Just kidding. Don't do that.
***
There are plenty of interesting things to make the wedding planning process painless. The guys at GroomGroove.com know that wedding flowers, invitations and dresses don't hold our interest. Indeed, if you're asked to cut wedding invitations or tie some bows, it may not seem manly.
But as I learned the hard way, cutting pink, purple and silver paper, and getting involved with wedding planning really is manning-up. Follow these tips, and you won't miss your own wedding.