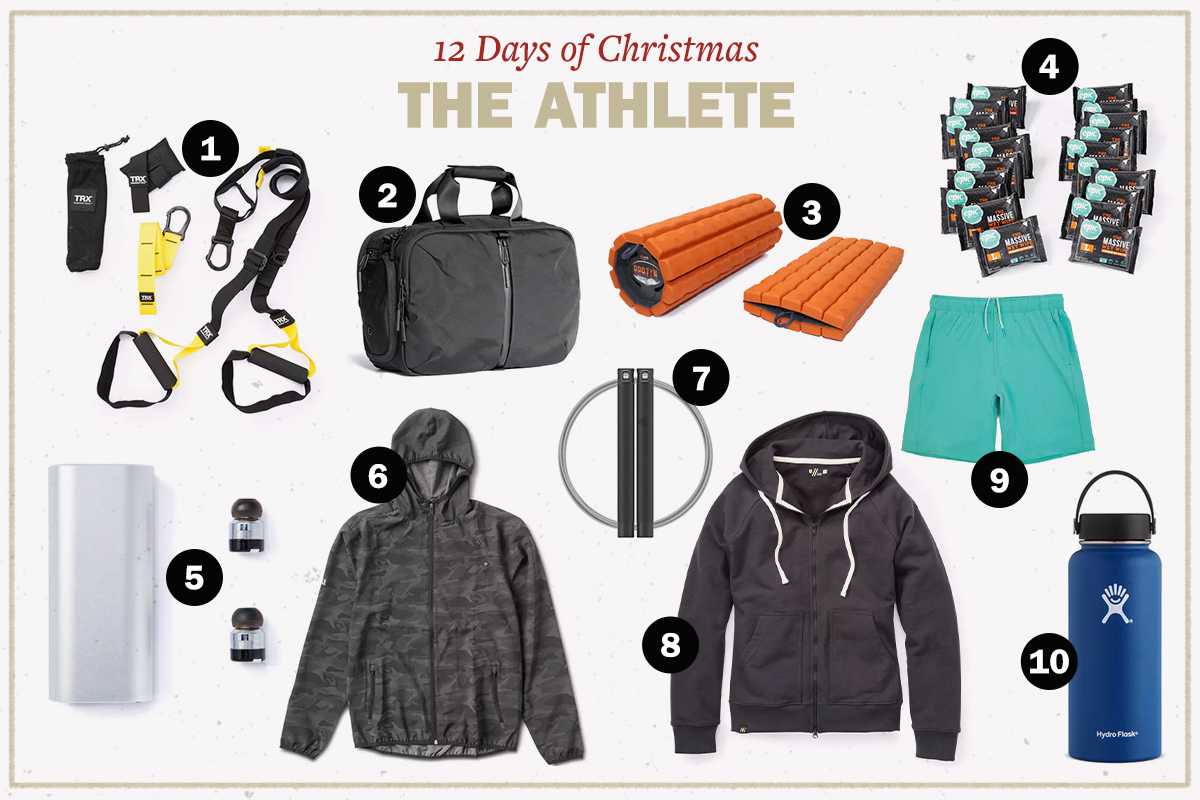 Welcome to AoM's 12 Days of Christmas! We've partnered with Huckberry to bring you 12 straight days of awesome gift guides and giveaways. Each day will feature a different Huckberry shop with 10 gift ideas, as well as a giveaway. The giveaways will run until 12pm CT the next day, and the winner will get to choose an item of their choice from that day's featured shop.
If you know a guy who's a regular at the gym (or hopes to be in the new year!), give him something that will improve both his workout and his recovery from it. Below you'll find 10 items from Huckberry's Gifts for the Athlete Shop designed to do just that. Be sure to check out the whole shop for more great picks!
The 12 Days of Christmas: Gifts for the Athlete
1. TRX Minimal. With lighter and thinner straps than the original TRX system, this portable, functional gear can quickly be set up just about anywhere for a fast and efficient workout.
2. Aer Gym Duffel. Ventilated and compact storage for all of your gym gear. With multiple compartments (for shoes, clean clothes, laptop, etc.), this bag will keep all the stuff you carry to the gym smartly organized and aired out.
3. TREK Collapsible Foam Roller. The world's most portable and storage-friendly foam roller. Full-sized, but collapses down flat for easy transportation. Weights just 1.6 pounds, and can support up to 350 pounds. You no long have to sacrifice your foam rolling when traveling.
4. Epic Wipes. A super-sized 2′ x 1′ wet wipe that is basically a shower on the go after a hard workout. Biodegradable, and even reusable for multiple hand-washings or face wipe-downs. Makes cleaning up anywhere truly convenient.
5. Bullet 2.0 Wireless Headphones. 100% wireless stereo earbuds for the ultimate on-the-go audio solution. Provides absolutely clear music and voice audio for any activity without falling out of your ears.
6. Vuori Outdoor Training Shell. Technical activewear that's built to move, train, and sweat in, but also looks good when you're out and about after the gym. The innovative fabric sports four-way stretch and quick-drying, odor-resistant properties.
7. RPM Training Jump Rope. A jump rope made to last. Constructed with machined aluminum handles and a clear-coated cable, this thing will hold up to whatever you put it through. Perfect for the man looking to get a, ahem, jump start on his New Year's resolutions.
8. Flint and Tinder Fieldhouse Hoodie. Inspired by old school collegiate athletics, and fittingly made with American manufacturing and premium materials, the Fieldhouse Hoodie (and its accompanying sweatpants) are like your old college sweats, but better. Made with a soft and lightweight French terry that's perfect for warming up and light activity.
9. Myles Everyday Short. The Everyday Short sports a minimalist design with clean lines and a tailored fit, so even though it can be put through the paces of a brutal workout, it'll also look dang good during down time.
10. Hydro Flask Water Bottle. The lightest, most durable vacuum-insulated drinking vessel you'll find. Keeps your drinks colder or hotter, longer. Guaranteed. Every bottle comes with a lifetime warranty.
Giveaway
The Prize
Any item available in Huckberry's Gifts for the Athlete Shop.
Enter the Giveaway
If you are an email subscriber, do not reply to this email to make your entry. You must click on the title of this post, which will take you to the post on our web page where you can make your entry. Use the form below to enter. Don't forget! You have multiple ways to enter! The more of them you do, the better your chances are!
12 Days of Christmas: Gifts for the Athlete

Deadline to enter is 12pm tomorrow (Central Time), December 7th, 2018.