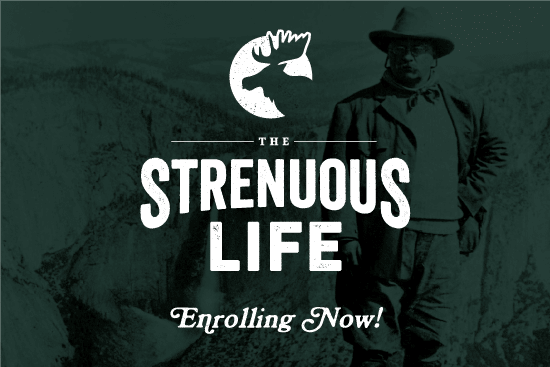 In times of uncertainty and tumult, it becomes abundantly clear that the only thing you can control is yourself: your body, your habits, your knowledge, your skills, your values. Gaining this mastery, and harnessing it towards positive, productive ends, isn't easy though. Since time immemorial, men have needed guideposts and structure to point their lives in the right direction.
The Strenuous Life provides this guidance and structure, and its summer enrollment is now open.
What Members Are Saying About The Strenuous Life
The Strenuous Life is an online/offline program designed to help men turn their intentions into actions, do hard things, and become stronger in body, mind, and spirit. We've had almost 7,000 people of all ages and from all walks of life sign up and the feedback has been incredible.
Here are just a few testimonials from members of the latest cohort of TSL Classes; you can read 300+ more testimonials here.
---
"I have struggled for years to take action on vague goals I've considered pursuing. Since joining The Strenuous Life, I've learned how to set and focus on clear goals, gained an awareness that I have what it takes to commit to and accomplish these goals, and developed a group of friends to hold me accountable to push me to succeed."
–Mike W., Class 049
---
"I am a therapist of 25 years so I have a good sense of personal development programs having attended many myself and referred clients. The Strenuous Life program is unique in offering a structured exploration of what it means to be a man. Personally, the weekly challenges, forum discussions, and overall program structure helped me develop habits to improve my physical, mental, and spiritual health. This growth carried over into my roles as husband, father, and professional therapist. I look forward to deepening my bonds with my 'band of brothers' in the class of 048. I recommend this program without reservation."
–Shane A., Class 048
---
"Having heard about TSL from my son, who is a fan of Teddy Roosevelt, I read through the available TSL online materials. Although I was successful and 67 years of age, I was unhappy, in particular confused about what being a 'good man' means in this ever-evolving, complex modern society. I signed up with TSL, I participated fully, and I can say I am much happier, having changed my life for the better by adhering to the principle of 'right action.' Because of the positive outcomes for me personally, physically, and psychologically, TSL is now a very important part of my daily routine. It is one of the best decisions I have made in the last 30 years."
–Chris B., Class 048
---
"Living the day to day grind, I was feeling complacent and on autopilot, so to speak. Even though I had achieved plenty professionally and within my family life, I felt I needed something more. TSL turned out to be what I needed and more. The challenges posed brought me out of my comfort zone and into an arena I hadn't seen since my younger years. The camaraderie I have built with my classmates will last a lifetime and as an individual, I have grown tremendously, much to the pleasure of my wife, kids, and others around me. Thank you TSL for helping me hold myself accountable and for bringing me into a life where I strive to do hard things."
–Tom B., Class 049
---
"TSL really came at a pivotal time for me, not only with all the COVID stuff going on, but I had just found out I was losing my job. The extra focus TSL has given me has really improved an already great marriage and relationship with my family at a time when I could have been down on life. It just took a different mindset and a little extra effort to create even more laughter and love in my house. Additionally the badge work, check-ins, and Agons have built my own confidence and have continued to make me a more well-rounded man. I am starting my new job and moving to a new city feeling more prepared than ever to give my best to my new career and community. I am not worried about the transition in the slightest. For all of those things I will be forever grateful."
–Bryan D., Class 049
Take the Strenuous Life Challenge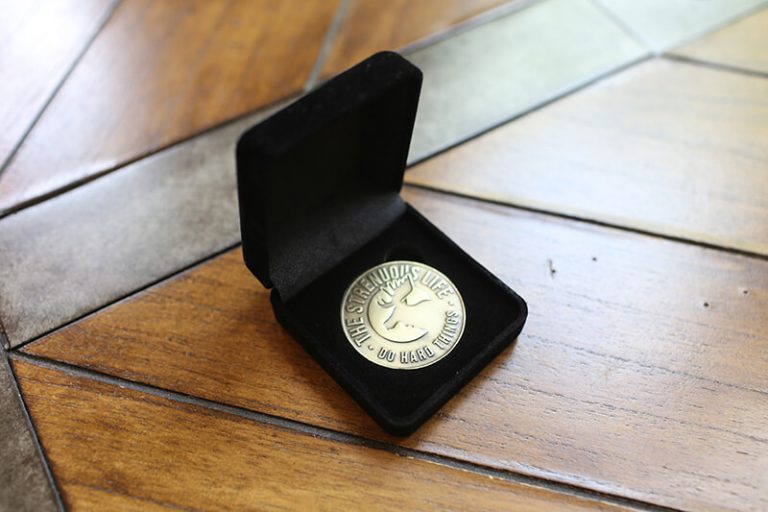 New members of TSL are enrolled into the 12-week Strenuous Life Challenge, which is designed to induct initiates into a life of strenuosity and help them form new, health-boosting, mindset-enhancing, life-improving habits. You'll be asked to hit certain benchmarks in terms of daily physical activity and good deeds, earn at least one badge, and complete a diverse range of weekly "Agons" or challenges.
The Strenuous Life Challenge is designed to push you outside your comfort zone, get you having new experiences, and help you become more than you are now in body, mind, and spirit. Those who complete the Challenge earn an exclusive TSL challenge coin, as well as a new outlook on life.
Finally Put Your Long-Standing Intentions Into Action
The Strenuous Life is like a scouting program for grown men, and its structure — which offers a set of 50+ badges and clear requirements to earn them — facilitates learning new skills, having new experiences, and forming new habits. It's designed to help you put your long-standing intentions — all those times you've said, "I'd really like to start doing _____" — into action.
TSL can be just the kick in the pants you need to finally make good on your goals. Here's a small sample of some of the stuff members have done as part of The Strenuous Life in just the last few months: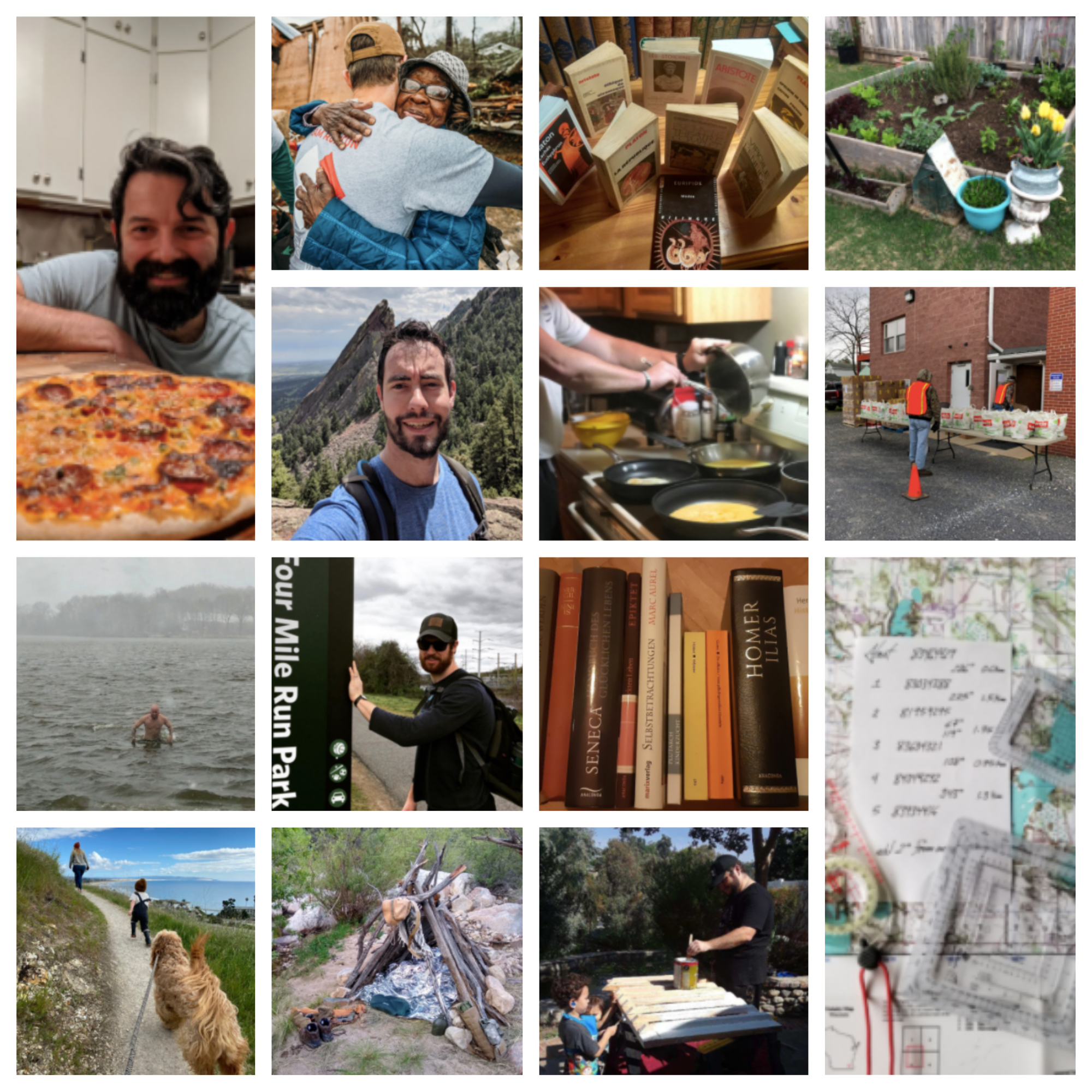 If you're finally ready to move from point A to point B with your goals, TSL will provide the map and guide you on your journey.
Meet-Like Minded Individuals (In-Person!)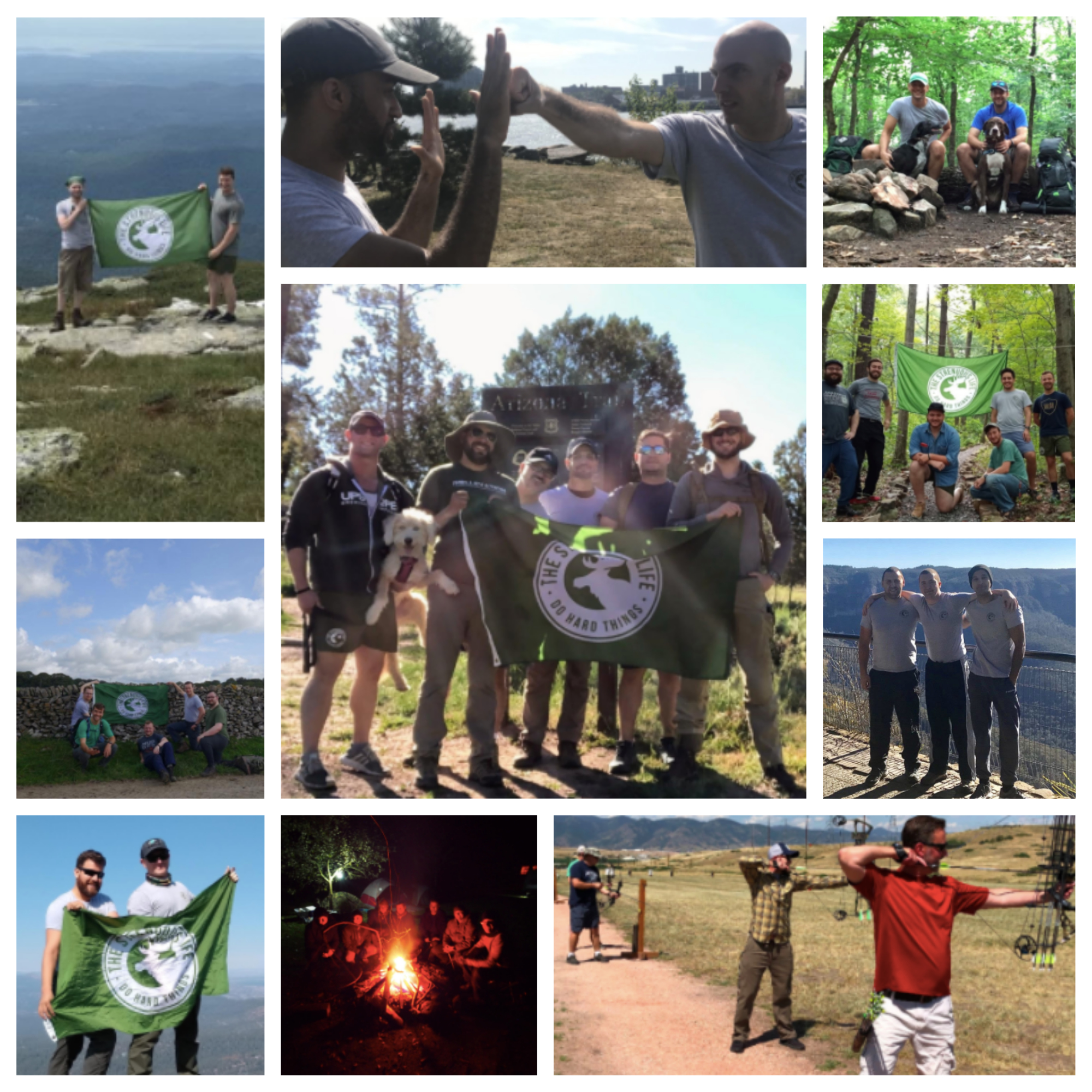 Are you looking for a way to meet up with like-minded men and form more real-world friendships? The Strenuous Life can help you make those connections.
One of the features of TSL are local chapters that members can use to organize real world, in-person meet-ups. The third Saturday of every month is designated as "Strenuous Saturday" and members get together to work on badges, ruck, or do community service. Members can meet up to work on the weekly challenges as well.
While in-person meet-ups may be prevented in some areas because of the pandemic, remember that when you join TSL you receive LIFETIME membership. One day meet-ups will resume everywhere and always, and you'll be able to fully take part in them.
Earn the Exclusive Pandemic Patch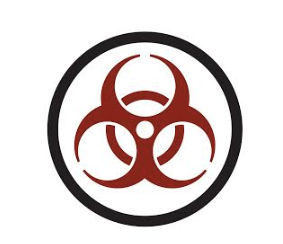 TSL is both an online and offline program, and all of the requirements of the 12-week Challenge, as well as the great majority of the badges that are available to earn, remain achievable during this pandemic (even if a strict stay-at-home order returns to your area). However, the uncertainty created by the pandemic creates a little extra challenge, so that the undaunted who join up during this enrollment, and complete the 12-week Challenge, will receive a free, exclusive pandemic patch.
Enrollment Is Open Until Thursday, June 25, or Until We Register 3 New Classes
The Strenuous Life provides a pattern for putting your life in order. If you want to take greater control of who you'd like to become and where you want to go, regardless of circumstances, then join us in The Strenuous Life.
Enrollment will only be open until Thursday, June 25, 2020 or until we register 450 new members. Whichever comes first.
For those enrolled, the 12-week Challenge officially begins on June 27.
Classes fill fast — don't delay in signing up! The next enrollment of TSL will not occur until the fall.
I hope to see you on The Strenuous Life.