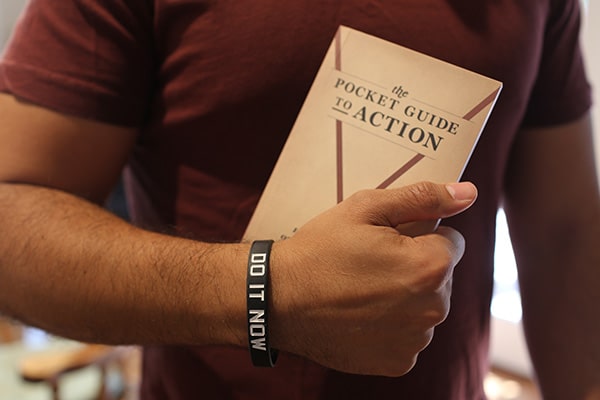 This year, we published The Pocket Guide to Action: 116 Meditations on the Art of Doing by Kyle Eschenroeder, a book crammed with insightful advice on how to spend less time contemplating doing things, and more time actually doing them. It's designed as a series of short "devotionals" that will give you a kick in the pants to get moving on your as-yet-abstract ideas and good-but-unexecuted intentions.
If you've been, well, waiting to take action on getting this book, now's the time to finally pull the trigger. Because we've created the perfect companion for it, and it's yours FREE when you pick up a copy.
Buy The Pocket Guide to Action, Get a FREE "Do It Now!" Bracelet
We all think about doing things and then fail to follow through. We all have ideas that cross our mind, that we then allow to lie fallow. We all have lots of good intentions . . .  that we put off, and put off, and put off acting on. Every day we fall into bed disappointed that we didn't get done as much as we would have liked.
Unfortunately, without constant, small exertions of effort, your life will always tend towards chaos and regret. On a micro level (household chores, workplace to-dos), always doing right away the little things that need to get done will prevent them from piling up into a giant, overwhelming mess that can get your life off track, or, at the least, add unnecessary stress to it. On a macro level, acting on your ideas and intentions ensures you never have to ask, "What if?"
To remind yourself to always take action, adopt the principle of "Do It Now!" And to help you always keep that principle at the forefront of your mind, we're giving a FREE "Do It Now!" silicone bracelet to everyone who purchases a copy of The Pocket Guide to Action. Simply add the bracelet to your cart after you've added the Pocket Guide to Action to get your free bracelet. Wear it on your wrist, and it will serve as a constant reminder to act without delay.
As soon as you're finished using something, put it away. When you take off your clothes, put them in the hamper. When you drop something on the floor, pick it up.
As soon as something you need to do crosses your mind, take care of it immediately. When a idea pops into your brain, figure out the next action step, and then "Do It Now!"
By living this principle, you can easily keep your house, office, and life in order, live with a manly sense of peace and confidence, and continually move towards your goals.
You can also purchase the "Do It Now!" bracelet on its own.
What are you waiting for? Grab this great deal while it lasts. Do It Now!