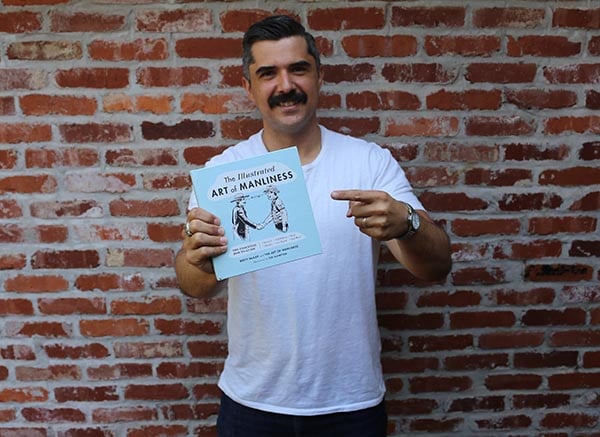 After a year and a half of hard work, I'm happy to announce that The Illustrated Art of Manliness is now available in bookstores everywhere. Go get a copy today!
First, a big thanks to all of you who pre-ordered a copy (or copies) of the book back in April. Thanks to your support, we were able to get The Illustrated Art of Manliness up to #66 on Amazon's bestsellers list and the book was put into its second printing even before it launched! Huzzah! If you pre-ordered a copy, you should be getting your books in the mail today.
For those of you who still haven't bought a copy, please go buy one today. It's of course available on Amazon.com and I've been told you'll be able to find it at the front of Barnes and Noble stores nationwide on their Father's Day books display table, so drop by there to pick one up (it's also available on Barnes and Noble's website).
The book is available in both digital and hardback, but I highly recommend picking up the hardback version. The visual nature of the book lends itself far better to a physical format.
If you haven't picked up a copy yet, here's why you should.
Why You're Going to Love The Illustrated Art of Manliness
1. It's filled with many of your favorite AoM Illustrated Guides. We've been doing illustrated guides with illustrator Ted Slampyak for nearly 8 years now and we've amassed hundreds of these visual gems. You're going to find some of the very best classic illustrated guides in the book like how to shake hands like a man and how to shine your shoes.
2. But most of the book consists of never-before-seen illustrations! While we put many classic illustrations in the book, most of its content is 100% new and has never been seen before. The only way you're going to see these illustrations is to buy a copy. Don't miss out! (See, I'm using FOMO to get you to buy our book. Ain't I a stinker?)
3. You're actually going to learn stuff. We put a lot of research into these illustrated guides to ensure that the instructions were clear and correct. Don't know how to tie a bow tie? We got you covered. Need to deliver a baby in a pinch? It's in the book. Find yourself in a knife attack? Make sure you have the book with you so you know what to do. (Just kidding. You wouldn't have time to look at a book if you were getting attacked with a knife. You could maybe use it as a shield though.) Even if you know how to do some of the stuff in the book already, it serves as a nice refresher so you can brush up on manly skills while you're on the toilet.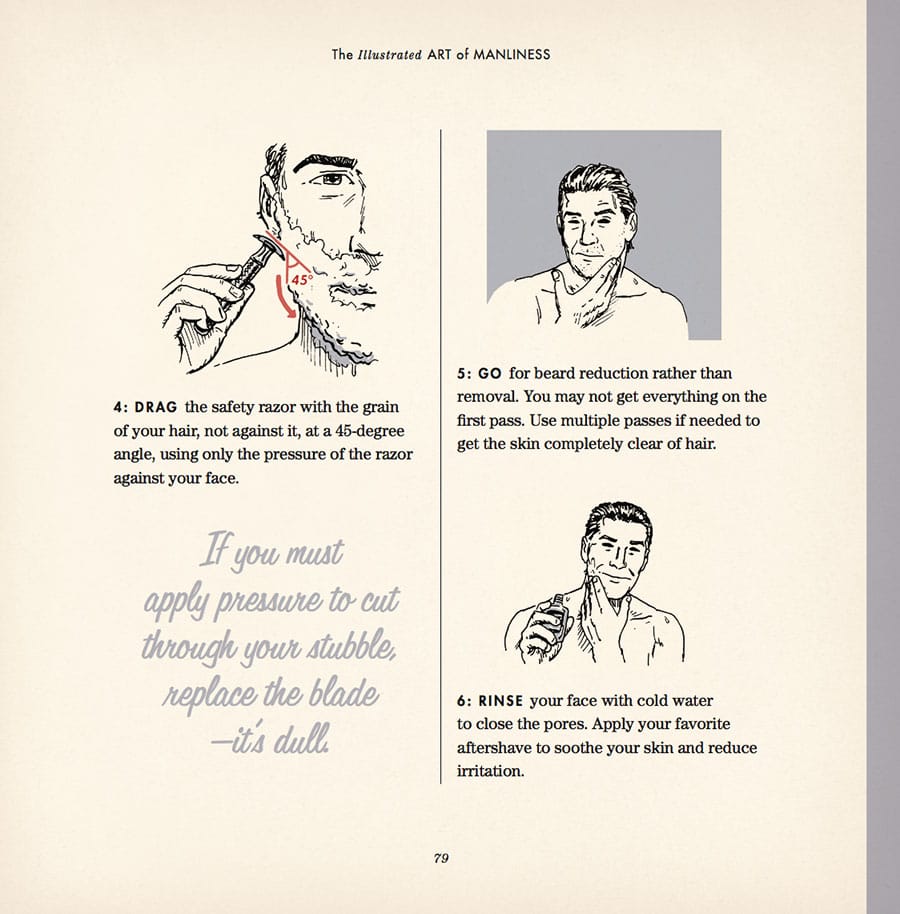 4. It will make you chuckle. Some of the guides are in the book just for kicks. Is walking like a ninja an essential man skill? Maybe not (…is what a non-ninja would say), but it's fun, so it's in there.
5. It's timeless. My father-in-law said reading The Illustrated Art of Manliness felt like he was flipping through a 1950s copy of Popular Mechanics or Boy's Life. That's exactly the feeling we were trying to evoke with this book. I love mid-century illustrated how-to's and Ted did a bang up job capturing that aesthetic in his illustrations. This book feels like something you'd find at the bottom of your grandpa's old footlocker.
Makes a Great Gift!
Graduations are going on across the country right now. What better gift can you give a young man about to embark into manhood than a book filled with instructions on how to perform basic, but essential life skills?
And let's not forget Father's Day! Give the gift of manliness to dear old dad. Get him a copy and he'll enjoy it for years to come.
Buy a Book as a Donation/Way to Show Your Support/Say Thanks
Even if you're somewhat indifferent to buying the book (and if so, you oughta check your pulse), consider purchasing a copy simply as a way to support the Art of Manliness.
If you feel like you've gotten anything out of reading the thousands of free articles and hundreds of podcasts we've published on AoM all these years, please buy a copy (or 2, or 5, or 10!) of The Illustrated Art of Manliness today. It would really mean a lot to me if you did. The more book sales we can drive in the next few weeks, the better chance the Illustrated Art of Manliness (and artofmanliness.com) has to be put in front of a larger audience.
Buying a book is a way to say thanks and support the future of AoM. It's like donating to your local public radio station, only instead of getting a tote bag in return, you get a super manly tome.
How You Can Help Spread the Word
1. Review the book on Amazon.com and Goodreads. Once you read the book it would mean a lot to me if you would review it on Amazon. Reviews on these sites play a big role in determining the ranking of a book and whether other folks will buy it. It only takes two minutes to write a review. I promise that your testosterone levels will increase 100% after you write one.
2. Share the book on your social media networks. Use Facebook, Twitter, or Instagram? Share the book with your friends and followers.
3. Share a photo of you with your book on Instagram with the hashtag #illustratedaom. Get creative with your pics! Take a pic of yourself doing one of the skills displayed in the book or you can take a picture of yourself reading it while you're on the john like this guy did with our first book: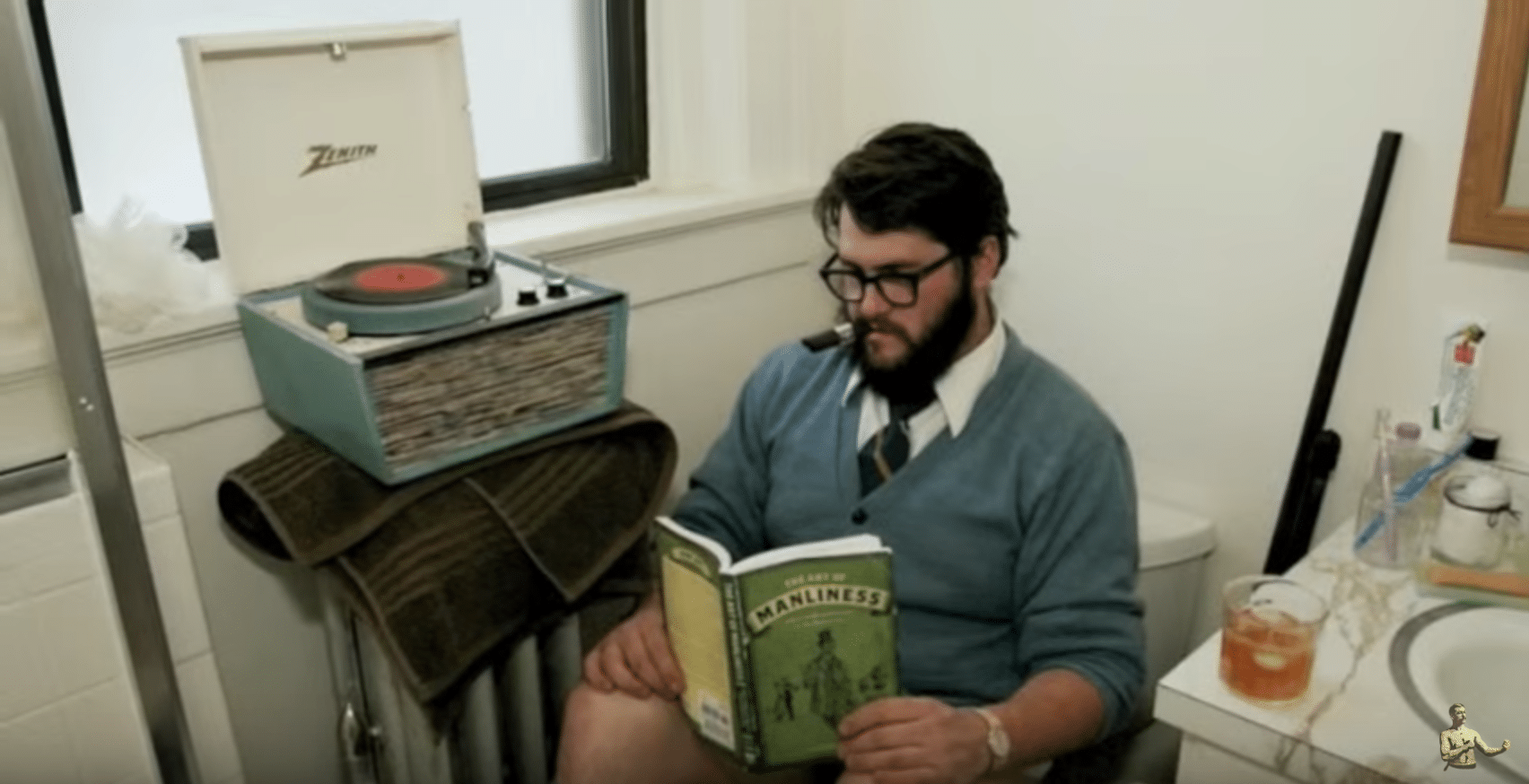 4. Ask your local bookstore to carry our book. We're big fans of small independent bookstores here at AoM. We're working hard with our publisher to ensure that as many of these stores as possible will have our book in stock. It'd help us out a lot if you'd visit your local bookstore and request that they carry our book.
5. Buy a copy of our book. The best thing you can do to help!
A Big Thanks!
Thank you for your continued support of Art of Manliness. It's crazy to think that this thing I started kind of on a whim nine years ago as a law student has grown into what it is today and that we're publishing a third book. I couldn't have done it without all you loyal and supportive readers. Thank you.
Stay manly!
(P.S. Buy the book!)